Dear friends and neighbors,
Today we're starting off our fourth week of this year's legislative session. It's incredible how quickly things move during a 60-day session like this one, so I wanted to pass along a couple of updates about the work I'm doing, as well as an invitation to a telephone town hall I'll be hosting with my seatmates later this week.
Telephone Town Hall
I'd like to invite you to join Senator Kuderer, Representative Walen, and myself for a telephone town hall this Thursday, Feb. 3rd, at 6:00 PM. We'll be available to answer your questions and give an update on our work this session. If you'd like to receive a call to join the event you can sign up here. Otherwise, you can join directly by dialing 877-229-8493, and entering the PIN number 116362.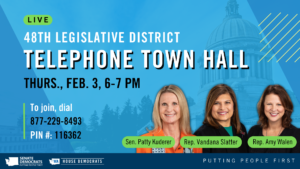 If you have a question you'd like answered you can submit it ahead of time here, but we'll also be taking questions live during the event.
Data Privacy
This year I'm working on a bill that would create a new approach to data privacy. Technology has become a significant part of our day-to-day lives, we generate a lot of personal data, and we should have the infrastructure to help people protect it. By establishing a Consumer Data Privacy Commission, we can investigate and enforce privacy rights the same way we do with other utilities in our state.
This weekend my co-sponsor Rep. April Berg and I published an Op-Ed to talk more about why this legislation would be a game-changer for Washingtonians, you can read more here.
College and Workforce Development
In my first newsletter this session I talked about my bill to expand the Washington College Grant and provide $1,000 Bridge Grants to low-income students. I'm happy to say that we passed the bill out of the College and Workforce Development Committee, and it's scheduled for a hearing in House Appropriations.
This bill would be a big deal for our students. Providing a Bridge Grant means they'd have money for food, transportation, phone bills, or other expenses that can prevent students from completing their degree or credential. If you'd like to hear from some of these students, you can check out a video here.
Session Update
Like I mentioned earlier, things move quickly in a short session. We're already over a third of the way through our time for this year, and we have our first big cutoff coming later this week. "Policy committee cutoff," which happens this Thursday, is the deadline for bills to pass out of their policy committees. Next week brings the "fiscal committee cutoff" deadline to pass most legislation out of fiscal committees. After that comes the "House of Origin cutoff" deadline to pass bills out of the House or Senate to give the other chamber some time to consider the legislation.
Remember you can stay connected and up to date by visiting our state website leg.wa.gov to look up bill information, committee agendas and see an overview of the legislative process, or by watching session through TVW.
I'll continue to keep you updated on my work this session and am thankful for the opportunity to serve you all in this work.
Sincerely,