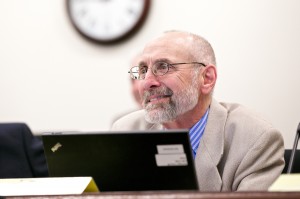 House Democratic lawmakers elected three leadership positions, including Rep. Larry Springer as Deputy Majority Leader this morning. His duties will focus on business outreach and engagement.
Rep. Springer, who has owned a small business in Kirkland for over 25 years said, "I am honored to be elected to this position and excited to continue working to create jobs and promote economic growth for all Washingtonians."
For the last few sessions, Rep. Springer has hosted a weekly, open-door business meeting in Olympia, inviting lawmakers and businesses. The meeting is a smart, efficient, common-sense way for business advocates to bring their concerns to a large group of lawmakers.  The frank, open discussion Rep. Springer facilitates is just one of the many ways he is an effective businesses liaison for the House Democrats.
Rep. Springer is a former board member of the Seattle/King County Economic Development Council and former president of the Kirkland Downtown Association. He currently serves as a member of three chambers of commerce working on business development and promotion.
To his new position today Springer said, "Together, I am confident, we can continue to get more Washingtonians back to work and build a healthy economic future for our state."
Rep. Springer was first elected to the legislature in 2004, and in addition to his leadership position currently serves on the Appropriations, Finance, and Local Government committees.
---