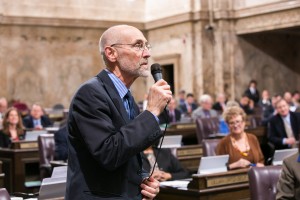 OLYMPIA – Last night, in a vote of 63-35 the House passed House Bill 1223, sponsored by Rep. Larry Springer, D-Kirkland.
"There are not enough affordable homes in the Puget Sound area," said Springer. "And for too many hard-working Moms and Dads in King County, the American Dream is out of reach. Every worker, no matter their net worth, deserves to have a home that isn't hours from where they work. This bill will help more Washingtonians find an affordable place to live."
HB 1223, a bipartisan effort, gives King County the authority to use hotel & motel taxes to raise bond revenues five years earlier than current law allows. The bonding authority allows the county to double the amount it can invest in workforce housing now, before prices rise. King County can build at today's cost, which will save the county $62 million, rather than waiting to purchase property after real estate prices have risen.
Rep. Linda Kochmar, R- Federal Way, co-sponsor of the bill said, "People in the 30th District and South King County desperately need assistance in establishing stable housing options, and this bill is a great local tool to accomplish that.  I will also keep fighting to provide the necessary services homeless families and young people need, including empowering them to find stable employment and reconnect with family."
Almost half the money raised by hotel & motel taxes will go to build affordable housing within half a mile of transit options, reducing the need to rely on a car to get to work.
"King County's moderate and low-wage workers should be able to live affordably – close to transit and near their jobs," said Marty Kooistra, Executive Director of the Housing Development Consortium. "Instead, they endure long, expensive and polluting commutes that place them far from family and community every day. This bill will provide affordable homes for 900 families and individuals that can't afford to wait."
---