Neighbors,
A big part of our work in the Legislature and the House Community & Economic Development Committee, which I'm a member of, is making sure Washington state is a place where small businesses can thrive and entrepreneurs can start and grow their businesses.
Too many workers and small businesses are struggling with the economic fallout of COVID-19. That's why we made record investments last year to bring much-needed relief to small businesses. And it's why House Democrats released a budget proposal earlier this week that includes funding to support small businesses and economic development, with:
$200 million for assistance to restaurants and hotels
$70 million for Working Washington Grants for border businesses
$45 million for a small business innovation and competitiveness fund
$25 million to expand small business assistance for arts, heritage and cultural organizations, building on last year's historic support through business grants
$20 million for grants to small businesses recovering from natural disasters
$350,000 for the Federal Way Chamber of Commerce to support economic recovery efforts in South King County, funding I advocated for this year and last year
Our neighborhood businesses deserve a partner in government to help them stay open, be resilient and create opportunities in our communities. This budget is an opportunity to invest in small businesses and foster an inclusive economic recovery.
The proposal also includes funding for more counselors, nurses, psychologists and social workers in schools; housing programs and expanded rent and utility assistance; nurse education opportunities and tuition assistance; and so much more, including behavioral health investments (more on that below). I'm excited to vote for this budget, and I hope you'll join me in supporting these proposed investments as we move toward a final budget in our negotiations with the Senate.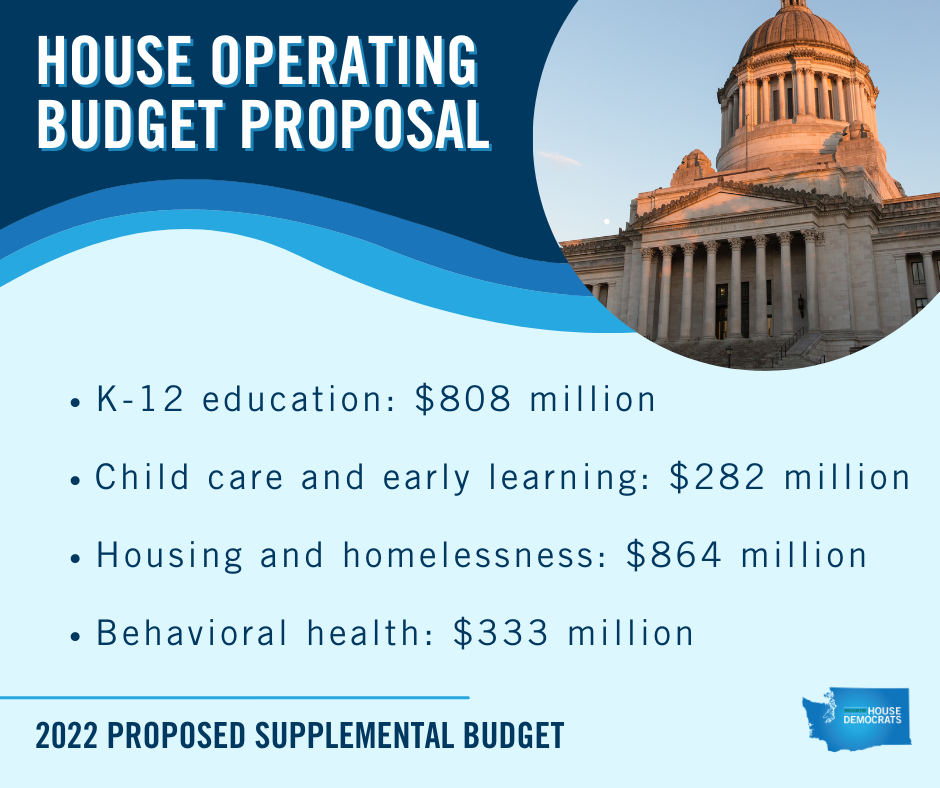 ---
Building our behavioral health capacity to support public safety
Last year, following the Supreme Court ruling that invalidated Washington state's statute on simple narcotics possession, the Legislature made a choice to end the expensive and harmful felony for possession model and instead build up our behavioral health system to focus on treatment, care and recovery. Instead of crowding jails, we're building up a system that connects people wanting help with case managers, stable housing, the treatment they need to recover with compassion and the support to be successful. This year's budget proposal invests heavily in this vision. Some of those investments include:
$28 million for housing and employment services for those struggling with behavioral health issues and $29 million for crisis, outreach and diversion programs
$27 million for expanded opioid response programs and supports
$51 million to increase rates for mental health and substance use disorder providers
$100 million for behavioral health providers that have been impacted by the pandemic and are desperate for financial assistance to stay in operation
Decades of putting people in jail isn't working. We're failing people struggling with the impacts of substance use disorders. It's time to try something different. Last year's budget and this supplemental budget begin the work of building a behavioral health system focused on treatment and recovery support. Not only is treatment and outreach funded, but so is intensive case management and housing. By building a system that provides support from pre-treatment through recovery, we're offering people a hand up, not handcuffs. Everyone in our state will benefit from this more comprehensive, effective and humane approach to behavioral health.
*I'm also proud to report that the Federal Way Municipal Court, which received a grant last year to help with identifying available resources and services in South King County for those with mental health and substance use disorders, has already started on this work. If you would like more information about, or to participate in, the ongoing development for our local response to the behavioral health crisis, please complete this form.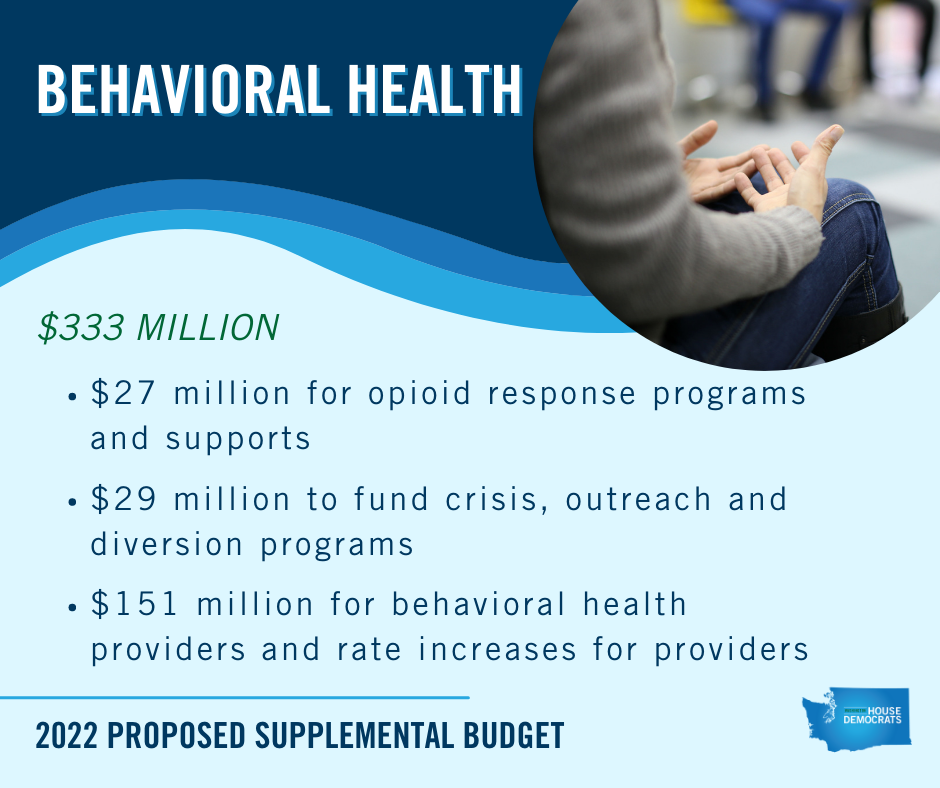 ---
Thanks for reading! I also hope you'll check out this video from the Legislative Black Caucus: Honoring our past and embracing our future during Black History Month.
As always, please feel free to reach out with any questions, concerns or ideas.
Sincerely,

Jamila Taylor
---