Neighbors, 
As Black History Month comes to an end, the Legislative Black Caucus took some time to reflect on our own history, as well as how we can honor that history through action.  
Starting with Rep. William Owen Bush, a member of Washington state's inaugural Legislature in 1889, Black legislators have made an impact. Bush introduced and passed the West Coast's first civil rights law in his first term, prohibiting discrimination in public accommodations such as public transportation, theaters and restaurants. Bush, a farmer by trade, also introduced legislation that would lead to the creation of Washington State University.  
In the video below, the LBC takes a look back at our history and considers what it means to honor that history going forward.
---
We highlighted only a few of the former members of the legislature. To view a more complete list, go to: https://www.sos.wa.gov/library/africanamericans.aspx.  
Update on the LBC's legislative priorities
You may remember that we presented the LBC's legislative priorities in our last newsletter. Since then, we have passed several the Legislature's "cutoffs." Legislative cutoffs are milestones bills need to reach by certain dates in order to receive further consideration. Any bills that don't make it to these milestones will need to wait until the next legislative session to continue the process or be reintroduced at the start of a new biennium.  
The cutoff for bills to be passed out of their house of origin was Feb. 15, and March 4 is the last day to consider bills passed by the opposite chamber. After March 4, both chambers will work to reconcile any differences in the versions of bills and pass final budgets. 
Here's an update on priority bills that are still moving through the process: 
Health Care Wellness, Access and Equity 
–SR 8632: Calls attention to Sickle Cell Awareness Week (sponsored by Sen. Lovick)  
STATUS: Adopted on Feb. 8.

 
–SB 5838: Provides a monthly diaper subsidy for parents or other caregivers in need (sponsored by Sen. Nobles) 
STATUS: Passed by the Senate on Feb. 10. Heard in the House Appropriations Committee on Feb. 24.

 
–HB 1893: Allows emergency medical technicians to provide medical evaluation, testing and vaccines outside of an emergency in response to a public health agency request (sponsored by Rep. Donaghy)  
STATUS: Passed by the House on Feb. 10. Awaiting floor action in the House. 
–HB 1881: Creates a new health profession for birth doulas (sponsored by Rep. Harris-Talley) 
STATUS: Passed by the House on Feb. 9. Awaiting floor action in the Senate. 
COVID-19 and Economic Recovery 
–HB 1827: Creates a community reinvestment account and community reinvestment program (sponsored by Rep. Morgan) 
STATUS: Passed by the House on Feb. 12. Heard in the Senate Ways and Means Committee on Feb. 26.

 
Public Safety and Criminal Justice Reform 
–SB 5575: Increases the number of Snohomish County Superior Court judges to help address the backlog of cases and ensure equitable access to an individual's right to speedy trial (sponsored by Sen. Lovick) 
STATUS: Passed by the Senate on Feb. 11. Heard in the House Appropriations Committee on Feb. 26.

 
–HB 1956: Protects the sensitive information of current and formerly incarcerated individuals from public records requests (sponsored by Rep. Hackney) 
STATUS: Passed the House on Feb. 9. Awaiting floor action in the Senate. 

 
Racial Justice and Equity 
–HB 1723: Helps close the digital divide by increasing the accessibility and affordability of telecom services, devices and training (co-sponsored by Reps. Hackney, Harris-Talley, Johnson and Taylor) 
STATUS: Passed by the House on Feb. 12. Heard in the Senate Ways and Means Committee on Feb 26.

 
Budget highlights: Building a better future for WA
The past two years have been rough, and unfortunately, things aren't going to get better right away. The nation is experiencing inflation and too many workers and small businesses are still dealing with the economic fallout of COVID-19. Some are doing great, but this uneven recovery isn't working for all of us. Everyone deserves to come out of this pandemic better than they went into it. That's why it's the right time to make smart, strategic investments in what families and workers in our state need: child care, quality education and a health care workforce to address our growing long-term care, mental health, substance use and developmental disability needs. If we invest more now, every family benefits from the better future we'll be building. 
Here's some of the highlights of the House's budget proposal: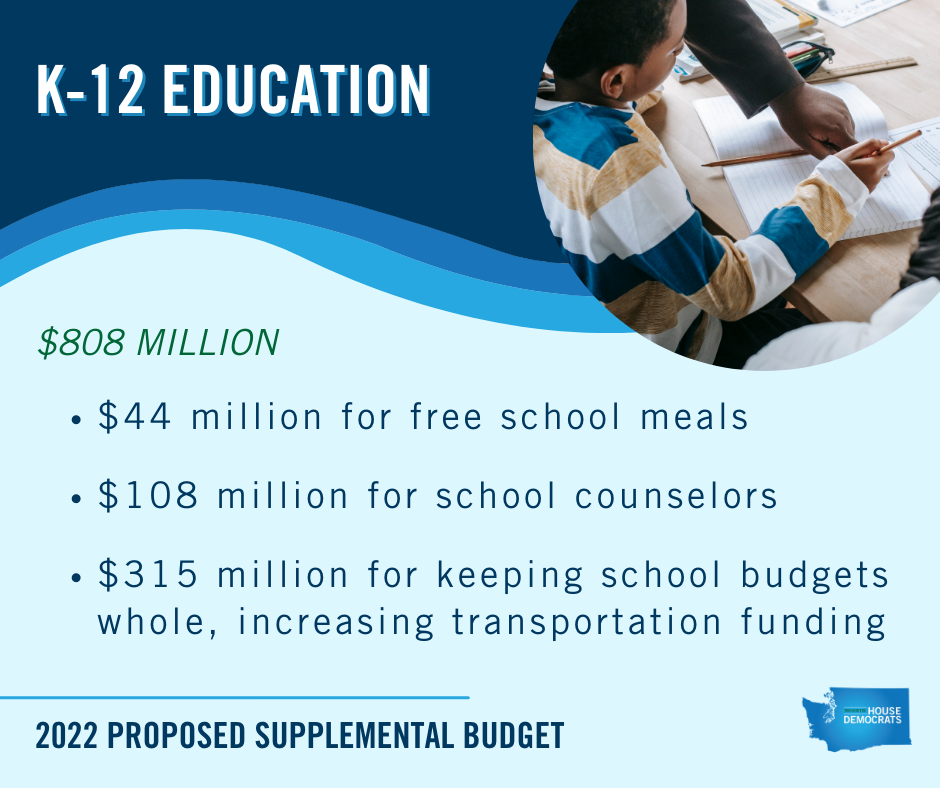 Our kids deserve an education that is safe, fully staffed and meets their needs. You paid your taxes, you deserve good schools.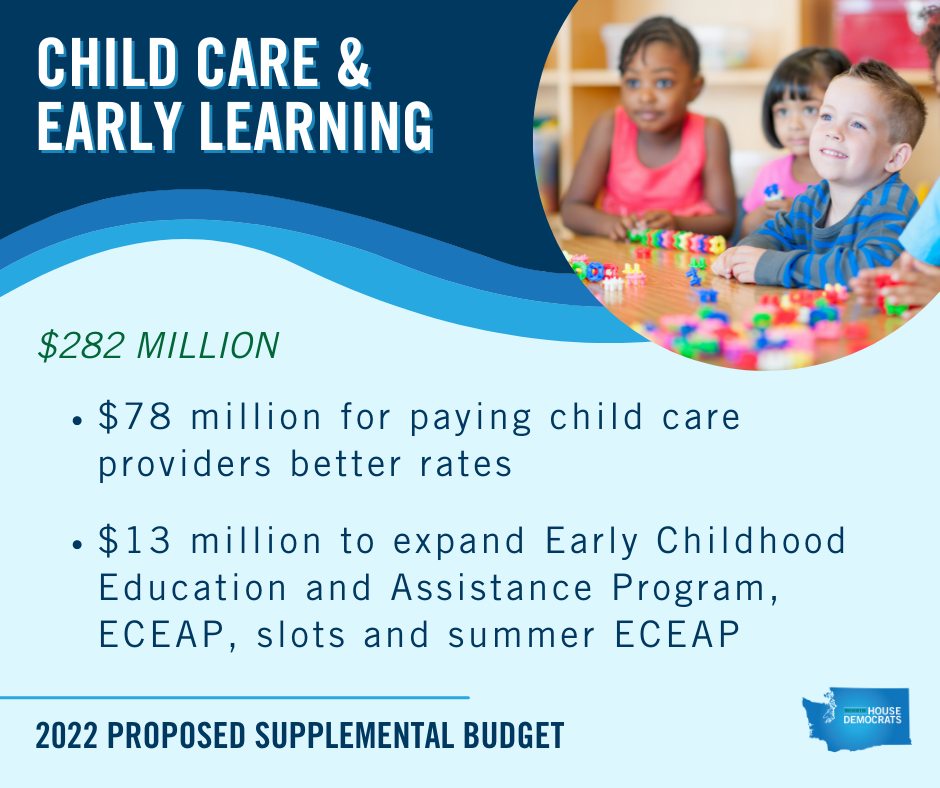 The pandemic has pushed us from a serious problem to an absolute crisis in child care. We need to make smart investments so we are better off than we were two years ago. Every parent deserves that, and we must address this critical need. This year's budget proposal moves us closer to the goals of the Fair Start for Kids Act we passed last year, a chance at child care for every family in our state that needs it.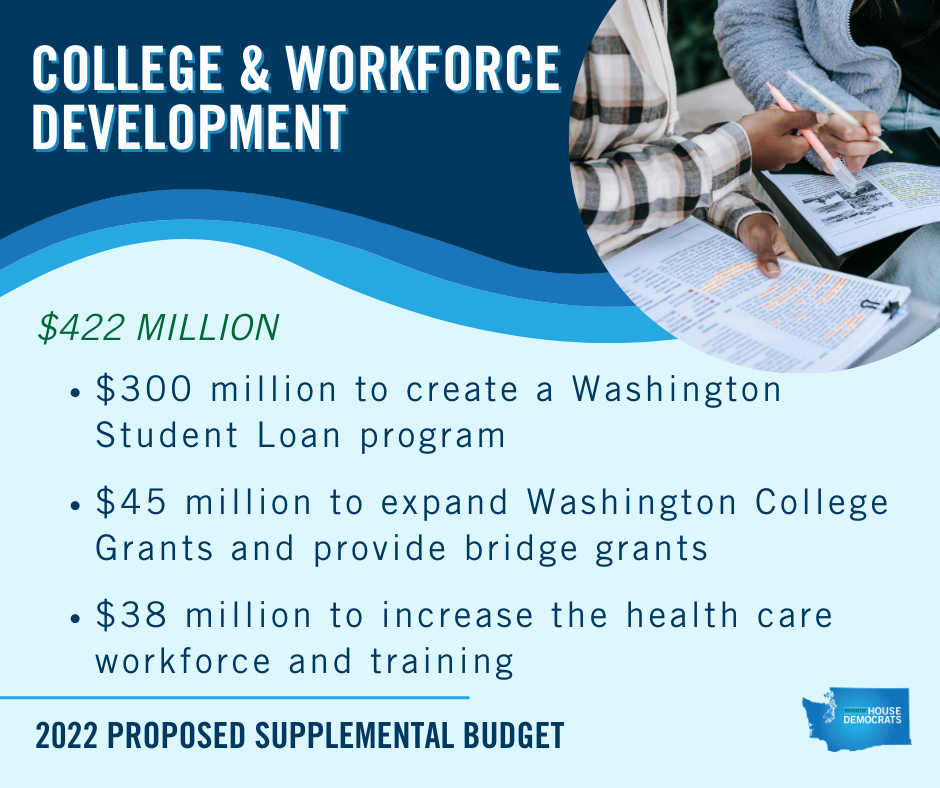 Every worker deserves the chance to excel and prove their ability in their workplace. Growing our public and private workforce and ensuring workers have the right skills for their next job is crucial to growing our economy, creating family-wage jobs and bringing economic stability to every dining room table.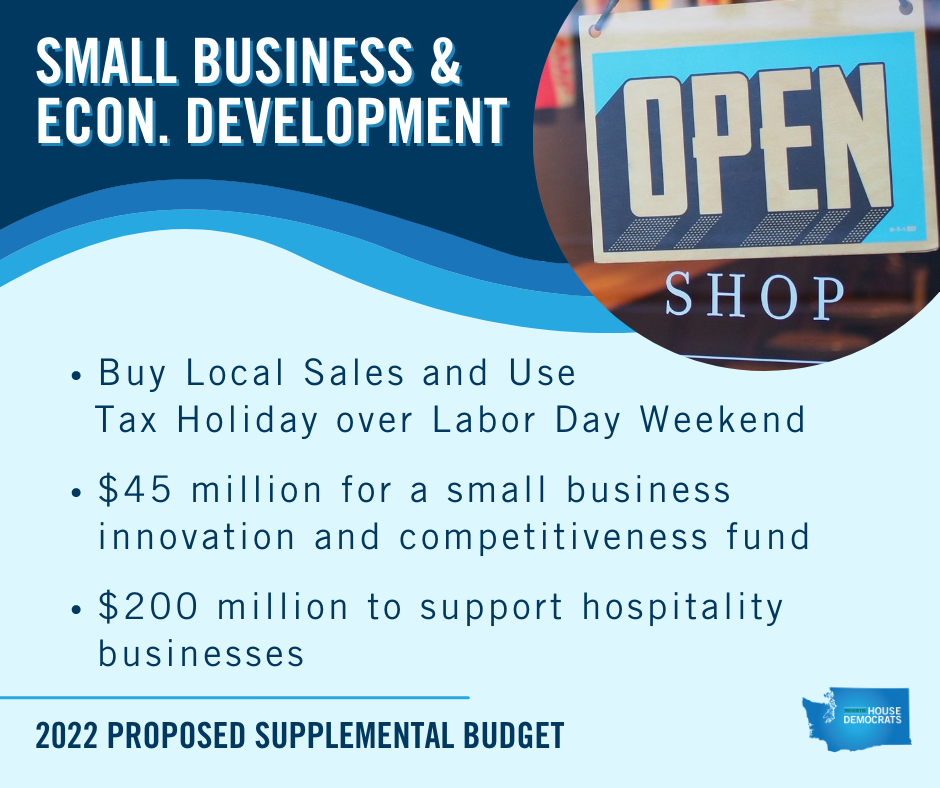 Small businesses are the backbone of our economy and our communities. The past two years have been incredibly difficult for them. Now it is our turn to make sure they have the support to come back stronger. We lead with an eye towards equity to foster economic development and support entrepreneurs, including targeted investments for historically underserved communities. Throughout the process, we have worked to ensure that everyone has a seat at the table and that these programs provide support for Black-owned businesses. Our investments must foster an inclusive economic recovery.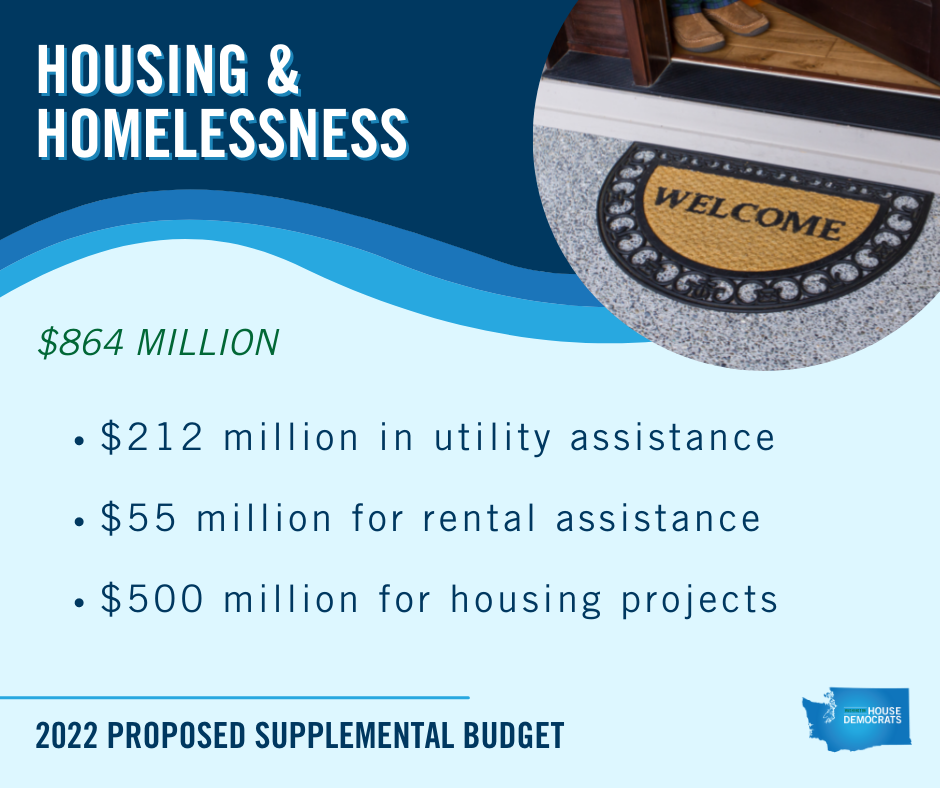 Addressing the homelessness crisis and expanding access to state programs to protect people from losing the roof over their heads is a top priority. We can have a state where there aren't people in crisis in the streets, and people can have the peace of mind knowing treatment and care is available for those that need it.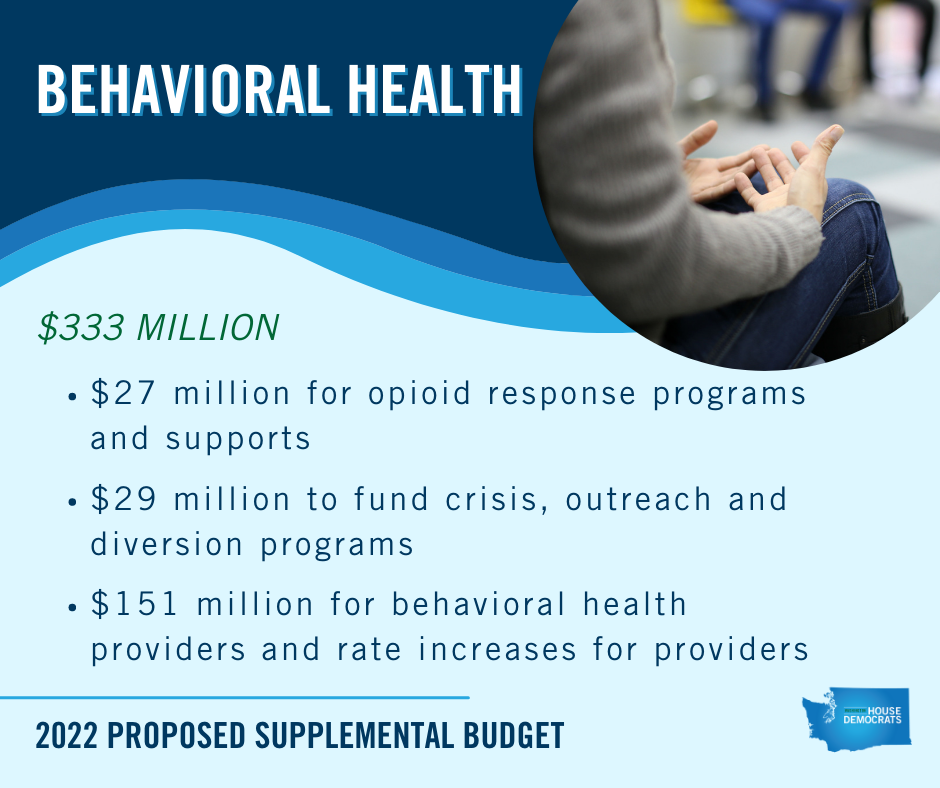 Many families have known the struggle of a loved one in crisis. Whether a mental health crisis or the pain of substance use disorder, everyone just wants to get their loved one help when they need it. You deserve to know that if you or a loved one need help, it's there for you.  
You can also read more about the Senate's budget proposal here. Like the House's proposal, it includes funding to stabilize school districts facing enrollment declines, address students' physical and social emotional needs and support higher education and nursing education. 
Stay well, 

State Rep. Jamila Taylor
Chair, Legislative Black Caucus 


State Rep. Kirsten Harris-Talley
Vice-Chair, Legislative Black Caucus 
---