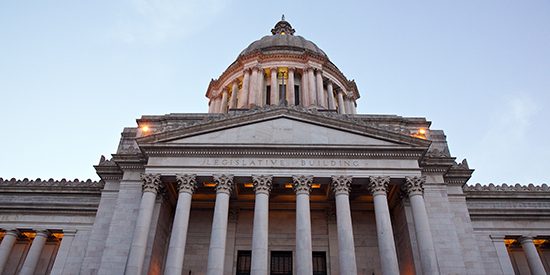 Dear neighbors,
Last year at this time, our state was under assault by the COVID-19 virus. Beloved small businesses struggled to stay open, skilled workers got laid off, and the state was looking at $9 billion in cuts to services like education, health care, and protecting our environment.
So it seemed quite ambitious for us, as House Democrats, to start the 2021 session–the first remote session in our history–with a bold declaration that we would tackle four huge issues:
COVID-19 response

 

Economic recovery 

Equity and police reform

 

Climate change

 
I am happy to report that during this session, we made major progress on all four of those issues–and more. It was a history-making session on many fronts, and more than 90 percent of the votes we took had bipartisan support.
We passed landmark reforms on policy and state budgets that will help everyone–workers, families, and small businesses–recover and rebuild.
In this e-newsletter, I'll give you a quick look at the biggest victories and issues from the 2021 session.
---
Major victories during a session that made history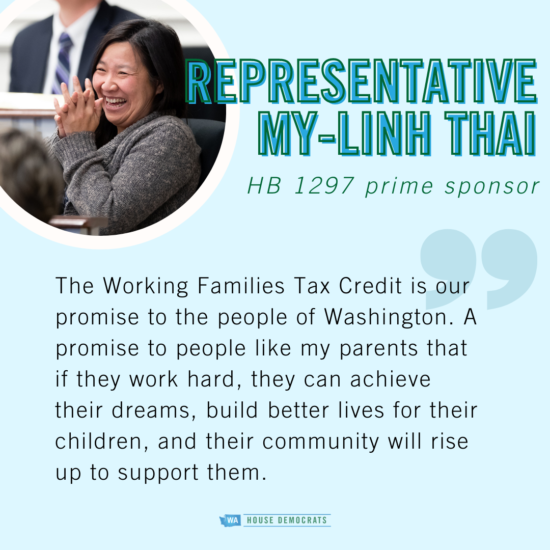 To give people help right away, one of the first votes we took was to pass an early action bill, Step One for Washington's Community and Economic Recovery. That bill sent send $2.2 billion in federal aid to prevent schools from laying off thousands of teachers, keep local small businesses open, and strengthened our health care system to help finish the war against covid. 
We passed my legislation, Working Families Tax Rebate, to put money back into the pockets of Washingtonians who need it the most. More than 400,000 taxpayers will be eligible for a tax credit ranging from $300 to $1,200 per year. One in every four children in our state will benefit from this policy, which will work hand-in-glove with the new federal child tax credit to lift working families out of poverty. 
Additionally, our state received $4.2 billion as part of President Joe Biden's American Recovery and Reinvestment Act, with those funds allowing us to not only prevent massive cuts to the services you receive, but to invest in the future with a budget that put people first: the Washington Recovery Budget.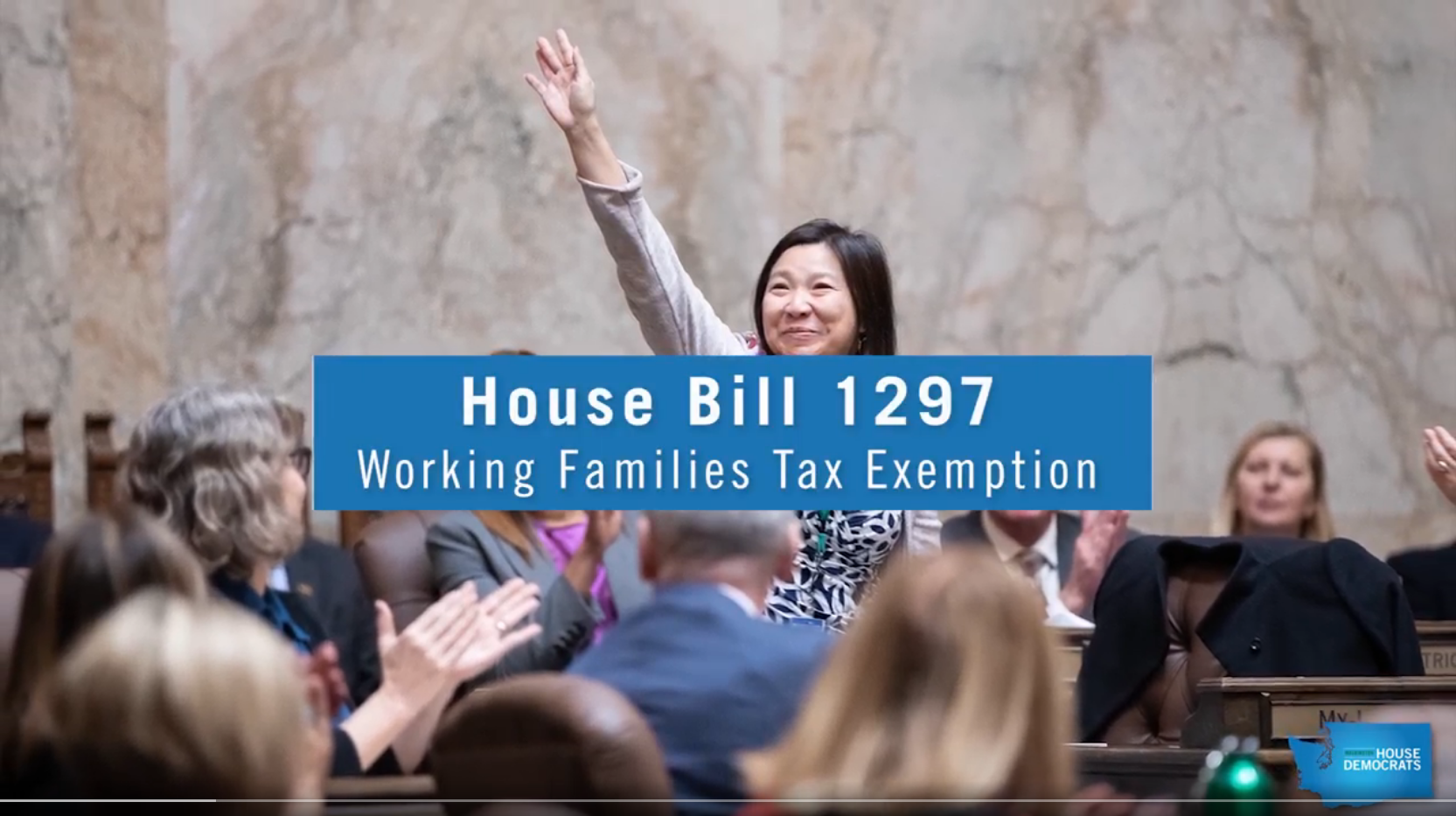 ---
Building a better Washington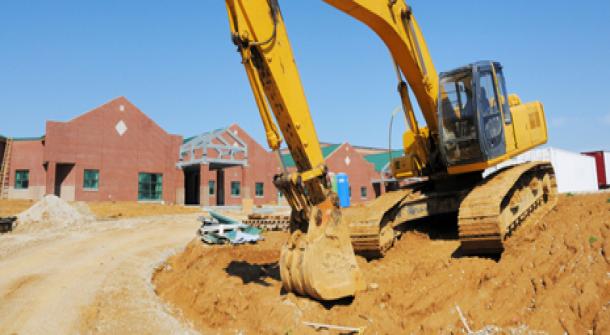 If stores and streets seem more crowded, that's because they are: our state's booming economy, rated No. 1 in the nation the past few years, brought one million new residents to work and live here.
All of those people have helped our economy thrive while putting new stress on housing and basic infrastructure.
To help handle all that growth, we passed a new two-year construction budget (House Bill 1080) that invests a record amount–$6.3 billion—toward building a better Washington and improving our infrastructure. 
I am proud to report that the construction budget includes a massive $411 million boost to help increase broadband access. Fast internet is no longer a luxury. It's now basic and essential, just like electricity and running water. Improving access to broadband will help families and small businesses–and our state's entire economy. 
The construction budget also invests $1.55 billion in early childhood education, public schools, and higher education, as well as $350 million for affordable housing and emergency shelters, $724 million for critical public infrastructure, and $81 million for clean energy projects. 
There is $5.908 million in specific projects here in the 48th District, and I'd like to highlight a few here:
$106,000 for International Community Health Services in Bellevue
$156,000 for the Bellevue Boys & Girls Club
$258,000 for New Ground Kirkland
$1.25 million for the Redmond Senior and Community Center
$258,000 for The Landing in Redmond
$1.03 million for the Together Center in Redmond
$500,000 for the Marymoor Park Dock Replacement
$1.85 million for the Lake Sammamish property acquisition
---
More to come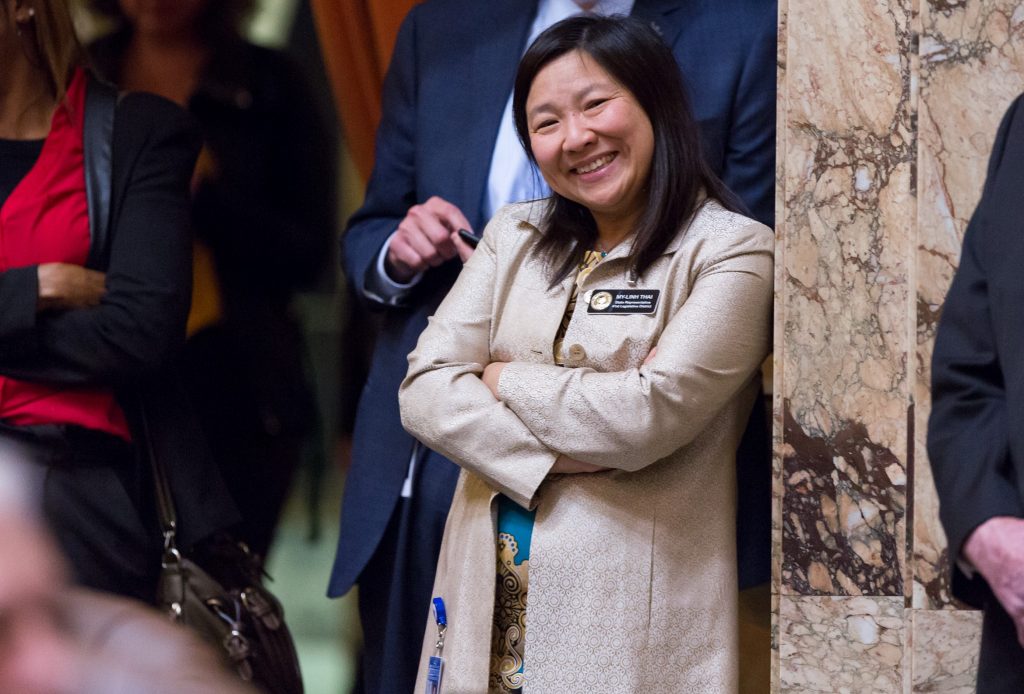 In later newsletters, I'll update you on those four big issues that we started with as our goals for the session. There's a lot to talk about this year.
It is an honor and a privilege to serve as your representative. If you have questions about legislation, comments, or an idea, please get in touch.
Thank you for taking the time to read this—I hope to hear from you soon!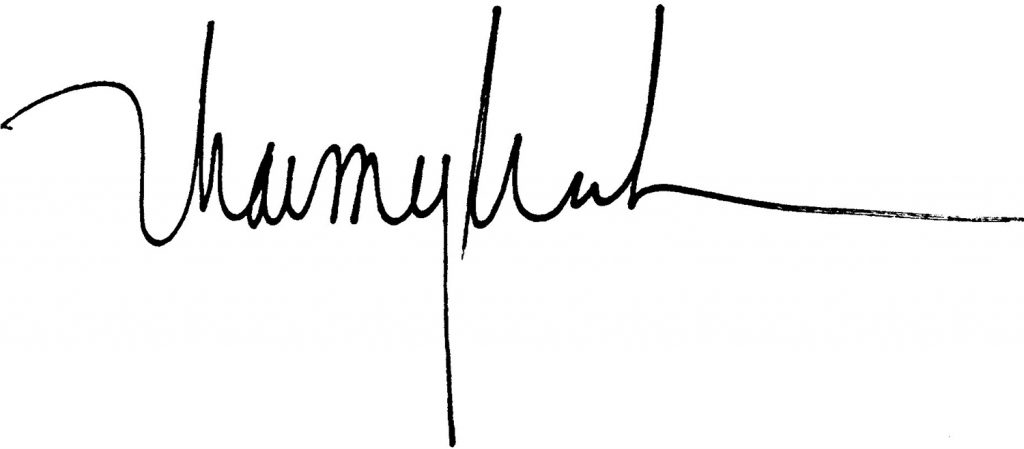 ---