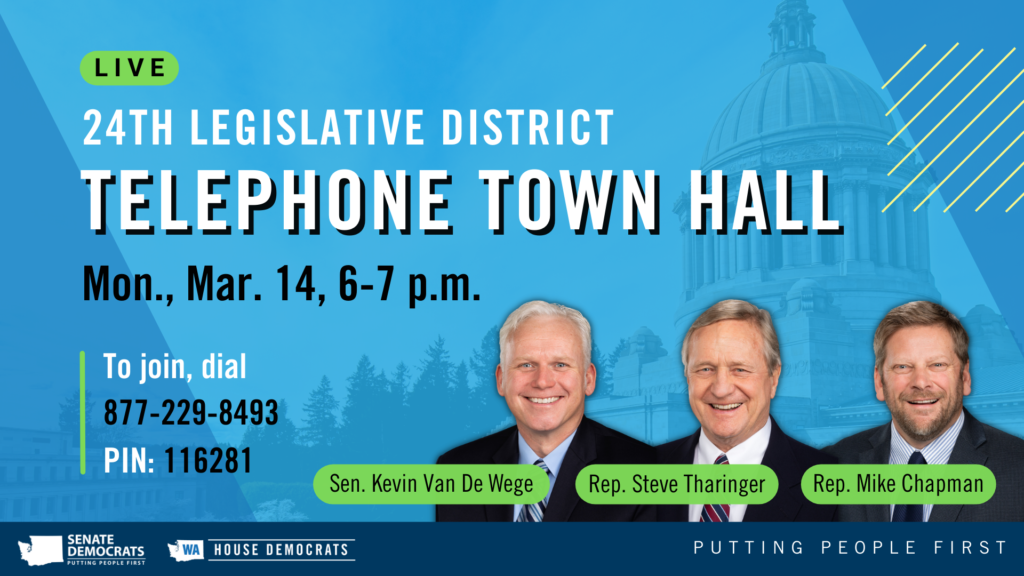 Friends and neighbors,  
The 2022 legislative session is scheduled to conclude on Thursday, and we'd like to invite you to an end-of-session telephone town hall. 
Join your 24th district delegation – Sen. Kevin Van De Wege, Rep. Steve Tharinger and Rep. Mike Chapman on Monday, March 14, from 6 to 7 p.m. for a live telephone town hall. We will be giving updates and highlights of the legislative session and will also take questions from community members. 
What: Telephone town hall meeting. 
When: 6-7 p.m. Monday, March 14. 
To register for a call: vekeo.com/whdc24. 
Call-in information: 1-877-229-8493 – PIN: 116281.
All community members from the 24th district are welcome to join us. 
We look forward to talking to you on Monday.
Thank you,
Sen. Kevin Van De Wege         

 

Rep. Steve Tharinger           

 

Rep. Mike Chapman       

 

 
 
 
---