Dear Friends and Neighbors,
That's a wrap! The 2021 legislative session shaped up to be one for the history books – not only for being conducted remotely but also because of all that we accomplished in 105 days.
I am incredibly proud of the landmark legislation we passed to address the unprecedented public health crisis, economic recession, racial justice and climate change. I look forward to sharing with you more details in the near future but wanted to provide a quick update on the Legislature's work this year.
Sine Die 2021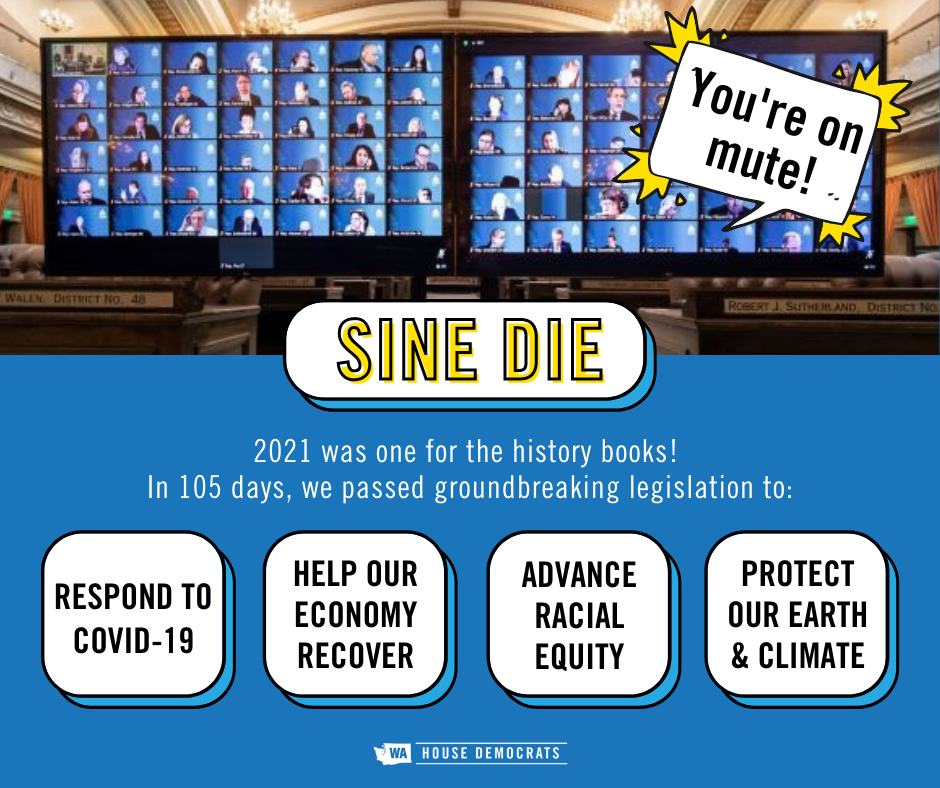 Key investments made by the 2021-2023 operating budget
Every two years, the Legislature crafts a new operating budget. This biennium's operating budget, The Washington Recovery Budget, is built around supporting Washingtonians hit hardest by the pandemic. It priorities the recovery of our state's BIPOC communities that have suffered disproportionate impacts during the pandemic by centering racial equity in the budget. The $59.2 billion budget makes key investments in our working families, small businesses, public health infrastructure, housing & homelessness supports, K-12 education, health care and more including:
K-12 EDUCATION- $3.2 BILLION
Stabilizes enrollment and transportation funding – $78 million + $219 million in 2021 supplemental
Supports learning recovery programs – $237 million + $334 million in 2021 supplemental
HOMELESSNESS AND HOUSING – $1.7 BILLION
Expands funding for rental assistance – $658 million
Homelessness response and permanent housing supports -$292 million
PUBLIC HEALTH AND HEALTHCARE – $3.2 BILLION
Allocates funding to DOH for vaccine administration, contact tracing, and testing – $1.2 billion
Provides increased funding to local public health districts – $149 million
BEHAVIORAL HEALTH – $520 MILLION
Increases funding for increased treatment bed capacity with community providers – $80 million
Expands adult and youth mobile crisis teams – $39 million
BUSINESS RECOVERY – $700 MILLION
Provides funding for unemployment insurance tax rate cuts – $500 million
Funds the small business credit initiative – $138 million
Capital gains tax passed!
I am excited to share that the Washington State Capital Gains Tax (SB 5096) passed the Legislature this session! This tax on extraordinary profits will impact the wealthiest Washingtonians by assessing a 7% excise tax on the sale or exchange of capital gains. It is estimated to raise $500 million in new revenue each year which will be used to fund childcare and early learning programs. It is beyond time we rebalance our regressive tax code and this is an important first step!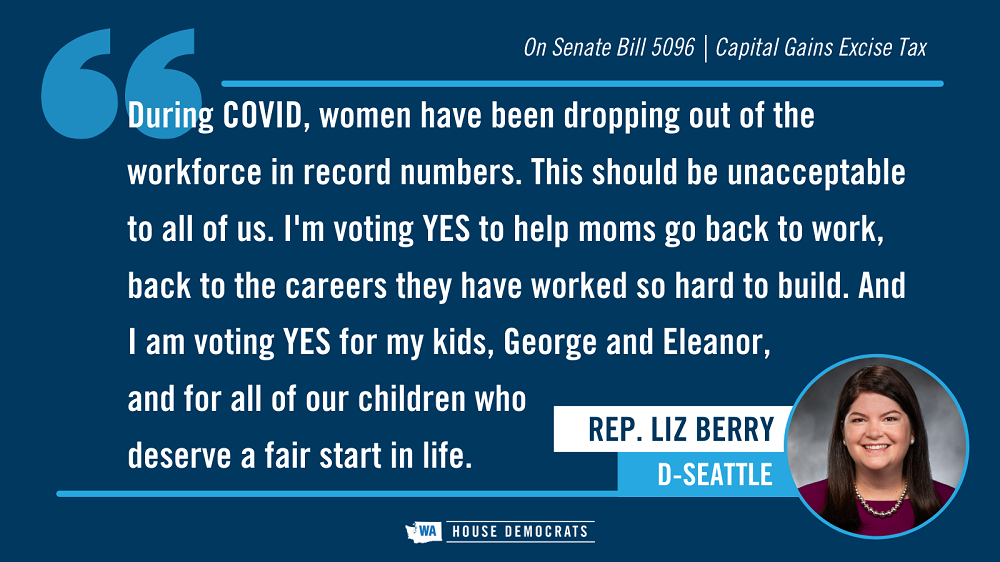 Still need your vaccine? Lots of appointments available
Anyone 16 years or older is now eligible for a COVID-19 vaccine. You can sign up directly for a vaccination appointment today at any of the four City of Seattle-affiliated sites at Lumen Field, North Seattle, Rainier Beach, and West Seattle.
The City of Seattle expects to have thousands of appointments to be available in the next two weeks at all four sites, and it's easier than ever to make an appointment.
Thank you for doing your part to keep our community safe and put us on the road to recovery.
____
As always, please contact our office if you have a comment, question or need assistance at Liz.Berry@leg.wa.gov or (206) 709-5260. Although session is over, our work supporting and connecting with constituents is year-round.
It is an honor to represent you in Olympia. Please keep in touch.
Best wishes,

---