Dear Friends and Neighbors,
After 105 days, the legislative session ended on time, with great results that will benefit our community and help families recover from the pandemic and economic downturn. While it was a challenge to not be able to meet with constituents and colleagues in-person, we as elected officials have been able to meet with many of you virtually and by phone due to the remote session. I am honored to serve as your state representative, and I will continue to work on your behalf.
Without a doubt, this was a legislative session like no other. Moving forward, I am confident the people of our state will have unprecedented access to their elected officials. I am hopeful we will be back to business as usual next session, where people can travel to Olympia and meet us in person if they choose to do so. In addition, if you don not have the capacity to travel to the capitol, you can always set up a virtual meeting and I will be happy to speak with you.
---
Join us for a virtual town hall to recap the legislative session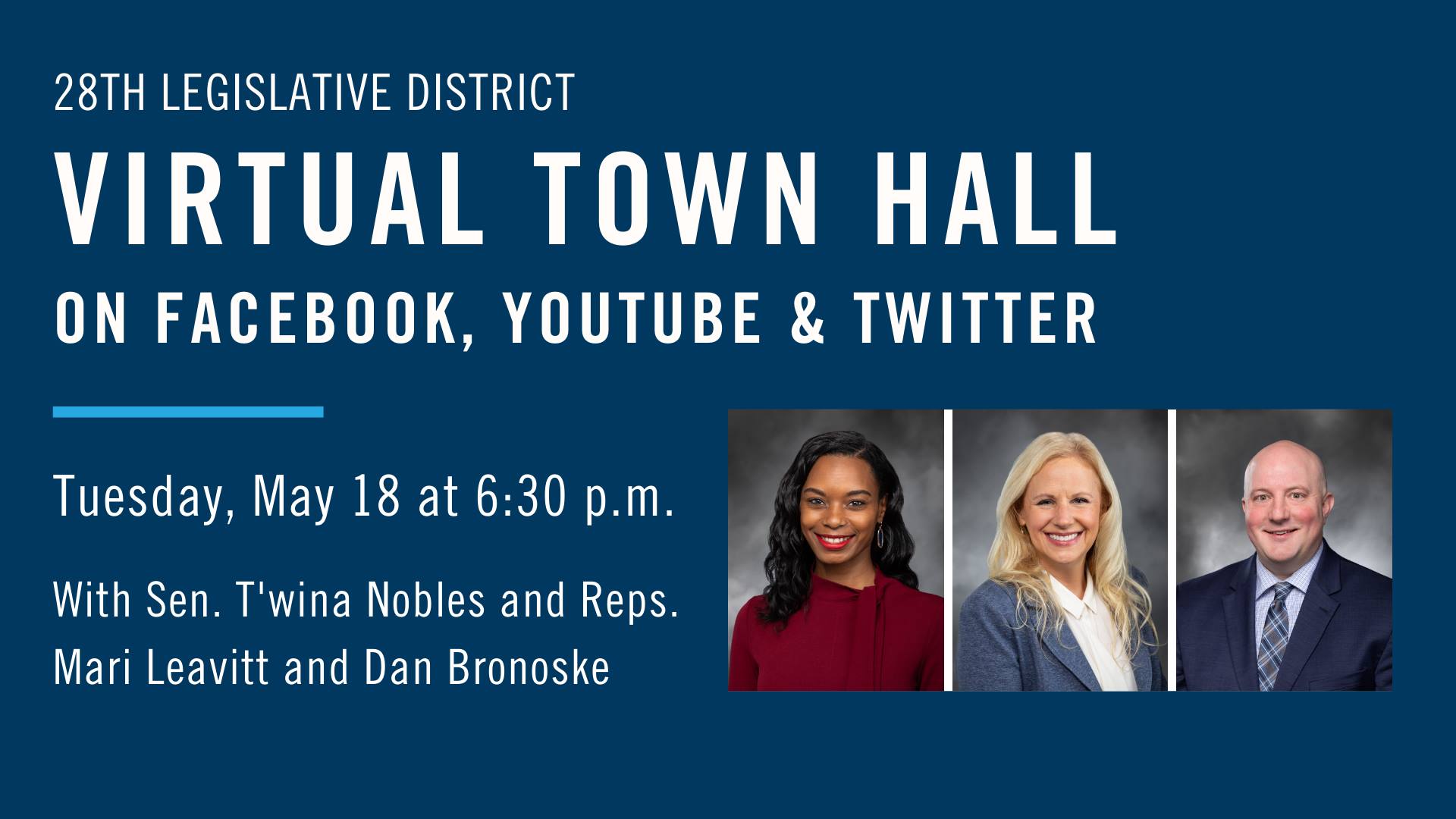 On Tuesday, May 18 at 6:30pm, I am hosting a virtual town hall with my 28th Legislative District seatmates, Rep. Mari Leavitt and Sen. T'wina Nobles. I hope you can join us to hear a recap of the legislative session, and so we can hear your questions, thoughts and concerns about outcomes from the session.
Click here to RSVP. The event will stream live on Facebook (you do not need a Facebook account to watch) and on YouTube and Twitter. Submit questions ahead of time here or live during the event.
If you are not able to attend, feel free to read our recent legislative update to the City of University Place here.
---
Investing in all residents by passing the "Washington Recovery Budget"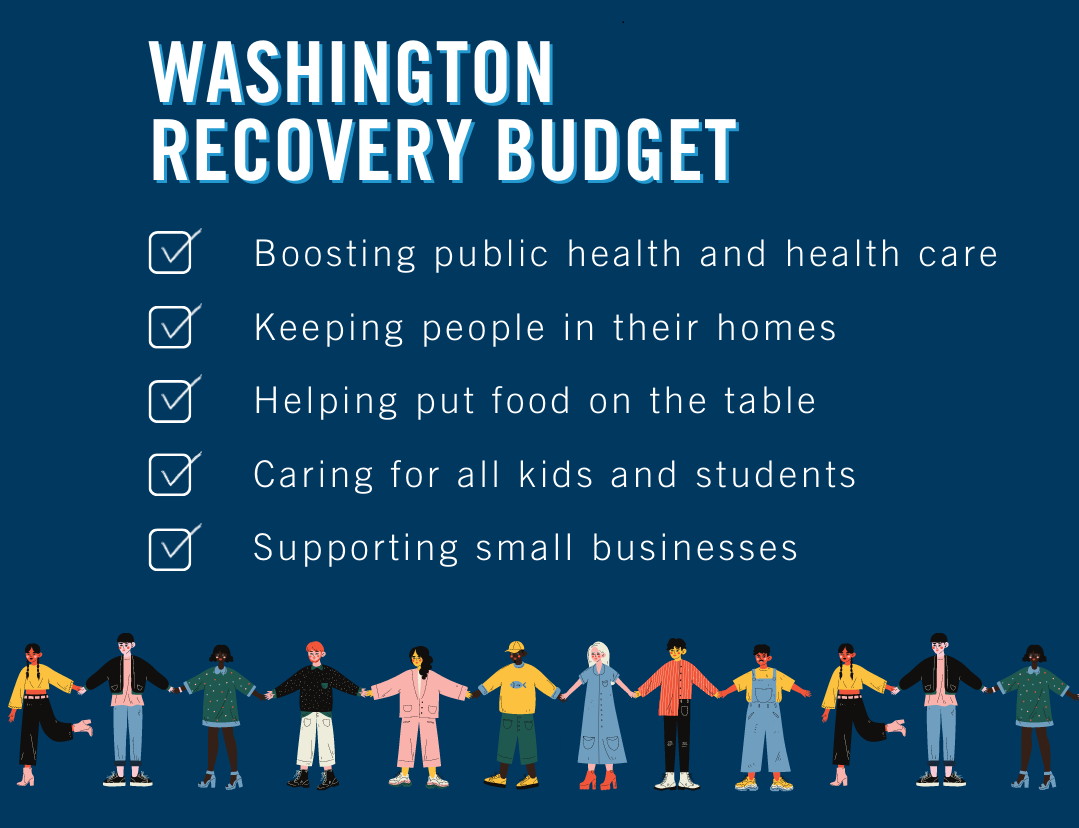 This session, the Legislature followed through on Washington's Plan for Community and Economic Recovery – the centerpiece of which was the $59 billion operating budget. The "Washington Recovery Budget" will ensure that the people of Washington, regardless of who we are, will have the support we need to recover together.
The challenges we face are real: a housing crisis, waiting lists and barriers to support, vulnerable populations being left out in the cold, socially-isolated seniors, parents living in poverty and struggling to provide food, shelter, or a warm bed for their children.
It is our obligation as elected leaders to ensure that everyone has a fair shot at life, and that is why I was proud to vote for the "Washington Recovery Budget." It is a vision for how the state best serves the people: to be there when times are hard, and when families are trying to get back on their feet. It is a strong response to COVID-19, and a dramatic change to how we help families in this state by centering communities who are struggling. Our budget starts with supporting our most vulnerable community members: people who cannot afford groceries, or do not know where they will sleep tonight.
Click here to learn about Washington Recovery Budget investments for economic recovery, public health, housing, early learning & child care, education and more.
We also passed new two-year construction and transportation budgets that fund critical investments here in the 28th Legislative District that will clean up contamination in our environment, namely our drinking water, and help people get around quicker and more safely. Click here to learn more about investments in our area.
---
Supporting our small businesses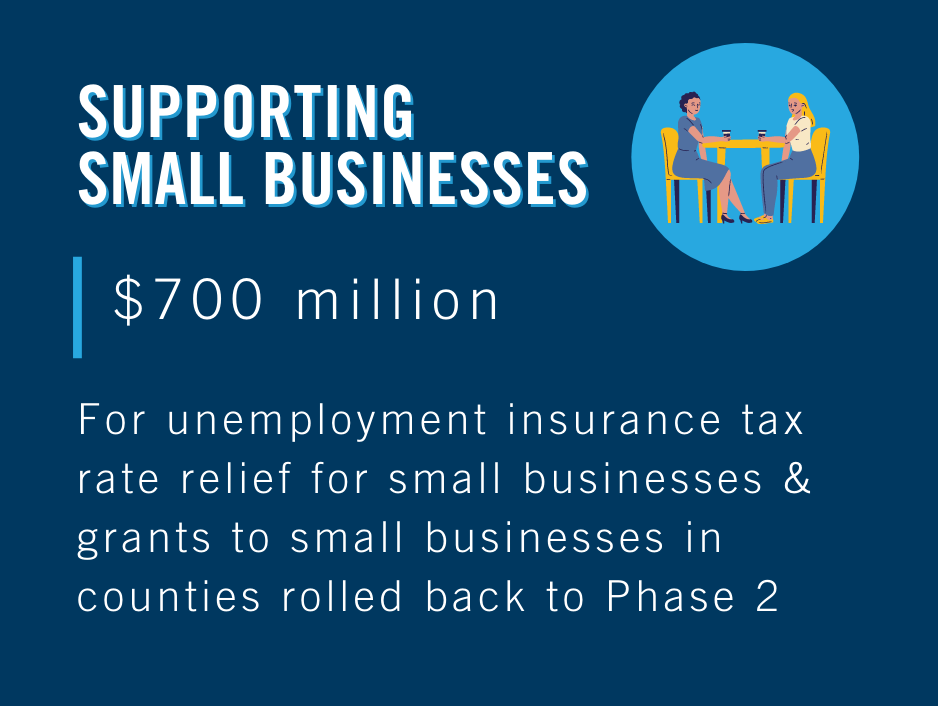 I know this year has been hard. So many communities impacted, and one group that I am concerned about is our small business community. To keep us all safe, most businesses faced temporary closure. Some couldn't survive, and others are struggling to stay afloat. Many are family-owned, local institutions, and Main Street businesses that need our help. This session, I voted for bills and budgets that offer incredible support to those families and businesses who need help the most, through:
$500 million for unemployment insurance tax rate cuts to lessen that burden on small businesses in the state budget, and over $1.7 billion in tax rate cuts to businesses in our state (SB 5061)
$50 million in small business grants for art and heritage businesses and non-profits, and small businesses in counties that moved back to Phase 2. This is in addition to the $240 million in small business grants that I voted for earlier in the session in our Step One for Community and Economic Recovery bill (HB 1367)
Exempting businesses from paying state taxes on COVID-19 relief funds (HB 1095) and requiring county treasurers to grant a deferral of 2021 property tax payments for businesses with significant revenue loss (HB 1332)
Expanding the Main Street Program, which helps revitalize rural towns and support local small businesses (HB 1279)
We need to stay safe during this pandemic and continue the measures that have saved lives, as well as get vaccinated when we choose. In the meantime, I hope this relief helps our local businesses so that when it is safe, we can all go out and enjoy these fine establishments in our community once again.
---
ACTION ALERT: Public comment on the proposed Tacoma Narrows Bridge toll increase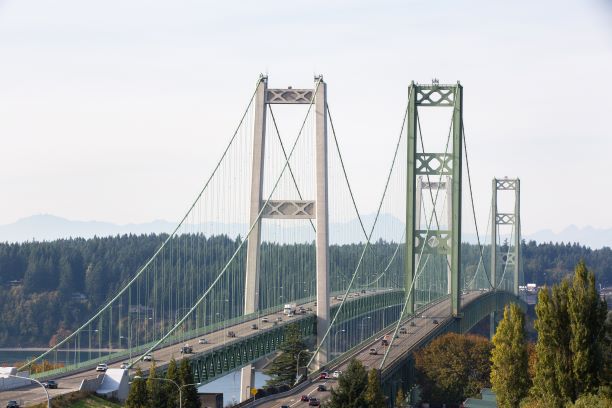 On Tuesday, May 18 the Washington State Transportation Commission will meet to discuss scenarios for a toll increase for crossing the Tacoma Narrows Bridge. The bridge provides a critical transportation connection for communities in Pierce County, so I hope you will take this opportunity to weigh in.
This section of the virtual meeting is scheduled to begin at 4:20 p.m.
Public comment on agenda items will be accepted via email or can be raised using the "question" feature during the virtual meeting. Written comments should be sent to transc@wstc.wa.gov. Written comments received by 4 p.m. Monday, May 17, will be provided to commission members electronically before the meeting.
The meeting will be streamed live at tvw.com
---
New earthquake warning tool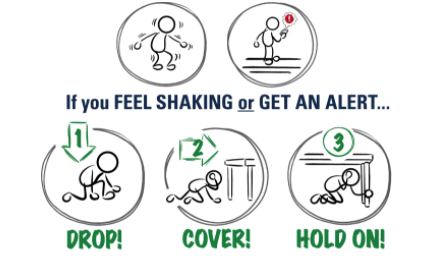 Starting on Tuesday, May 4, people in Washington will have another line of defense to protect their families in the case of a damaging earthquake. ShakeAlert, the earthquake early warning system for the West Coast of the U.S., will be able to send earthquake alerts to mobile devices in Washington.
There will be two ways for the public to get notified of an earthquake that has begun underfoot:
Wireless Emergency Alert (WEA) messages, which will look similar to AMBER Alerts. For people expected to feel shaking, WEA will push notifications to phones for earthquakes greater than magnitude 5.
Built-in alerts on Android mobile devices. Android users who are expected to feel shaking will receive alerts for earthquakes greater than magnitude 4.5.