Dear friends and neighbors,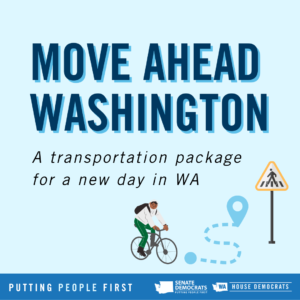 We are back in person in Olympia for the 2023 Legislative Session and I am excited to get to work! During the 2022 Legislative Session I am proud of having led the charge in passing Move Ahead Washington, a $17 billion, 16-year package that makes unprecedented investments in transit, active transportation and highway preservation and maintenance.
Implementing Move Ahead Washington
While the 105-day 2023 Legislative Session just got underway, the work to implement components of Move Ahead Washington begins. On day one of session, the transportation committee already gathered to begin discussing the status of operations and current challenges with air travel in our state. A few years ago, the Legislature authorized the Commercial Aviation Coordinating Commission (CACC) to evaluate options for an additional commercial airport to address future growth in the state. The committee is considering three sites—two of which are in Pierce County, with the other being in Thurston County—to ease pressure off the Seattle-Tacoma International Airport in SeaTac. Oppositions to these plans are plentiful for a myriad of reasons, and I am attending town halls to listen to your concerns. In fact, on Friday, Jan. 13, I was at a community-led event in Graham, with more than 500 people in attendance. I was there to listen to your concerns—and I share them— on environmental issues such as air pollution and what will happen to the Nisqually River watershed, as well as issues with infrastructure and conflicts with land-use policies on growth management.
The transportation committee's observations about the CACC's work to date is that it should not have excluded potential sites in King County, nor require a designation of a single site. Furthermore, the CACC should have been given a more comprehensive assignment with provisions to look at environmental concerns and airspace management, as well as being better resourced to properly do the work in which they were charged. I will be working with my colleagues in the legislature on a bill to include funding a complete analysis on the environmental and airport transportation impacts and will keep you posted on its progress.
Another important piece of the Move Ahead Washington implementation work is improving Washington State Ferries. Two items, especially, are of top concern to me this session. The vessels themselves are old—many 50 to 70 years of age—with repairs being expensive or even next-to-impossible to achieve based on their sheer age alone. On a side note, the employment process at Washington State Ferries is cumbersome. Not only is it difficult and painfully slow to get hired for open positions, but the agency does not pay competitive wages that adequately meet the cost of living in this state. I am working to fix these issues.
My Committees + Other Focus Areas This Session
Additional priorities of mine this session include the state's overall transportation budget, as well as introducing bills on carbon reduction measures, traffic safety and student homelessness. The Legislature will also be focusing on tackling homelessness, public safety, reproductive freedom, gun violence and more. Before the Legislature's scheduled adjournment on April 23, the 2023-25 state budget must also be written and approved. My committee assignments position me well to support the highest priorities of the 27th Legislative District. I am humbled and honored to serve you in the Washington State House of Representative, where I remain Chair of the Transportation Committee and serve on the Environment & Energy Committee.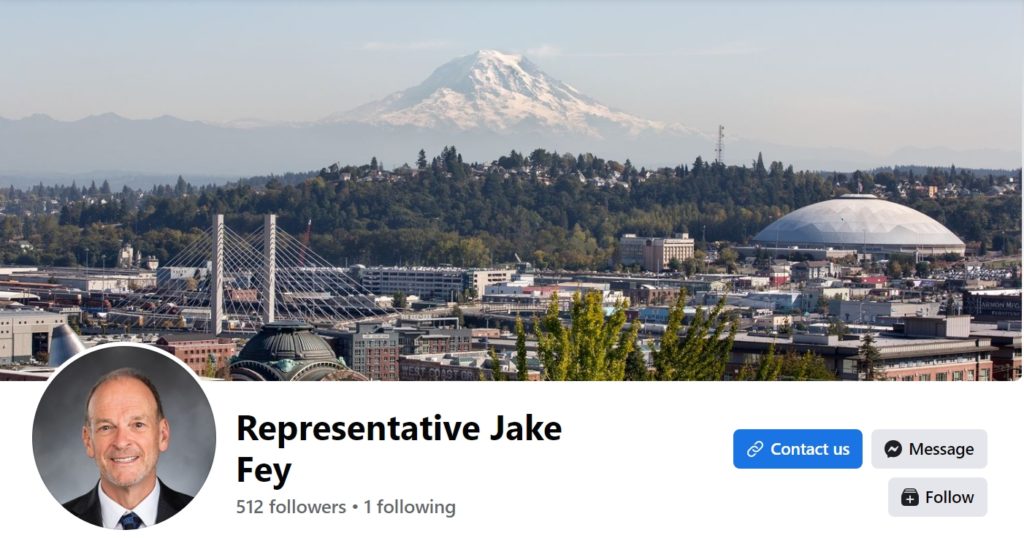 This biweekly newsletter will give you a sense of the issues I am working on, and the progress being made. I welcome your ideas and encourage you to reach out to me about issues important to you. You can also visit my legislative Facebook page for regular updates. And, at the bottom of this newsletter, I encourage you to check out the infographic that depicts exactly how and when to get involved in the lawmaking process.
The Legislative Page Program is Back!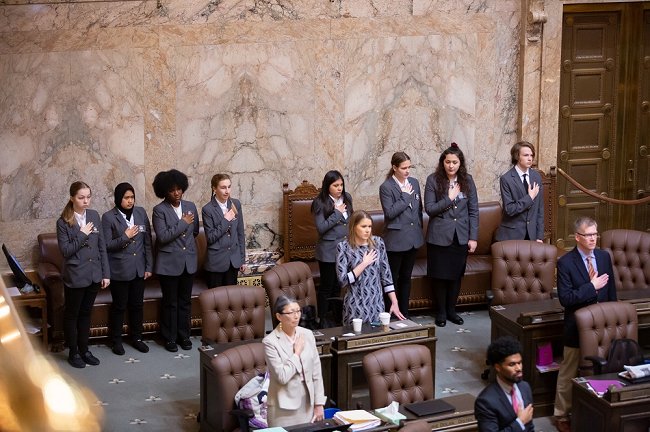 With the Legislature back to an in-person session in Olympia, the legislative page program is back and accepting applications! The page program gives young Washington residents the chance to learn and participate in the legislative process by attending page school, assisting offices, delivering messages, and working on the House and Senate floors.
This unique opportunity is open to Washington residents who are at least 14 years old but have not reached their 17th birthday. We're making a one-time exception this session to allow 17- and 18-year-olds to participate during two specific weeks since the program was discontinued during the remote sessions in the COVID-19 pandemic.
For more information, visit the page program's website by clicking here.
Sincerely,