Dear friends and neighbors,
I had the honor of speaking at a bicameral traffic safety press conference this afternoon, where Gov. Jay Inslee was in attendance.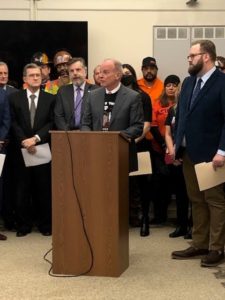 Like other states in the nation, Washington is experiencing increased traffic accidents and incidents that often result in serious injuries and fatalities. There was a 17 percent increase in traffic fatalities from 2020 to 2021, reaching the highest level in 10 years. Worse yet, pedestrian fatalities are up by 31 percent. Tragically, 745 people died from traffic accidents in 2022 – the highest number on record since 1990.
At today's event, Several House and Senate bills were addressed regarding driver education and training, driver's license re-examination, limits on blood alcohol concentration and other safety strategies were the main topics of conversation.
I also had the privilege of talking about House bills that are in the works and will be introduced soon, such as a bill that will make work zones safer for transportation workers and a bill that will make city streets and crosswalks safer for pedestrians and cyclists by limiting free right turns on red lights.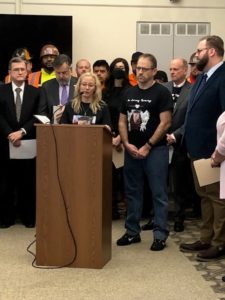 This latter one is especially near and dear to my heart, as I recently met with the Weilert family of Parkland, in my colleague Rep. Sharlett Mena's district. Just six months ago in July, the Weilert's 13-year-old son, Michael, was hit and killed in a crosswalk while riding his bicycle. Michael's parents, David and Amber, were in attendance, and shared their story of what they're doing to ensure others don't suffer their same fate. The Weilerts are good people working within the community to protect other kids and families.
Tragically, the officers who arrived on the scene of where Michael laid down his life last summer said that there was nothing the teenager did wrong while riding his bicycle. The intersection is part of a traffic corridor that has had several pedestrian and bicycle accidents in the past year, according to data from the Washington State Patrol.
I will soon be introducing a bill that will focus on recruitment efforts for the Washington State Patrol. Applications at the agency are down significantly from what they have historically been—by as much as one-third—and the bill I'll be introducing will make being a state trooper a more attractive career choice.
Washington can do better. We know there are problems, and my colleagues in the House and Senate are working on creating solutions to address the issues. Our families and kids are depending on us, and we will deliver.
Looking at New Airport Sites for WA
In my last newsletter to you nearly two weeks ago, I mentioned that my priorities this Legislative Session are chiefly focused on implementing components of Move Ahead Washington, as well as the state's transportation budget during this biennium.
Part of the Move Ahead Washington implementation is the daunting task the Transportation Committee is charged with to deal with the status of operations and current challenges with air travel in our state. Seattle-Tacoma International Airport is expected to reach capacity by 2050, with 27 million passengers unable to fly because supply won't be able to meet demand. In 2019, the Washington State Legislature created the Commercial Aviation Coordinating Commission (CACC) to recommend one of these proposed sites—two in Pierce County and one in Thurston County—by June of this year.
However, I believe there are mistakes in that recommendation.  Rep. Tom Dent (R-Moses Lake) and I are working on legislation to more thoroughly evaluate potential sites. This has already been making the news: KUOW reported on it earlier this week, which you can read here; and the Yakima City Council has asked a state commission to consider its airport as a solution. I'll be sure to keep you updated as this progresses, so stay tuned to my biweekly updates!
Sincerely,