Dear friends and neighbors,
I hope you are doing well, staying safe, and masking up.
This has been a difficult year for many in our community. Which is why this first month of the 2021 Legislative Session, I've focused on sponsoring legislation that brings critical resources home to the 11th Legislative District and ensures the health and safety of our community.
Here are a few of the things I have been working on.
Securing $2.2 Billion in COVID Relief Funds
This week my colleagues and I voted to provide $2.2 billion in COVID relief funds to assist Washington families and businesses who have been most impacted by the COVID-19 pandemic.
These funds will ease the financial hardship of struggling renters and landlords, small restaurants and neighborhood businesses, school districts, uninsured and underinsured individuals, and Black and Brown communities, which have been disproportionately hurt during the pandemic.
Here is what is included in the package:
BOOSTING PUBLIC HEALTH: $618 million for a state Department of Health fund for vaccine administration, contact tracing, and testing.
KEEPING PEOPLE IN THEIR HOMES AND FED: $365 million for rental assistance and foreclosure assistance and for small landlords to stay on top of their mortgages. The plan also includes $52 million for food and cash assistance and TANF extension.
INVESTING IN SMALL BUSINESSES: $240 million to fund grants for small businesses and non-profits to maintain operations and help with reopening.
GETTING STUDENTS CAUGHT UP: $714 million for schools to address learning loss, keep teachers on the payroll, and get ready to bring kids back to the classroom when it's safe to do so. The plan also includes $50 million for grants for child-care providers.
SUPPORTING ALL WASHINGTONIANS: $70 million for long-term care and developmental disabilities programs and $6 million for health care for underinsured and uninsured individuals. The plan also includes $65 million for immigrant relief assistance and $5 million for grants to provide emergency financial aid for undocumented college students.
Additionally, many of you have reached out asking about vaccine distribution. Here is some quick information regarding the Governor's updated COVID-19 vaccine plan.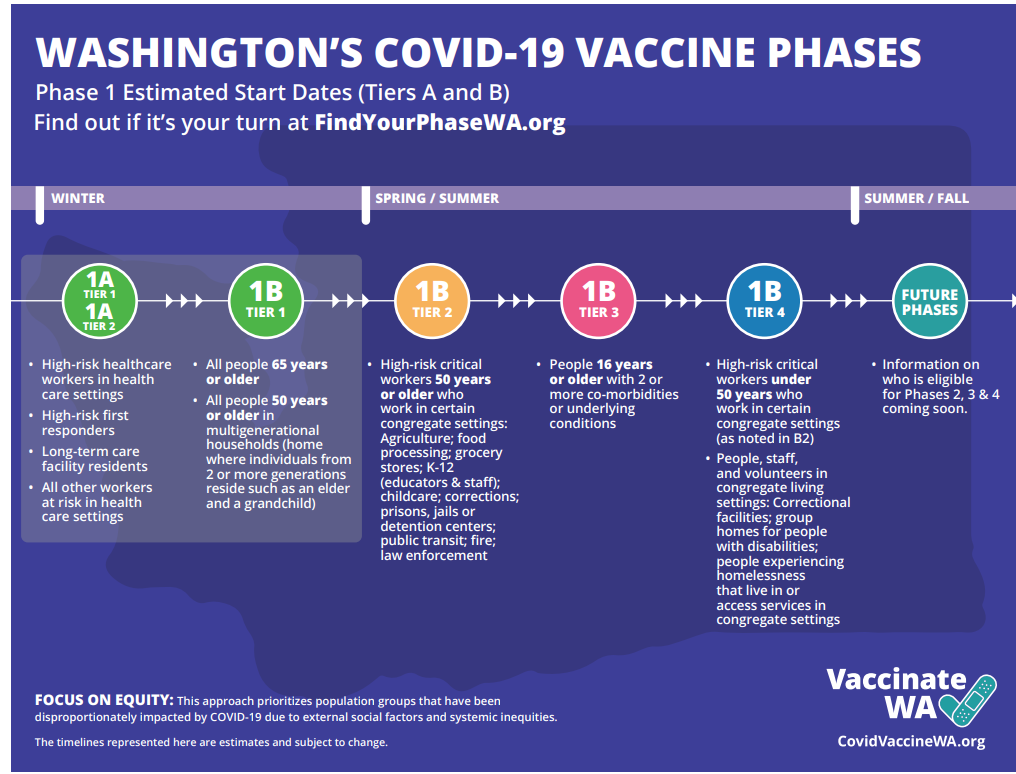 Restoring Community Trust in Law Enforcement Through Independent Investigations of Police-involved Deaths
This summer saw historic protests against police violence and the lack of accountability for that violence.
After it was revealed that the Pierce County Sheriff's Office continued to investigate the killing of Manuel Ellis without disclosing that one of their deputies forcefully restrained him at the scene of his death, Governor Inslee formed a task force on independent investigations. The Governor's Task Force on Independent Investigations of Police Use of Force brought together 23 stakeholders from communities of color and law enforcement who met over the course of six months.
I'm proud to be a cosponsor and lead on HB 1267 in the Public Safety committee, following their recommendations. For more on this bill click here.
Also, I testified on several public safety and police accountability bills and spoke about Black History Month earlier this week. Click here to view the video.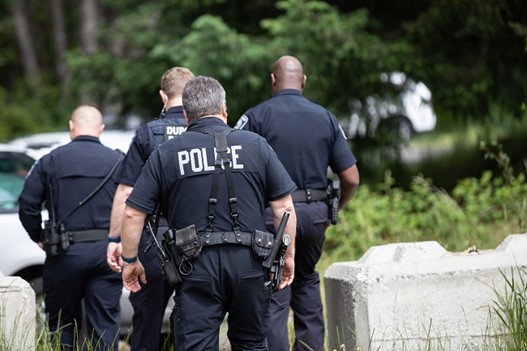 Why Washington Needs Public Broadband
With everyone working and learning from home this year, the digital equity divide has never been more apparent.  Washington residents that do not have reliable broadband service, or broadband service without adequate upload and download speeds, are forced to connect to the Internet with their phones or are left without service entirely. Reliable broadband is a necessity to modern life.
This session, as second Vice Chair of the Capital Budget Committee, I was asked to lead a broadband working group ("BBWG") composed of members of the committee. The BBWG has been meeting with stakeholders and will make recommendations as to the dollar amount of broadband investment in the capital budget, as well as define how to target that investment. In addition to the BBWG, I have enjoyed working with colleagues such as Rep. Hansen who recently introduced HB 1336, the Public Broadband Act, which will expand access to high-speed public broadband and bridge the digital divide.
I'm very excited about the Public Broadband Act and was inspired by the testimony I saw from supporters of the bill. You can watch some of that testimony by clicking below.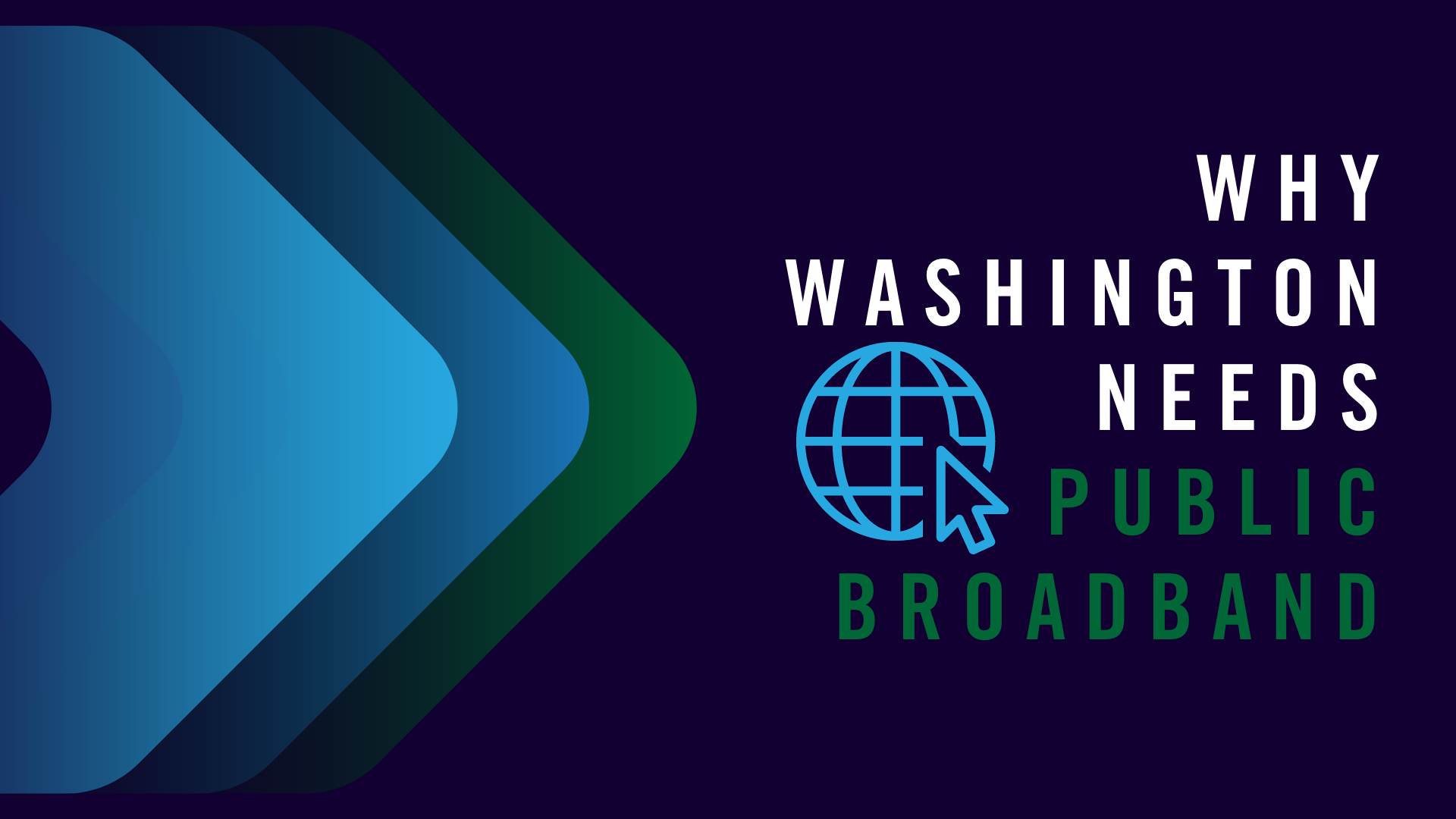 Constituent Corner: HB 1090
Over the last few weeks, I've received many emails from you in support of HB 1090 which would ban the operation of private, for-profit detention facilities in Washington. It is past time for us to take a stance against private detention centers, such as the NWDC, and the human rights violations that occur within them. Persons in private detention centers have been known to suffer from malnutrition, unsafe conditions, and prolonged sentences while the owners of these facilities earn large profits. For this reason, I was proud to not only co-sponsor this bill but to vote in favor of passing the bill out of the Public Safety committee last week.
Learn more about the proposed legislation in this recent article from Crosscut. A short interview on the first week of session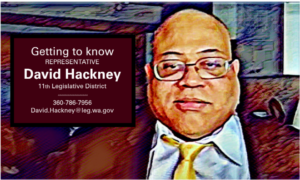 11th Legislative District Telephone Town Hall
Want to learn more about anything you read here? Join me and the rest of the 11th Legislative Team for a live telephone town hall on Tuesday, Feb. 16th, at 6 p.m. Sign up to receive a call at bit.ly/3oPHIAT or dial 877-229-8493 (PIN: 118322) to participate when the event starts.
Sen. Bob Hasegawa, Rep. Steve Bergquist, and I will share our thoughts on our legislative priorities and answer your questions on the issues you care about.
If you are unable to join us then, please don't hesitate to email me with your questions or concerns. To stay up-to-date on the issues I'm working on, visit my legislative website or follow my official Facebook page!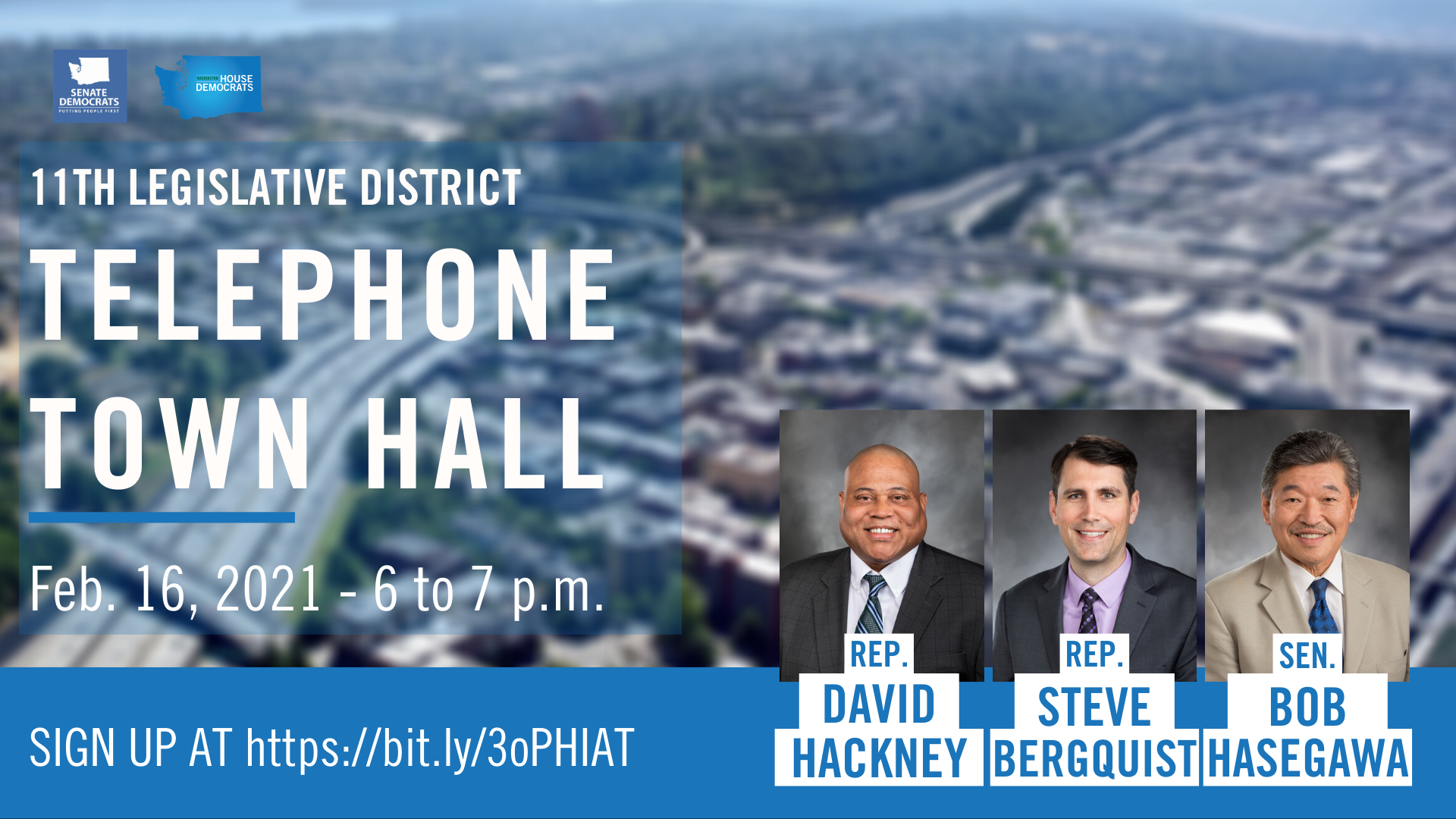 In service,

Representative David Hackney