Dear friends and neighbors,
This week marks a year since our state first shut down due to COVID-19. The past year has been challenging in more ways than one, highlighting gaps in government systems and infrastructure that require urgent improvements. One place where this has been widely apparent is in broadband access.
Access to high-speed internet pervades every part of modern life–from access to vaccination appointment sign-ups and telehealth medicine to educational resources and employment opportunities. Broadly available, high-speed internet is no longer a desired amenity but a necessity for navigating our increasingly digital world.
During this pandemic, it has become increasingly clear that our investment in broadband infrastructure is insufficient to meet even the basic needs of Washingtonians.  Although 89% of Washington residents having some form of Internet subscription, according to American Community Survey data, roughly 670,000 households or 1.7 million Washingtonians lack the type of fast, synchronous Internet connection needed for interactive applications required to participate in remote education, employment, or telehealth.
Please see below a non-exhaustive list of some of the policy initiatives that the Legislature has pursued to improve access to broadband in Washington State.
Broadband Investments in the Budget
This session, as the second vice chair of the Capital Budget Committee, I was asked to lead a broadband working group (BBWG) composed of members of the committee. The BBWG met with stakeholders and made recommendations as to the dollar amount of broadband investment in the capital budget, as well as defined how to target that investment. Watch out for an announcement from me on this once the House budgets are released later this month.
Legislative Efforts to Expand Broadband Access
HB 1336 – Otherwise known as the Public Broadband Act, this bill will expand access to high-speed public broadband by allowing public entities to provide retail telecommunication services.
HB 1457 – Identifies broadband infrastructure as a critical part of the state's infrastructure and facilitates installation of broadband facilities in accordance with state transportation projects.
SB 5062 – Gives Washingtonians control of their personal data by defining privacy rights and imposing corresponding obligations on businesses who collect and process personal data.
SB 5357 – Establishes a competitive grant program within the WA State Broadband Office to award match funding grants to projects which increase broadband access to unserved areas of the state.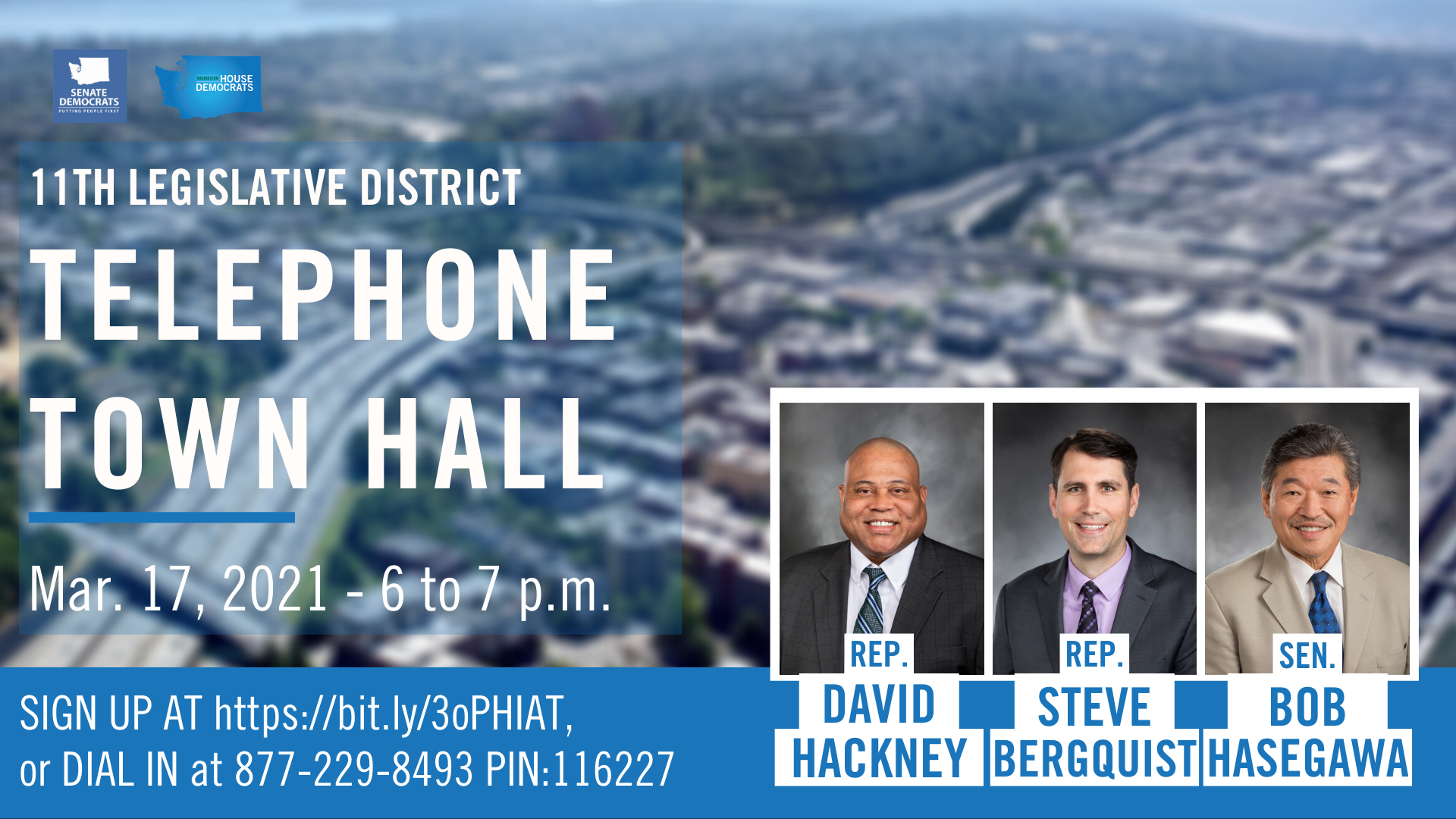 FYI: 11th Legislative District Telephone Town Hall Tonight!
Join me and the rest of the 11th Legislative Team for a live telephone town hall on Wednesday, Mar. 17th, at 6 p.m. Sign up to receive a call at bit.ly/3oPHIAT, or dial 877-229-8493 (PIN: 118322) to participate when the event starts.
Sen. Bob Hasegawa, Rep. Steve Bergquist, and I will share our thoughts on our legislative priorities and answer your questions on the issues you care about.
If you are unable to join us then, please don't hesitate to email me with your questions or concerns.
We look forward to seeing you there!
We Are Moving to Phase 3 Next Week
Last week, Gov. Inslee announced that Washington moves to Phase 3 on Mar. 22nd!
The following changes are allowed under Phase 3:
25% occupancy fan attendance at outdoor spectator events (sports, rodeos, concerts, etc.)
400 people maximum for outdoor activities, as well as events in indoor facilities (cannot exceed 50% of the location's capacity, and larger venue events cannot exceed 25% or up to 9,000 people)
Additionally, starting today, everyone in Tier 2 will be eligible for the COVID-19 Vaccine.
This announcement is a major win for our small business owners and our communities. The light at the end of the tunnel is getting brighter, but please continue to stay vigilant, social distance, and most of all, mask up.
Read more about what is allowed in Phase 3 here.
Washington State COVID-19 Vaccine Resources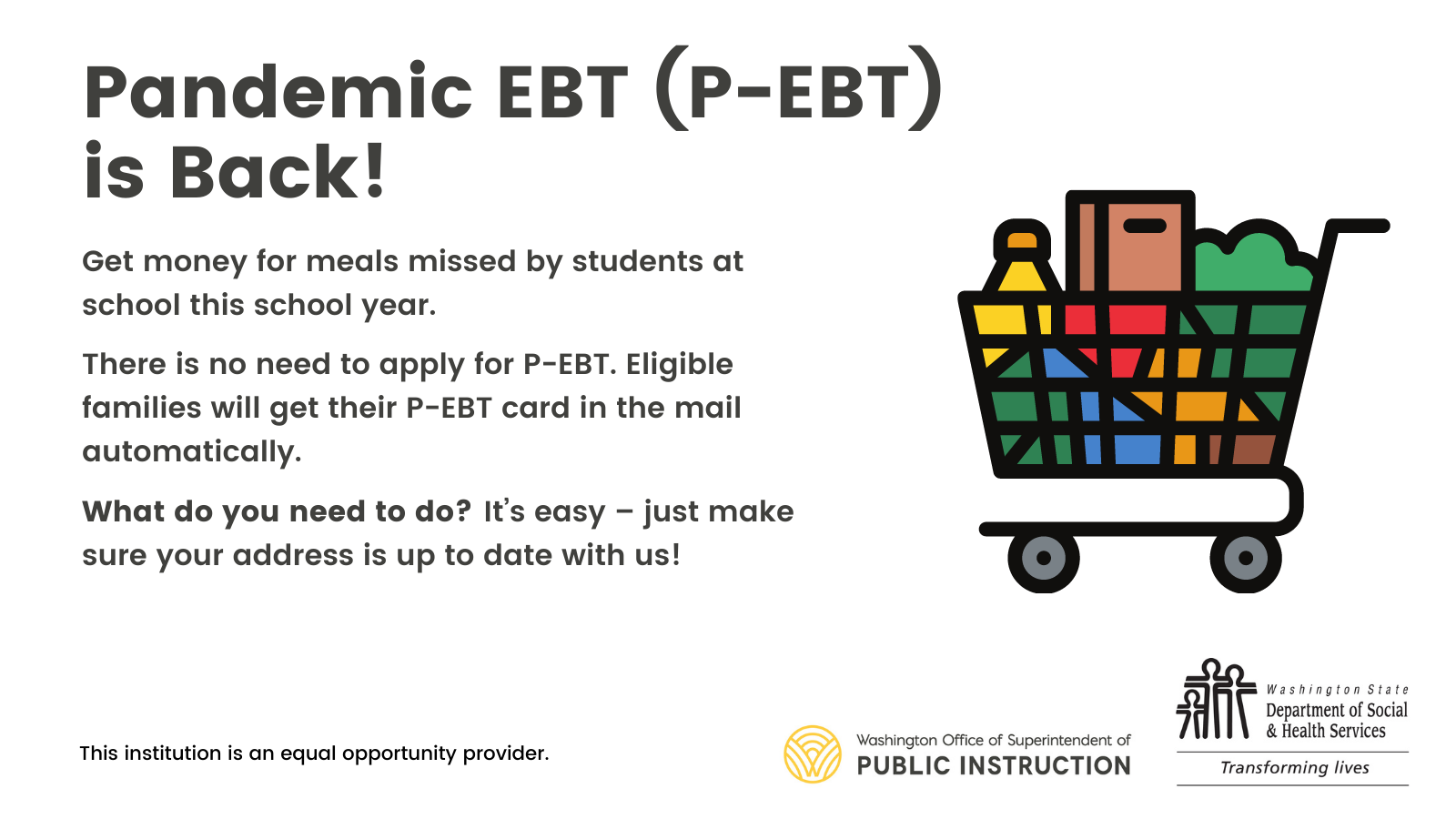 Did your child go to a K-12 school this school year that closed or had reduced hours due to the pandemic? Is your child eligible for free or reduced-price school meals? Then your child may be eligible for P-EBT this school year. P-EBT is money that can be used to buy food for your children.
Find out if your child is eligible and learn how to get P-EBT: Learn more at www.dshs.wa.gov/pebt or call the P-EBT Contact Center at 1-833-518-0282 with questions.
If you need this information in another language, please call 1-833-518-0282.
Constituent Corner: Supporting our Long-term Care Staff and Facilities and Maintaining Medicaid Funding
According to the AARP, in 2020, Washington state had the second-best long-term services and support system in the country. An obstacle our Legislature runs into almost every year is ensuring reimbursement rates for nursing facilities keep up with the cost of providing care, and COVID-19 has made this extra difficult this past year.
To address this challenge, the Governor proposed increasing the budget to cover facility costs and move the rate reviews from a biennial to an annual schedule to reflect the cost of providing care. This proposal is supported by both for-profit and non-profit organizations. In the House, we considered legislation that also made changes to add inflationary adjustments and changes to the Medicaid rate methodology. This more accurately reflects the actual costs of taking care of senior citizens in long-term care in our state. The bill did not pass the House but could still be incorporated into the House budget that comes out later this month.
It's important that we continue to be thoughtful in our investments in long-term care, maintaining our workforce to meet the need at our long-term care facilities. I'll let you know what changes are proposed in the House budget and what is ultimately decided in the final budget approved by the Legislature. I appreciate all of you that reached out on this issue and hope to continue to hear your thoughts and feedback on how we can strengthen long-term services in Washington.
To stay up-to-date on the issues that I am working on, visit my legislative website or follow my official Facebook page!
In service,