Dear friends and neighbors,
We did it! After a historic 105 days, the Legislature is adjourned.
This first Legislative session was one for the books. Not only did we adapt to a fully virtual environment, but we passed groundbreaking legislation and secured historic budget allocations that address a wide range of economic recovery, equity, and climate issues.
None of this would have been possible without your involvement. Thank you for writing and calling in to share your views on pressing legislation and respond to local community issues.
Over the next few months, we have plenty of work to do to gear up for the 2022 Legislative Session. In the meantime, I wanted to share some of our most significant accomplishments from this session.
2021 Legislative Session Recap
By the Numbers
HB 1274, my 1st bill signed into law, allows state agencies to enhance the security and efficiency of their data systems and meet constituent needs more effectively by storing data on the Cloud. This is estimated to save Washington $100M over the next 5 years.
As House sponsor, I lead passage on SB 5226 which will immediately restore driver's licenses to 60,000 Washingtonians and eliminate the exclusionary practice of suspending licenses for failure to pay—a practice that disproportionately impacts low-income communities.
Another 2 of my bills were included in the budget: HB 1510 and HB 1542.

HB 1510 increases the efficiency and accessibility of non-emergency NEMT vehicles by allowing them to use HOV lanes.
HB 1542 creates a pilot program for increasing juror diversity in Washington by providing funding for juror demographic surveys state-wide.

Allocated $31M in new funding for Capital Budget projects in the 11th District. These are projects that increase affordable housing stock, build cultural community centers, and expand healthcare and dental access for low-income communities.
As vice chair of Capital Budget, I lead a working group that successfully secured a historic $441M for broadband infrastructure across Washington. This infrastructure will address equity issues in low-income and rural communities across the state by expanding access to high-quality, high-speed internet.
Strengthening Police Accountability
Last year, historic protests rose out of our communities demanding that Legislatures and police departments hold law enforcement accountable for excessive force and prohibit practices causing bodily harm. During this session, I was proud to work with my colleagues to develop and advocate for the passage of a comprehensive police reform package that will strengthen police accountability across Washington state.
Below, I highlighted legislation that addresses these concerns and helps build trust between law enforcement and the communities they serve.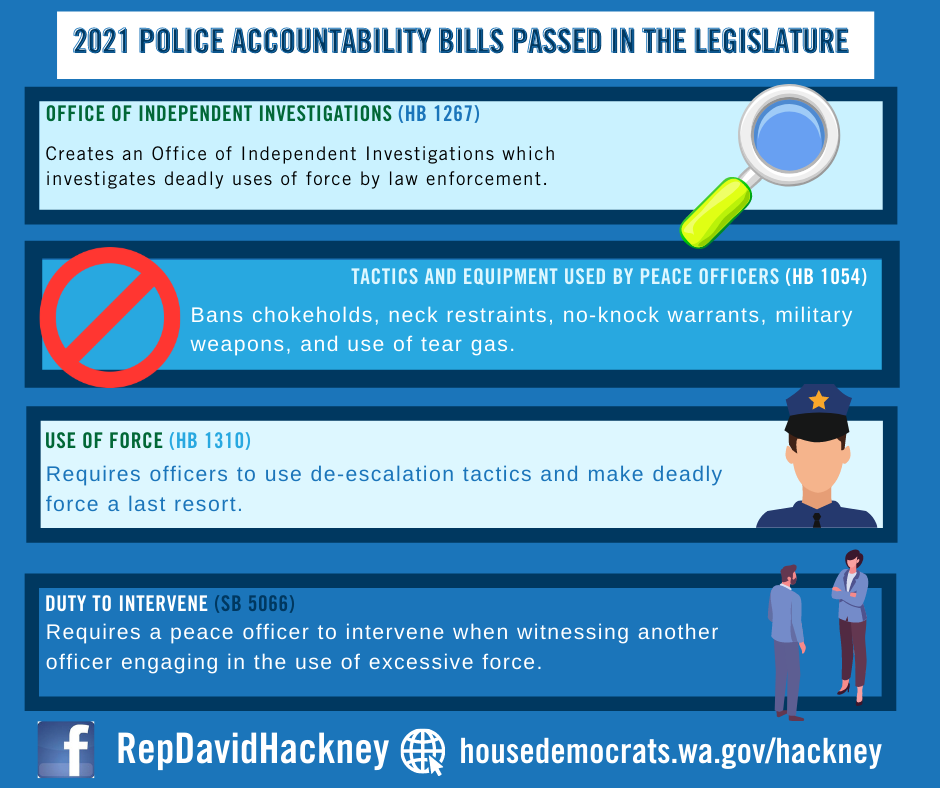 Washington passed a Capital Gains Tax!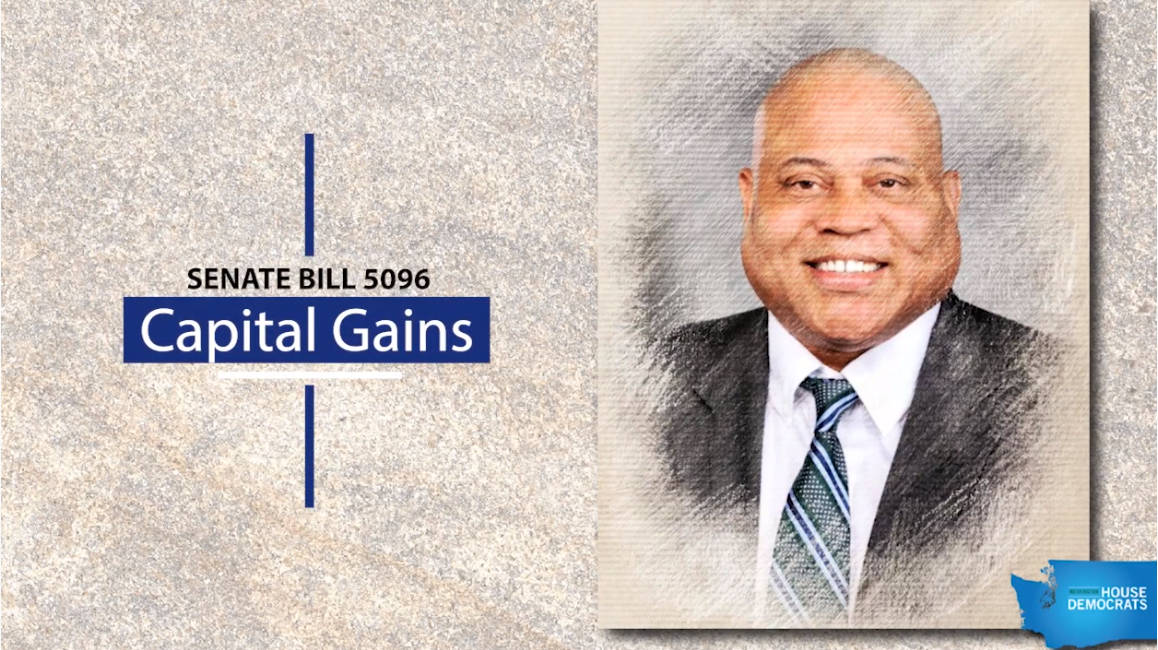 Washington has the most upside-down tax code in the country, affecting our low-income families and communities of color the most. A capital gains tax finally addresses inequality in our tax system. Also, this tax on extraordinary profits will impact the wealthiest Washingtonians by assessing a 7% excise tax on the sale or exchange of capital gains. It is estimated to raise $500 million in new revenue each year which will be used to fund childcare and early learning programs. It is beyond time we rebalance our regressive tax code and this is an important first step!
Click on the photo above to watch my floor speech and read my op-ed on SB 5096 here.
COVID-19 Vaccine Resources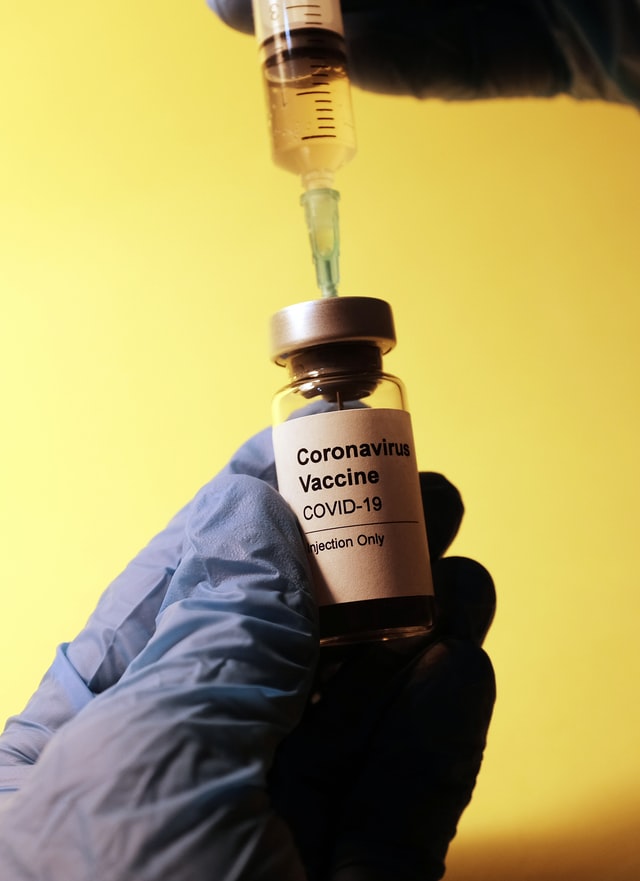 Anyone 16 years or older who lives or works in King County is now eligible for a COVID-19 vaccine. On King County's Public Health website, you can find the nearest vaccination location, find out information on in-home vaccinations, phone numbers to schedule a vaccination, and more.
The City of Seattle expects to have thousands of appointments to be available in the next two weeks at all four sites, and it's easier than ever to make an appointment. Register here for an appointment at the Lumen Field Event Center or Rainier Beach Vaccination Hub.
If you have any questions, I encourage you to check out the City of Seattle's "What to Expect" website.  And if you know someone 60 or older who hasn't been vaccinated, take them to our hubs in Rainier Beach and you'll both get vaccinated without an appointment. You can find more information on the new Good Neighbor walk-in program here. Thank you for doing your part to keep our community safe and put us on the road to recovery.
To stay up-to-date on the issues that I am working on, visit my legislative website or follow my official Facebook page!
In service,

---