State Representative Mari Leavitt is a mom, small business owner, education and PTSA leader, and strong supporter of Washington's military families. As a child of a military family and former Deputy Director of Pierce County Human Services, Rep. Leavitt is well aware of the pressing needs for service-members, veterans, and their families including health care, housing assistance, substance use disorder services, and other supports.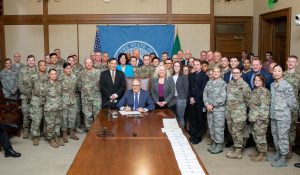 Mari joined the Washington State Legislature in January 2019 and immediately began working on priorities for her district. Her first law was a pay increase for Washington National Guard members who are called in for wildland fire response—the first pay increase for those Guard members who do that work in 30 years. She also established a cost of living increase for retired public workers who hadn't seen a permanent increase in over a decade. Finally, Mari pushed for increased safety measures at state hospitals, sales tax exemptions for affordable housing, and construction projects all over Pierce County, from community projects to highway improvement and expansion projects to help reduce traffic congestion.
Working in higher education for over 22 years as a college administrator, Mari worked to ensure access to community and technical education opportunities that help students succeed whether in high school or returning for worker retraining or to gain advanced skills. Her knowledge and experience in higher education landed her a role as vice chair to the College and Workforce Development Committee, where she works with lawmakers to improve access to community and technical colleges, apprenticeships, and four-year institutions and expand programs in order to prepare workers to meet the future workforce needs.
In her role as Deputy Director and former Trustee of the Accountable Communities of Health, she worked with staff on many programs that include a focus on behavioral health, aging and long-term care, early learning, violence prevention, developmental disabilities for our youngest citizens, and affordable housing and homelessness. As a legislator she continued work on these issues as well.
Mari was selected to attend the 2021 Western Legislative Academy. She earned her associate degree from Tacoma Community College, bachelor's and Master of Education from Western Washington University, and doctorate in Community College Leadership from Oregon State University.
Mari lives in University Place with her husband and children.