Friends,
The short legislative session is halfway over. In order to ensure that we can finish our legislative session on time, the Legislature has several deadlines that bills must meet if they are to advance forward toward becoming a law. Last Friday we reached the policy cutoff. Bills that have not been heard and voted on in a policy committee are dead for this year.
Next week we shift our attention to full-time floor action. We'll vote on bills as a full body until February 19th, and then we'll return to our committees to consider bills that the Senate has passed.
I'm happy to announce that my bills to support veterans and their families have made it past the policy cutoff. Please watch the video below to learn more about them.
---
I'm also pleased to let you know that I'll be joining my friends from across the aisle to host two 10th Legislative District Town Halls. Rep. Norma Smith and Sen. Ron Muzzall will join me in Mount Vernon and Oak Harbor for pair of Town Halls on Saturday, February 22. Please find some more information below:
WHO: Rep. Dave Paul (D-Oak Harbor), Rep. Norma Smith (R-Clinton), Sen. Ron Muzzall (R-Oak Harbor)
WHAT: 10th Legislative District Town Halls in Mount Vernon and Oak Harbor
WHEN: Saturday, February 22 from 10:00 – 11:00 a.m. (Mount Vernon) and 1:30– 2:30 p.m. (Oak Harbor)
WHERE: Mount Vernon WSU Extension Center- 16650 WA-536, Mt Vernon, WA 98273
Oak Harbor High School Student Union Building- 1 Wildcat Way, Oak Harbor, WA 98277
WHY: 10th District residents are encouraged to attend a bipartisan Town Hall meeting on Saturday, February 22 in Mount Vernon and Oak Harbor. Stanwood Mayor Leonard Kelley will moderate the Mount Vernon Town Hall and Oak Harbor Mayor Bob Severns will moderate the Oak Harbor Town Hall. Residents can ask their legislative delegation questions about the 2020 legislative session.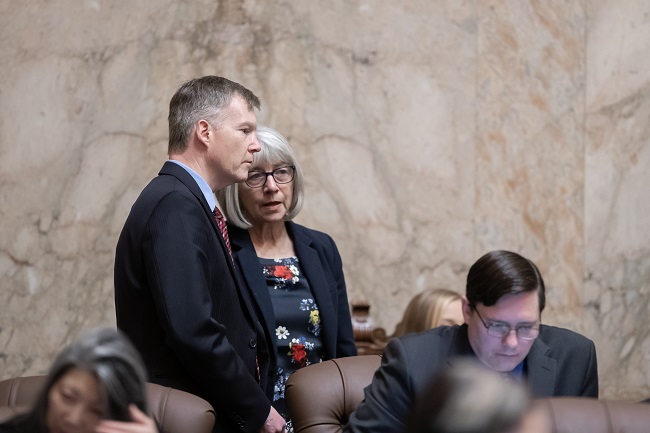 As always, if you have any thoughts, ideas, or concerns, please contact me.
Thank you,

Rep. Dave Paul
Dave.Paul@leg.wa.gov
(360) 786-7914
---