Friends and neighbors,
As they say, March comes in like a lion and we have been spending some long days and late nights doing the peoples' work. In this issue, I'll provide an update on impactful bills that my colleagues and I have passed from the House floor and invite you to two upcoming town halls so I can hear from you directly. I hope you will find it useful!
Legislative Update
We are just over halfway through the legislative session, and we have already passed 194 bills, 122 of which have passed unanimously, and 161 receiving over 80 votes. Below are a few of those bills that I believe will benefit our community.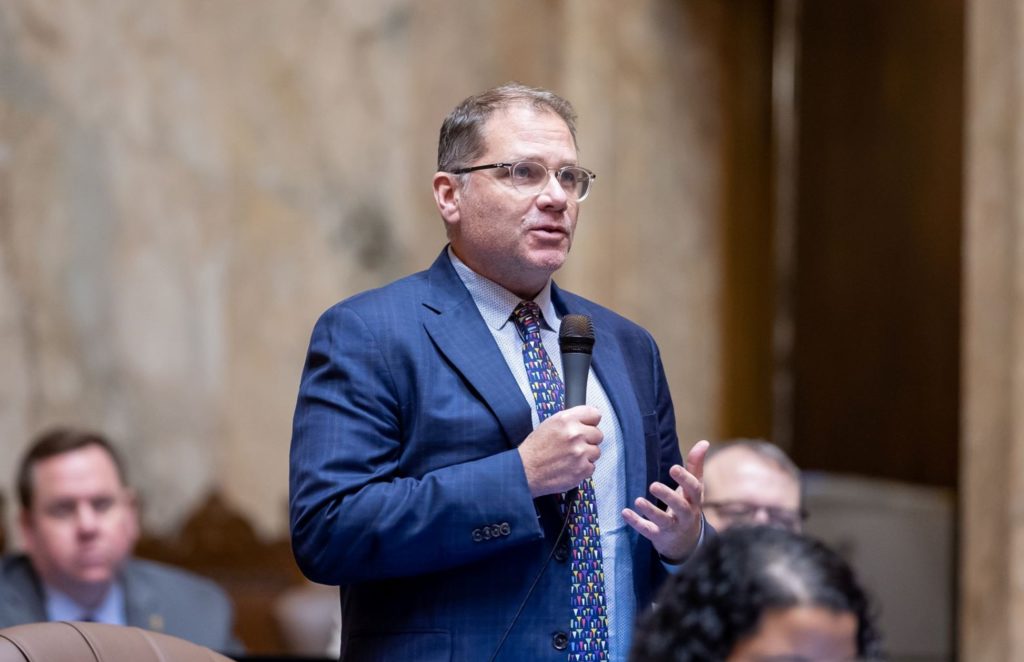 House Bill 1238 – Expand free school meals to over 90,000 students in Washington who previously didn't qualify for the program. Students can't learn on an empty stomach, and this is a huge step forward in making a difference for our children.
House Bill 1337 – As you know, our housing crisis is creating an unaffordable housing market and displacing renters. This bill would ease restrictions on constructing accessory dwelling units. This is a common-sense, cost-effective approach to addressing our housing crisis.
House Bill 1340 – Protecting reproductive healthcare rights is a large focus for the legislature this year due to recent attacks around the nation. This bill would protect the right to abortions by protecting health providers from disciplinary action under another state's law.
House Bill 1447 – Currently, it is too difficult for vulnerable groups to access assistance programs such as Temporary Assistance for needy Families, and it is too easy to be removed from those same programs. That only hurts already struggling families. I've introduced this legislation to help expand access to critical assistance funding for food and other essentials for our families.
Finally, in just the last few years, many of our communities have been devastated by wildfires, floods, droughts, and other extreme weather events fueled by climate change. Climate change that has been made worse by decades of suburban sprawl and poor land-use planning.
Where we live, how we build, and how far we must drive all contribute to our impact on the environment — and we can do better. House Bill 1181 will help us build greener, safer, more walkable neighborhoods by adding climate change & resiliency to our state's land-use planning framework.
As the legislative session continues, I look forward to sharing more about legislation that helps our community!
Save The Date
As one of your legislators, I want to hear your questions and concerns on the issues important to you. Please join me and your 21st district lawmakers for one of two following townhalls:
TELEPHONE TOWN HALL: Monday, March 13, 2023. 6:30 – 7:30 p.m.
You should receive a call on Monday. To be sure you are called, you can sign up here: https://vekeo.com/whdc21. If you do not receive the call, you can still participate by dialing 877-229-8493 and using ID Code 116357
To best accommodate you, please let us know in our survey if you'll need translation services to Spanish or ASL, or any other accommodations. You can also submit questions ahead of time by following this link.
IN-PERSON TOWN HALL: Saturday, March 18, 2023. 10 a.m. – 12 p.m.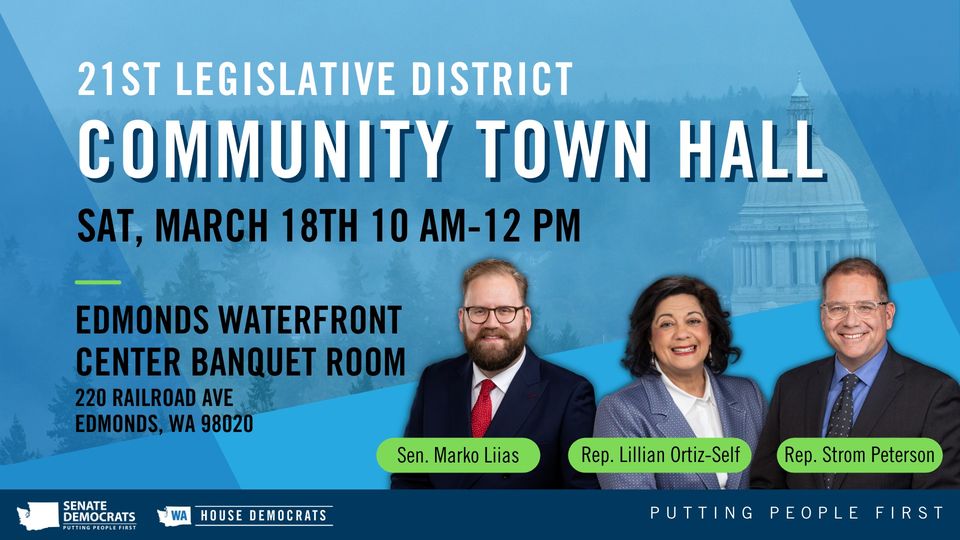 Address: Edmonds Waterfront Center Banquet Room, 220 Railroad Ave Edmonds, WA
Questions can be submitted ahead of time for this community townhall here. Please reach out to our offices with requests for assisted hearing services, translations, accessibility concerns, or any other accommodation needs.
Share Your Thoughts with Me  
Thank you for your time. As always, please reach out with any questions, ideas, or concerns you might have.
In service,

State Representative Strom Peterson
21st Legislative District
---