During an election year, there are certain restrictions on my communications to prevent the use of state resources for election purposes. One of these restrictions is a freeze on this website, meaning no new content can be added beginning May 16, 2022 until after the general election in November. If you have questions or comments about legislative issues, please feel free to continue to contact me.
Welcome to my official legislative website. Here you'll find:
Links to my E-newsletters describing my work on key priorities and our end of session review for 2022
News coverage of some of my work (note during election year, no news or other updates are allowed to be posted after May 15)
A link to all the bills I have prime sponsored or co-sponsored
My calendars for legislative work: I believe constituents have a right to know who I meet with during legislative sessions
A short biography
Link to the current district map, which also has the link at the top of the page to the redistricting commission's new maps approved by the Legislature.
I continue to prioritize ensuring that Washington State's responses to the on-going COVID Pandemic are based on science and public health principles, reflecting my work as a University of Washington School of Public Health faculty member.
Going forward, I am working on a range of new legislative efforts. These include ensuring all kindergarten through second graders have appropriate reading skills and are assessed for learning challenges, providing our educators with the professional development the necessary tools to carry out these efforts, improving special education, protecting the privacy of student data; preserving and increasing access to career training programs at our community and technical colleges,  continuing to prevent our teenagers from being addicted to nicotine through e-cigarettes and vaping, ensuring local governments' comprehensive  plans include housing that will be affordable for all segments of our population while reducing displacement, and providing our local governments with the resources they need for good planning.
For our neighborhoods in the 46th, I am glad we were able to celebrate the opening of the Northgate-North Seattle College pedestrian and bike bridge over I-5(John Lewis Bridge). I spent a decade leading the effort to fund and build this bridge and am now looking at how we can improve pedestrian and bike access along NE 45th Street between the University District and Wallingford as well as how we can alleviate traffic backups. This might include a new pedestrian and bike bridge. I am also working with neighbors, our legislators from the 32nd and 36th districts, and the City of Seattle to improve safety, pedestrian access, and economic well-being in the Aurora corridor.
I made a commitment to be the most accessible legislator possible. I continue to hold monthly drop-in "Traveling Town Halls" to discuss any legislative related issue on your mind on Saturday mornings (either on Zoom or at different meeting spots in the district). During session, I hold these weekly. If you'd like to participate, set a meeting, or contact me about any other legislative matter, please email me at gerry.pollet@leg.wa.gov or my Legislative Aide, Emily Grupp at Emily.grupp@leg.wa.gov.
2022 End-of-Session Newsletter
After the 2022 session, I sent out an update highlighting my work on issues like housing, climate change, public health, and more.
Visit this link or click on the preview below to read more.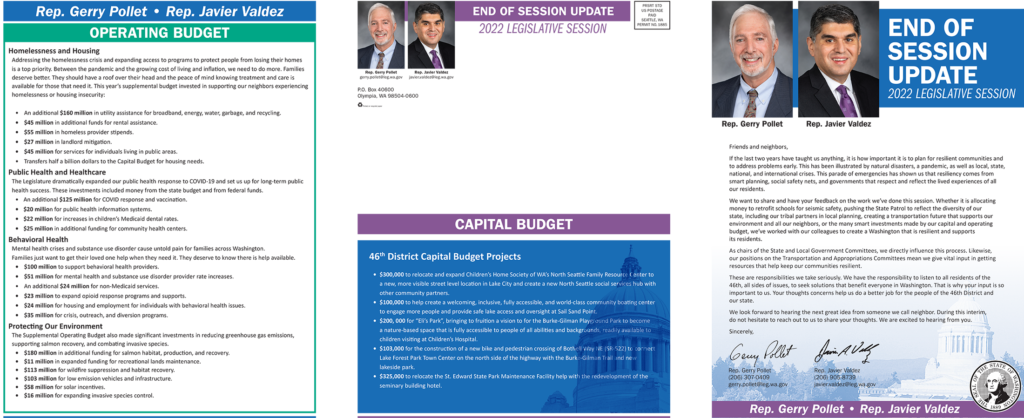 Videos