Welcome to my official legislative website. Here you'll find:
Links to my E-newsletters describing my work on key priorities and our end of session review for 2022
News coverage of some of my work (note during election year, no news or other updates are allowed to be posted after May 15)
A link to all the bills I have prime sponsored or co-sponsored
My calendars for legislative work: I believe constituents have a right to know who I meet with during legislative sessions
A short biography
Link to the 46th District map.
In 2023, my legislative priorities include:
Fully funding special education: With Superintendent Chris Reykdal, I've introduced. HB 1436 to remove what I consider to be an "unconscionable and unconstitutional cap" on how many children with disabilities the State will fund education services for. I have also introduced HB 1305 to greatly improve access to special education services and evaluations for children with disabilities. The Seattle Times editorialized on January 17, 2023:
"it's hard to stomach the implications of Washington's long-inadequate funding plans for the 151,000 students who need extra help to become well educated. The state Office of Public Instruction says schools are spending $400 million more than lawmakers provide each year on these legally mandated special education services — everything from speech therapy to full-time aides.
"The reason for this shortfall is that Washington uses a somewhat arbitrary cap — 13.5% of a district's student population — to determine how many special-needs kids the state will pay for. Any amount beyond that is funded by local levies, that is, local taxpayers. And sometimes those levies fail.
"This is surely not what the writers of Washington's constitution

 intended when they said it was the state's duty 'to make ample provision for the education of all children residing within its borders.'"
The Washington Promise: Tuition Free Community College for all high school graduates in Washington, coupled with the evidence-based supports needed for all students to succeed in obtaining a degree or workforce training certification.
Access to reproductive health care: I've cosponsored important legislation to prevent hospital mergers from reducing access to abortion, gender affirming care, reproductive health care….and am introducing legislation to bar hospitals that receive state funds from restricting medical practice (including abortion, gender affirming care and end of life choice).
Reflecting my work as a faculty member of the UW School of Public Health, continuing to ensure that science and public health guide our response to the continuing high levels of COVID 19.
Open Government: I continue to lead efforts for openness at all levels of government, including the Legislature. This includes objecting to the newly minted claims that the Washington State Constitution provides for a shroud of secrecy that legislators may claim "legislative privilege" to avoid any disclosure of many of their public records. See Spokesman-Review.
Environmental Justice and Tribal Sovereignty: Ten years ago, I introduced the first Environmental Justice legislation in Washington. We've come a long way in recognizing that the health of many low-income and communities of color suffer tremendously due to disparities in pollution and other risks. Under HB 1347, these communities and Tribes will be able to conduct "community-based health assessments" to assess the risks and prioritize what should be done to improve their health.
With our federally recognized Tribes, I'm drafting an amendment to our State Constitution for Washington to be the first state in the nation to recognize Tribal sovereignty in its constitution. This is prompted by the US Supreme Court decision in June 2022 which undid 200 years of recognition of tribal sovereignty.
Preserving local news journalism I'm the House prime sponsor of AG Bob Ferguson's legislative request, HB 1206. The Seattle Times quoted me about the need in its January 17, 2023 editorial:
"Legislators should get this done, by approving a timely proposal by Washington Attorney General Bob Ferguson, state Sen. Mark Mullet and state Rep. Gerry Pollet.
"'Newspapers are vital to a healthy democracy and we have seen too many close and lay off employees,' Pollet said in the joint announcement. 'We can and should do everything we can to help preserve newsrooms across the state.'"
Ending Gun Violence: I'm a sponsor of the ban on assault weapons, ending preemption of local gun control and safety measures, and other important efforts.
Homelessness and affordable housing: I continue to advocate for large scale investment in rapid housing enabling local governments to quickly move thousands of homeless residents into safe housing with support services and a major expansion of funds using bonding to build permanent supportive housing units. I'm a sponsor of legislation for a new progressive real estate excise tax for both these efforts.
To address housing affordability for working people, retirees and middle income residents, I have Introduced HB 1276 to encourage use of Accessory Dwelling Units (ADUs) to expand affordable housing opportunities in all communities. ADUs are the lowest cost option to add "middle housing" while enabling homeowners with limited income to stay in their homes. My focus is on authorizing ADUs for affordable rental or extended family housing, and not allowing subsidies for them if they are used for Airbnb type businesses. I've co-sponsored other housing legislation and remain committed to ensuring that upzoning proposals do not displace retirees, low-income residents, and persons of color.
For our neighborhoods in the 46th, I am glad we were able to celebrate the opening of the Northgate-North Seattle College pedestrian and bike bridge over I-5(John Lewis Bridge). I spent a decade leading the effort to fund and build this bridge and am now looking at how we can improve pedestrian and bike access along NE 45thStreet between the University District and Wallingford as well as how we can alleviate traffic backups. This might include a new pedestrian and bike bridge. I am also working with neighbors, our legislators from the 32nd and 36th districts, and the City of Seattle to improve safety, pedestrian access, and economic well-being in the Aurora and Sand Point Way corridors.
I made a commitment to be the most accessible legislator possible. I continue to hold monthly drop-in "Traveling Town Halls" to discuss any legislative related issue on your mind on Saturday mornings (either on Zoom or at different meeting spots in the district). During session, I hold these weekly. If you'd like to participate, set a meeting, or contact me about any other legislative matter, please email me at gerry.pollet@leg.wa.gov or my Legislative Aide, Emily Grupp at Emily.grupp@leg.wa.gov.
2023 End-of-Session Newsletter
After the 2023 session, I sent out an update highlighting my work on issues like housing, climate change, education, reproductive rights, and more.
Visit this link or click on the preview below to read more.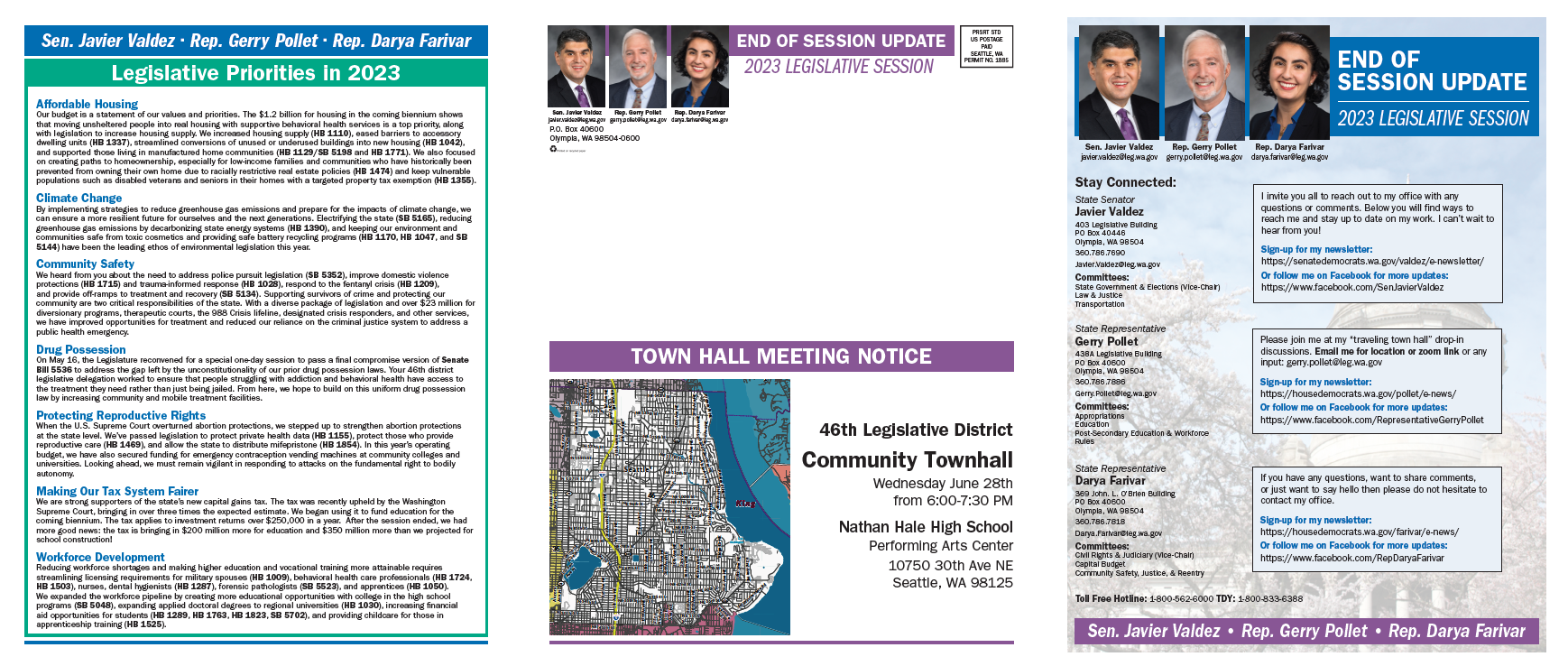 Videos