How We Won Levy Lid Increases to Avoid Layoffs in Schools Next Year
I was working with our school districts, PTAs and education advocates before session to strategize how we would avoid massive layoffs due to the much lower cap on levy funding that the Legislature adopted two years ago, coupled with the unconscionable failure of the State to pay for our school districts' special education costs (see piece below).
Heading into the Session, Seattle Public Schools was facing a deficit of over $40 million driven mostly by the State's failure to cover $70 million in special education and reducing how much the district could collect in school levies, even after voters' approved them. Northshore's deficit was over $10 million.
We had a session-long fight to raise the levy caps to prevent school districts from falling off a levy cliff into such large deficits that they already sent out layoff notices to teachers, librarians, nurses, guidance counselors, etc. As part of this effort, I coordinated many meetings, including arranging for School Superintendents from Seattle and Spokane and elsewhere around our state to meet and document to key legislators how high their districts' deficits were climbing. Indeed, as the Seattle Times reports here, this fight came down to the last two hours of the session before we succeeded in allowing our school districts to collect and spend most of the levies that our voters approved to fund our children's education.
The final budget allows Seattle to raise an additional $12 million in local levy funds towards the District's $40 million deficit next school year and $28 million more in local levy plus state funding for special education for the following year. But, the math is clear: we failed to provide enough state funding for Special Education to meet the needs of students in our districts, as described below.
Seattle Public Schools will now be able to collect $3,000 per student from voter-approved funds starting in 2020. Superintendent Denise Juneau applauded this step:
"We want to thank the Seattle Legislative Delegation for its leadership on restoring this much needed Levy authority"
The policy will allow districts under 40,000 students like Northshore to generate up to $2,500 per student. Amy Cast, Legislative Liaison for the Northshore School's Board of Directors said,
"We thank you for all you can do to change the law to allow us to collect $2,500/student, which our community overwhelmingly supported."
I want to thank the hundreds of you who emailed and called me and other legislators, who made the trek to Olympia or met with me in district to advocate for our children's education funding. There are some legislators or editorial writers who say, "It's time to move on from funding education." But, working to improve education does not end.
Some Gains for Special Education but More Work Ahead
Our state has been denying students with disabilities their constitutional rights to basic education by cutting off funding to the school districts with an arbitrary percentage. Lacking needed supports; students with disabilities have lower graduation rates and attendance (see chart below).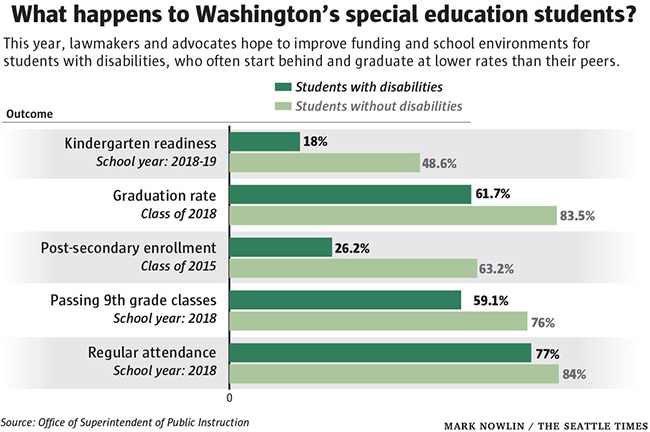 Given these disparities, it's critical we provide more support and funding to special education. School districts spent over $230 million last year from their school levies to pay to meet the special education needs of students with disabilities. Districts are required by federal law and our state constitution to pay these costs. Thus, the full cost of special education should be part of "basic education" paid for by the state, not each school district trying to scrape together funds from school levies. The deficit is projected to grow to over $300 million this year. I led a coalition of legislators and school districts advocating to fully fund special education.
I am very pleased that we also provide $25 million for the biennium in one-time training on how to include students with disabilities in general education classrooms. Superintendent Denise Juneau commented on my work this session:
"We also want to express our thanks to Representative Gerry Pollet for his hard work, in particular, his advocacy and leadership in the area of Special Education."
I introduced legislation to have the state cover most of the annual costs of special education and eliminate a cap on how many students the Legislature will support in special education in each district. Instead of fully funding special education, we provided districts will a modest increase in support of about $62 million a year to serve students with disabilities, out of a documented deficit of $300 million.
KING 5 news investigators have done a fabulous job documenting the very real human impacts on our children from the failure to fund special education, and highlighting legislation I fought for. For instance, one neuro-divergent student, Noah, wasn't provided the basic education he deserves:
 "School officials at the rural district told Noah's family that it was too small to serve him, and they were not equipped to meet the child's unique educational needs."
King 5 goes on to report that,
 "Washington is the only state with a funding model that provides no supplemental money to pay for students above a cap."
The fight goes on to end the unconstitutional and unconscionable cap on the number of students with disabilities that the state will provide funding for in each school district. Fully funding education, including Special Education is one of my primary goals in representing you in Olympia.
Huge Victory Improving Access to Higher Education
For six years, I have led efforts to increase access to college for Washingtonians. When young people know higher education is possible, they have better outcomes. When marginalized high schoolers (low-income, people of color, immigrants) know they can go to college, they are more likely to graduate high school (10% increase) and attend college (40%).
This session, we passed historic legislation in which our State commits for our students to be able to go to a public college for free if their family makes $50,000 or less (for a family of four); and, provide significant aid for students up to the state's median income. Temple University professor and college-aid expert, Sara Goldrick-Rab, called this bill:
"pretty much the most progressive state higher ed funding bill I've seen at the state level in years."
These historic investments were made possible by a truly progressive revenue package with the funding dedicated to the state's commitment to open the door to opportunity at our colleges. There will be widespread benefits; the Seattle Times reports:
"about 110,000 low-to median-income students will qualify for help each year, including adults who never got a degree and want to go to school. There will be no more financial-aid wait lists."
This legislation makes it possible for low and middle-income Washington residents to go to college for a degree or workforce training. The need for our students to have crippling student loan debts will be greatly reduced.
But, it is not enough to open the door to college, particularly first-generation college-going students who need support ranging from mentoring to how to fill out federal financial aid forms to advising on how to enroll in courses that provide basic skills and count towards their degrees.
One of the most exciting parts of our new legislation is an investment providing to ensure that students who enter the front door of a college have the support to have their hands shaken by the college president as they receive their degree or workforce training certifications.
I'll keep up the work to make college accessible to everyone in our state.
Continuing to End the Use of Restraint and Isolation of Students with Disabilities
I've been concerned about school staff physically restraining and isolating students with disabilities. The Seattle Times reported that in 2017, over four thousand students were physically restrained in our state. They write:
"A student does not learn reading, writing, math or science when locked in a room alone at school or while physically held down by adults." 
These practices stigmatize and harm students with disabilities.
Four years ago, working with WA Autism Alliance and Advocacy, the ARC and others, I led the effort to pass legislation banning the use of restraint and isolation for students with disabilities. Unfortunately, this practice continues. This year I fought hard to put more money in the budget to train teachers, paraeducators and administrators on finding alternative behavioral supports for students with disabilities. We put funding in the Operating Budget for the Office of the Superintendent of Education (OSPI) to collect data, provide training and offer technical assistance to schools in order to reduce restraint and isolation practices.
I will keep advocating for students' rights to dignity in the classroom.
Life-saving Narcan Will Now Be in Washington Schools
Though difficult to fathom, opioid use in schools is a reality, including both illegal drugs and legal prescription drugs. We've seen teen overdose from opioids double over the last two decades (Centers for Disease Control).
This session, we passed legislation so every high school and large college dorm in Washington State will stock medicine to reverse opioid overdose (called Naloxone or Narcan). In addition, there will be a trained staff member to administer the nasal spray medication in case of an overdose. The medication is inexpensive, not addictive, and easy to administer.
This policy change will save students' lives! I'll keep working to address the opioid epidemic in our state.
---
I strive to be the most accessible legislator in our state. To meet my commitment to be accessible, I hold weekly in-district, drop-in discussion time on Saturday mornings during session. Out of session, I hold these "Traveling Town Hall" meetings once a month. Check my website or email me for locations, which I move around the district. Or, email me to come speak to your group or neighbors: Gerry.Pollet@leg.wa.gov.
Sincerely,
Rep. Gerry Pollet
---