Dear friends and neighbors,
Thank you so much for your engagement during session, and for continuing to reach out to my office on issues that are important to you or for assistance in navigating state resources.
I wanted to let you know that this will be my last email newsletter for a while as we enter election year restrictions on legislative communications. These additional rules are in place from May 16th through the general election this fall to ensure that state resources aren't used for campaign purposes. During this time, I won't be able to send newsletters or post on my official Facebook or website, but I'll still be working hard on your behalf. While I can't reach out to you in the same way, my office will remain open and can continue to respond to questions, comments, concerns, or for assistance you may need with state resources.
If you have questions about the work we did this session please check out my newsletter covering budget highlights from this year, or the print mailer I sent out with Rep. Walen and Sen. Kuderer talking about this session's successes. You can also watch a recording of the live virtual town hall we held in March.
Before I sign off, I wanted to pass on a couple of important updates and thank you for the opportunity to serve you in this position, it is truly an honor.
Thank you,
-Rep. Vandana Slatter

Reproductive healthcare and abortion access
I know that the upcoming Supreme Court decision on Roe v. Wade has been front of mind and deeply concerning for many in our state, and with it the actions other states are taking to block abortion access or reduce bodily autonomy. Washington state was one of the first states to decriminalize abortion before Roe v. Wade.  In fact, the voters of Washington state approved abortion access through referendum in 1970, and in 1991 passed a referendum that codified the protections of Roe v. Wade into law.
In Washington, your right to privacy regarding personal reproductive decisions, including whether you choose to take birth control or choose to have an abortion, is enshrined in state law in the Reproductive Privacy Act. In 2018 we passed the Reproductive Parity Act, which protects a person's right to make their own healthcare decisions and requires insurance plans to offer full coverage for reproductive health. In 2020 we took action to ensure that healthcare providers, especially those working at religious based health care institutions, are able to counsel patients on all their rights and options, including abortion services. Last year I was proud to co-sponsor legislation to require that college student health plans cover abortion requirements applicable to other health plans, improving equity in our health plan coverage
This session I also co-sponsored legislation that expands the list of providers authorized to provide abortion services, and protects people who seek abortion services or assist those seeking abortion services from penalization, prosecution, or other adverse action. This legislation also updated language around reproductive access to include non-binary and transgender people.
As a healthcare professional, I firmly believe that everyone should be able to make their own reproductive health decisions and have access to affordable, high quality reproductive healthcare, including abortion services. I'm committed to defending that right here in our state and ensuring that individual rights to privacy are not eroded.
Post-Secondary education is a bridge to the Future
Earlier this week we hosted a Bridge to the Future celebratory event at UW- Tacoma to recognize and thank so many people who helped make our legislative successes possible. This session we were able to make incredible investments in post-secondary education including growing access to degrees and apprenticeship programs and building a path to achieving a post-secondary credential. We owe this to the hard work of many students, educators, labor and business leaders, and legislators on both sides of the aisle in the House and the Senate.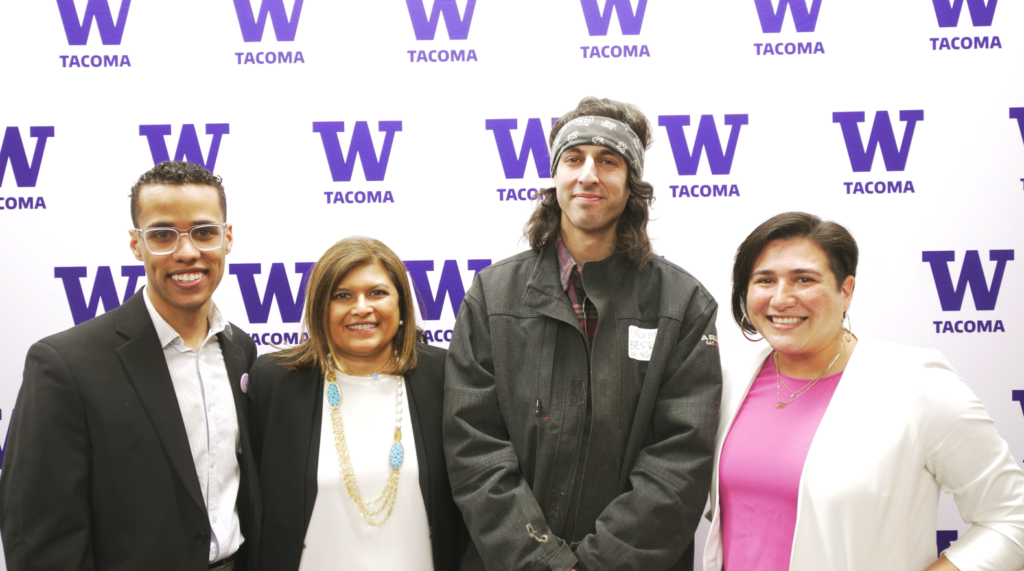 I'm particularly proud of the student advocates who shared powerful stories like Reanne studying behavioral health, Andre, a father of three who was the first in his family to a degree with assistance from the Washington College Grant, and Marco who is completing an apprenticeship and sees a path to meaningful work. For me it truly underscored that post-secondary education provides a path out of poverty and a path to economic stability, opportunity, and meaningful work. I want all students to have access to these life-changing opportunities, and I look forward to continuing that work.
Also during the event, the Washington Student Association surprised me with the 2021-2022 Legislator of the Year award – I was incredibly honored to receive this recognition. It was particularly meaningful as I wrap up my second year as the chair of the College and Workforce Development Committee. Growing opportunity for students and ensuring everyone can access post-secondary education is one of my highest priorities.

*Photos from the Bridge to the Future event with Senator Emily Randall and students, for more see my facebook page