Friends and neighbors,
You may have heard that the House recently released three budgets: capital, operating and transportation. These budgets have funding to support all communities in Washington state and help families and businesses hit hard by the pandemic recover.
First, let's talk about the capital budget, otherwise known as the construction budget, which would put tens of thousands of people to work rebuilding our economy and set new records for investments in housing, early learning and broadband access. The proposal also funds projects I pushed for in the 30th Legislative District, including $3 million for the Redondo Heights workforce housing project, which is renovating 132 units and creating 130 new affordable housing units.
Investing in affordable housing benefits people in our community who are low-income or struggling to make ends meet, and more often than not are people of color. I'm excited that Redondo Heights will help address racial inequities, build housing units to help families who are hurting right now and boost our local economy with good-paying construction jobs. Read more in the Seattle Medium.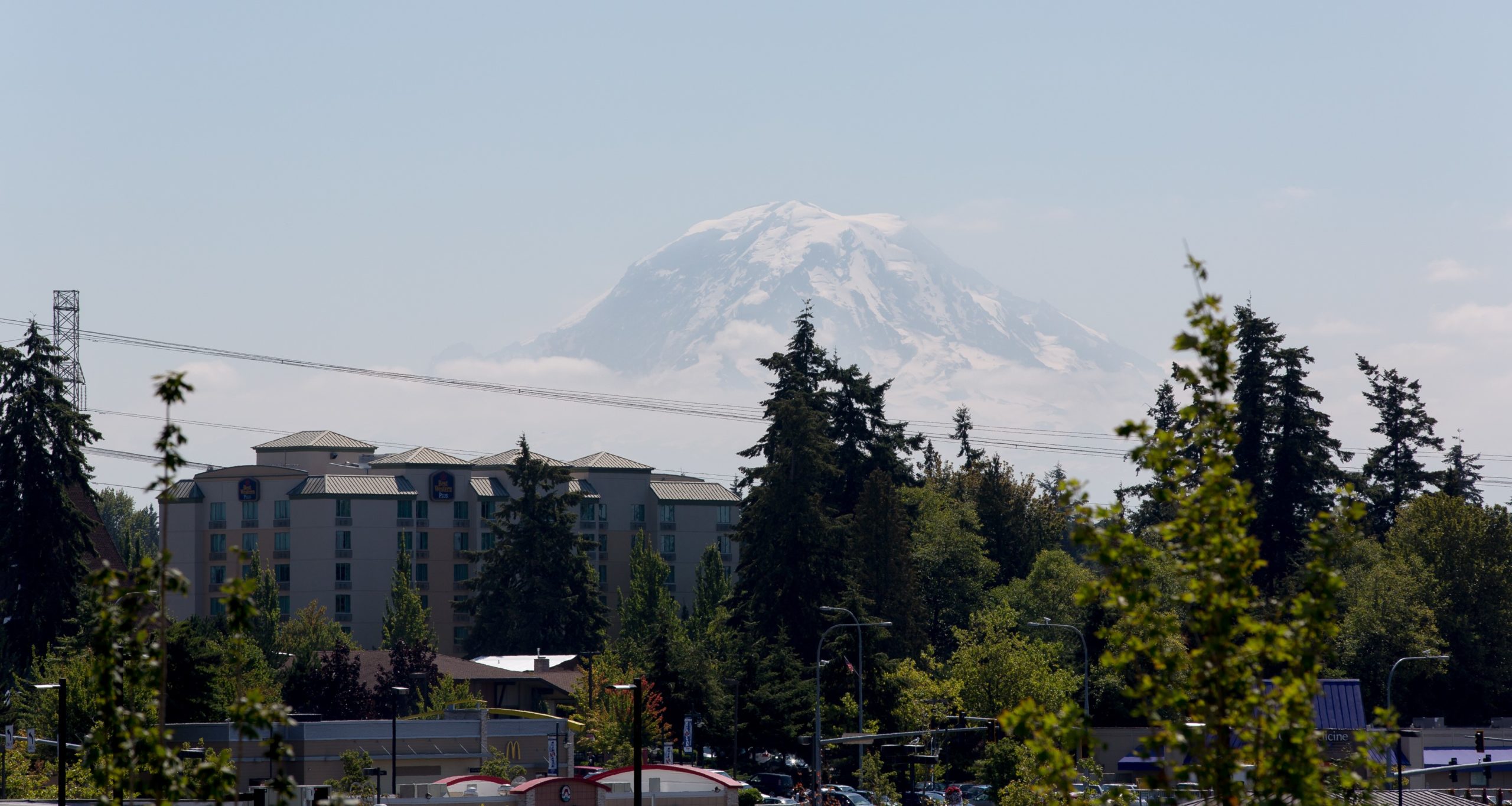 Next step for recovery
The House also introduced the operating budget, the next step in our plan for community and economic recovery. This proposal will help Washington residents recover better and more supported than they were a year ago, especially those who have been most impacted by the pandemic and face the most barriers to recovery. Here's how the Washington Recovery Budget will support economic recovery, small businesses and behavioral health:
–Economic Recovery: The proposal allocates federal and state resources to address the needs of people who have bore the brunt of the pandemic, including $1 billion for rental assistance to pay off the back rent that accrued during the governor's eviction moratorium and $141 million for food assistance programs to help make sure families don't go hungry.
–Small Businesses: This pandemic has been hard on small businesses, with many struggling to keep their doors open. That's why this budget provides $600 million for unemployment insurance tax rate cuts and $250 million in small business grants. It also includes $350,000 for the Federal Way Chamber of Commerce, a great resource for neighborhood businesses and economic development.
The state Department of Commerce launched a new round of grants this week for small businesses affected by the pandemic. Visit this link for more information. These grants are possible because the Legislature approved $240 million for them in our COVID-19 package.
–Behavioral Health: Many of us know someone who has been affected by mental health and substance use disorders. The pandemic amplified this crisis for so many individuals in our community. This proposal helps families get their loved ones care when they need it with funding to support community-based providers, substance use disorder treatment and improve the state's suicide and behavioral health crisis response system.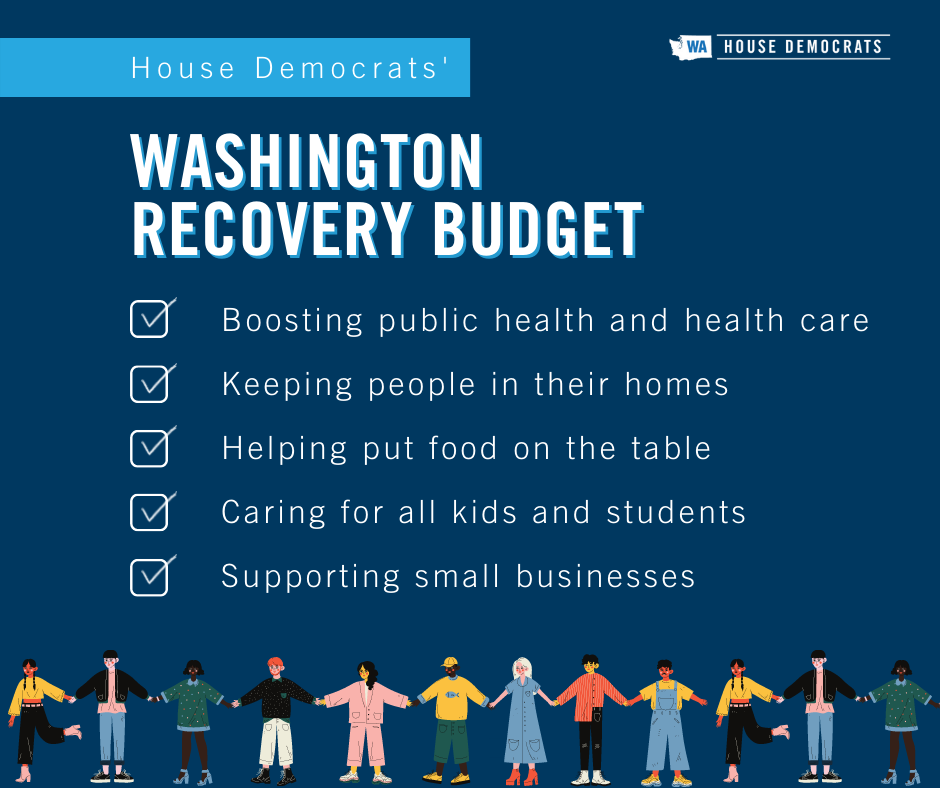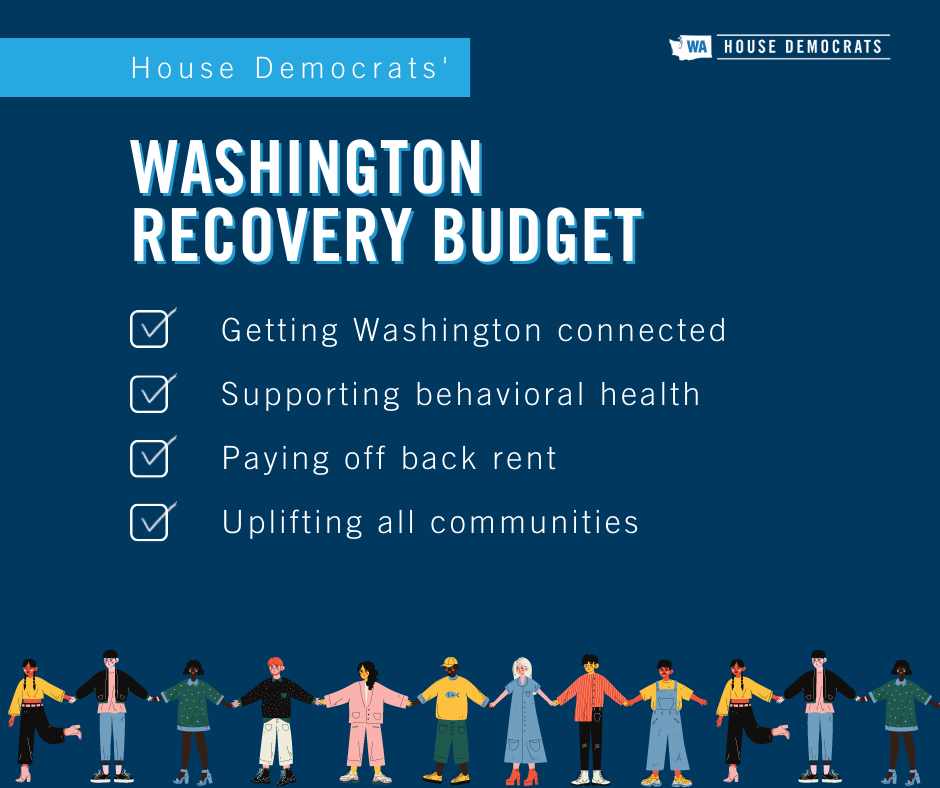 Investing in transportation
Finally, the transportation budget restores paused projects and builds a transportation system for the future, with investments in green transportation, mass transit, fish passages and critical projects. It also includes nearly $45 million in project funding for our district. As a member of the House Transportation Committee, I pushed for these projects because investing in infrastructure boosts the local economy and strengthens long-term economic recovery:
-$20 million for the City Center Access Project in Federal Way to divert traffic from S. 320th Street to accommodate planned growth in the downtown area.
-$20 million for the design and construction needed to remove a bottleneck and finish work on S. 356th Street in preparation for the South Federal Way Link Light Rail Station.
-$2 million for SR 99 Pacific Hwy S. and S. 373rd intersection improvements. There have been fatal accidents at that intersection and this project will make it safer.
-$770,000 for safety improvements at Dash Point Road and 4th Ave S. These improvements will be better for vehicles and provide safer crossing for pedestrians.
-$2.2 million to complete improvements on S. 314th Street including curb, gutter, sidewalks, lighting and trees.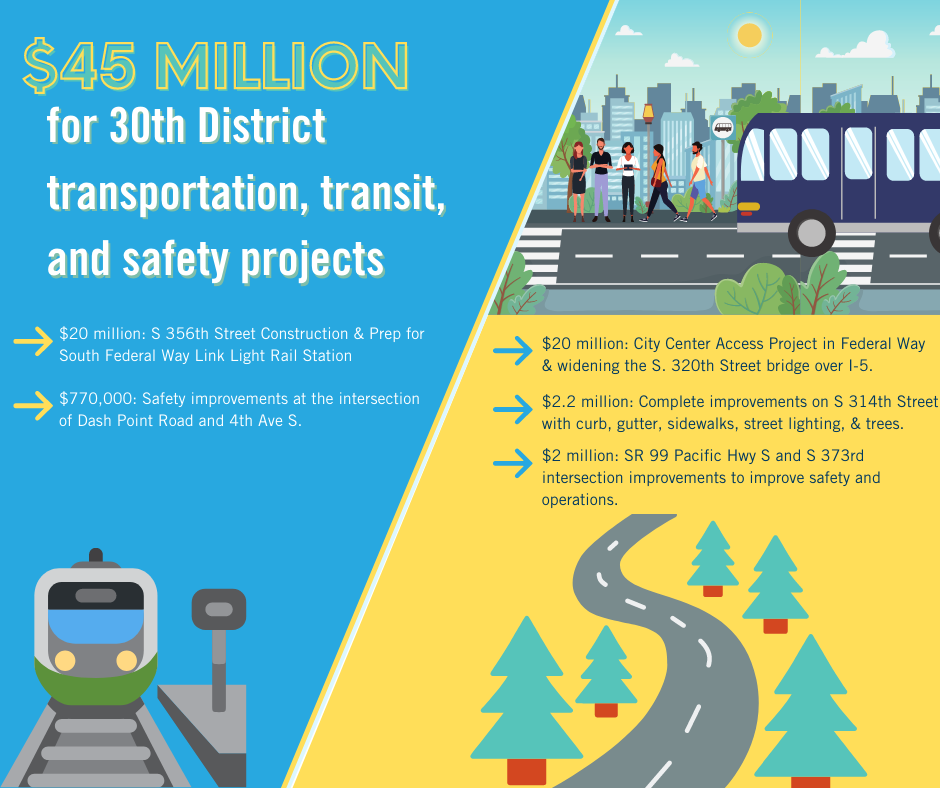 Thanks for reading! Please don't hesitate to reach out at 360-786-7898 or Jamila.Taylor@leg.wa.gov. You can also follow me on Facebook for the latest.

Jamila Taylor
---