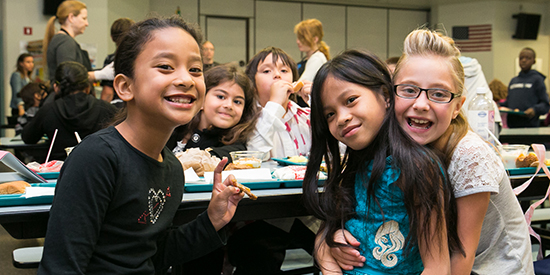 OLYMPIA – Today's school schedules have many competing expectations for students, from performance on standardized tests to fulfilling 24-credit graduation requirements. What sometimes gets shortchanged as schools strive to meet all these requirements is enough time for students to eat lunch. Yet it's known that when students show up hungry to class, they can't focus on learning.
That's why Rep. My-Linh Thai (D-Bellevue), a former Bellevue School Board director, sponsored a bill that looks at ways to ensure students get enough time to eat lunch every day.
"This is about equity. The students most affected by a rushed lunch period are those on free and reduced lunch costs, for whom a school-provided lunch may be their only meal of the day." Thai said.
HB 1272 seeks to learn from school districts that have already found ways to provide sufficient time for students to consume and digest lunch before heading back to the formal learning environment. Through demonstration projects, model policies that honor local control, and grants to school districts, the goal is to start to transform the system so it works in the best interests of those it is meant to serve: the students.
The idea for HB 1272 came from Rep. Thai's experiences talking to other parents who wondered why their children never finished their lunches at school, and why they were coming home from school each day hungry.
"Sometimes we make policies that may work for adults, but they don't work for our students. We need to be asking ourselves – is it good for our kids to have to gulp down lunch as quickly as possible, without enough time to finish? What kind of habits are we setting them up for in life?" Thai said.
The bill passed the House on a 95-1 vote and now heads to the Senate.
Click here to watch Rep. Thai's floor speech on HB 1272.
---