Dear friends and neighbors,
We're almost one month into this year's 105-day session and I want to give you an update on some of the bills I am working on and some of the issues I am supporting.
Below is a screenshot of my bill tracker. It provides a snapshot of where all my prime-sponsored bills are at any given time. To not duplicate the work on legislation that's already in progress, I try to keep my list of prime bills on the short side, while I co-sponsor many more bills.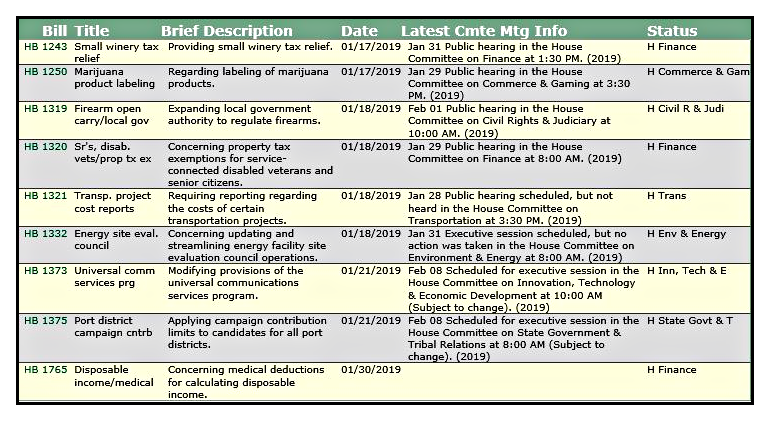 To create a bill tracker like this one, register here. Once you are logged in, follow these steps:
Click on "Selected Bill Tracking"
Click on "Create a new list"
Name your list, for example, you could name it Wylie Bills
Click "Save/Add Bills"
Click on "Add multiple bills at once"
Enter each of my bills separated by a comma (no spaces), but don't add a comma after the last bill you enter
Hit the "add" button
Click on "Report Views"
Click on "Custom Views"
Click "Add"
Add these fields: Bill, Title, Brief Description, Date, Latest Cmte Mtg Info, Status (you can select more if you want)
Name your view, for example, you can call it My Tracker, and hit "Save View" then hit "Exit"
Now every time you go back to the tracker, you'll be able to see where each of my bills are at that moment.
The Transportation Budget process
As first vice-chair of the Transportation Committee, much of my time is spent working on the transportation budget. It includes making adjustments to the current budget, crafting the budget for the next biennium, and taking a good look at any new transportation projects.  Writing the transportation budget involves considering the governor's proposal, then working it through the House process and sending it to the Senate. There's often disagreement on specific budget items between both chambers, so we negotiate and compromise, and once we manage to iron out our differences, we send the budget back to the governor for his signature.
Making our schools a safe place to learn
Our nation has experienced far too many tragic school shootings in recent years: Sandy Hook Elementary, Marjory Stoneman Douglas High School, Santa Fe High School, and here in Washington, Freeman High and at Marysville Pilchuck High School.
In this video, Alissa Parker, whose daughter Emilie was one of the 20 Sandy Hook victims, shared her story on how she's working on changing school safety policies and practices in communities all over the country.  She provided more details at this House Education Committee work session on school safety.
Students definitely need to be safe, and feel safe in schools. Those are the guiding principles behind a bicameral package of bills, that I fully support, focused on improving school safety and student well-being.
Unfortunately, some lawmakers in Olympia want to address the school safety issue by arming teachers. I reject this idea. We can't fight gun violence with more guns. What our teachers need is information and skills around mental health, de-escalation training, and service referrals.
Should Washington #DitchTheSwitch?
If you're not a fan of changing your clocks twice a year to "spring forward" or "fall back," then you might be interested in a bill that would put Washington state on year-round Daylight Savings Time.
This legislation would give voters a chance to weigh in on the idea at the ballot box. The federal government has the final say, since they'd have to give Washington permission to make the switch. But a vote of the people would send a strong message to the other Washington.
What do YOU think? Should our state #DitchTheSwitch?
Package of Climate bills
The science is clear: climate change poses significant risks to our economy, our health, and our quality of life. The most recent National Climate Assessment, a federal report prepared by hundreds of scientists, details the disruptive impacts if we don't take action now to cut greenhouse gas emissions. I am supporting several bills that would help move our state toward a cleaner future:
Keeping You Updated
As in previous years, I will do my best to keep you informed on what goes on in Olympia through my e-newsletters and press releases, as well as my videos (watch my latest Ask Sharon and Video Update), and press stories on the issues I am working on. So check my website frequently for the latest information.
I have moved into a new office, JLOB 414, located on the 4th floor of the John L. O'Brien building. Be sure to stop by if you're in town. You'll find great information on visiting the Capitol Campus here.
Thank you for reading my newsletter. Please feel free to contact me anytime on specific legislative issues, if you need more information on a particular bill, or to share your concerns.
Sincerely,