With more than 25 years of management, government relations and leadership experience in business, non-profit and government, in 2017 Sharon Wylie began her fourth term in office representing the Vancouver, Washington community in the Washington House of Representatives.
Prior to her appointment to the House of Representatives in 2011, she was the Government Relations Officer for Clark County and several other county and transportation organizations in Washington state. Her successes for Clark County included obtaining funding for the Clark County Center for Community Health, the new crime lab, and the Salmon Creek Interchange.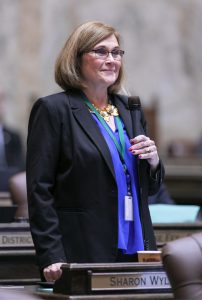 She serves as first vice chair on the House Transportation Committee, and holds seats on the
Commerce & Gaming and the Finance Committees.
In 2019, Sharon was appointed to serve on the Washington State Arts Commission, and on the Council of State Governments West's Legislative Council on River Governance, which she believes is well positioned to address the challenges and opportunities the state faces in energy, natural resources, transportation and economic development.
Sharon also serves on the Legislative Committee on Economic Development and International Relations. The bipartisan and bicameral committee, established in 1985, studies and reviews economic development issues. Its duties include special emphasis on international trade, tourism, investment and industrial development, and assisting the legislature in developing a comprehensive and consistent economic development policy.
Sharon is a member of the NCSL Communications, Financial Services and Interstate Commerce Committee. The CFI Committee is responsible for protecting states' interests in federal issues regarding electronic commerce, banking, insurance, securities and other financial services issues, interstate commerce and taxation of electronic transactions, telecommunications and interstate business activity taxes.
Sharon was one of 48 state policymakers from across the country selected as a Council of State Governments' Henry Toll Fellow for the class of 2013. The Toll Fellowship Program, named for CSG founder Henry Wolcott Toll, is one of the nation's premier leadership development programs for state government officials. Each year, Toll Fellows sends 48 officials from all three branches of government to Lexington, Ky., for a 6-day intellectual boot camp.
The National Institute for Civil Discourse included Sharon in its 2014 Training for Next Generation Facilitation in its mission to increase effective and civil problem-solving in state legislative bodies across the nation. She is also a member of the Washington State Economic Development Finance Authority, and the Advisory Board of WSU Vancouver.
In her district, Sharon has served as president of the Council for the Homeless, and as board member of Affordable Community Environments. She is also active in Vancouver's downtown arts community. She is a strong advocate for innovative programs to reduce poverty and homelessness, and to find solutions to replacing the I-5 Interstate Bridge.
Sharon earned a BA in Political Science from UC Riverside. She has been married for more than 35 years to Ted Gathe, former Vancouver City Attorney, is the parent of adult twin daughters and has two grandchildren. Rep. Wylie is an enthusiastic oil portrait painter, cook and back-packer.