OLYMPIA – Rep. Sharon Wylie, D-Vancouver, released the following statement regarding her recent appointments to serve on the Washington State Arts Commission and the Council of State Governments West's Legislative Council on River Governance: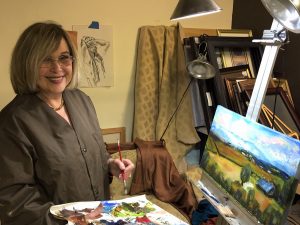 "As an artist and entrepreneur, I have been engaged with the local vibrant arts community and economic development since before I became a legislator. Supporting the arts benefits local communities, our quality of life and the state as a whole. In our schools, STEM education also benefits from robust integration with arts and music. I am grateful for the opportunity to serve my state and my community as a strong link between the legislature and our state Arts Commission. 
"In my years representing the 49th district, I have had the honor and duty to become involved in the many issues that affect our region, including the need to replace the I-5 Bridge. Any team effort we undertake will require collaborating in good faith with neighbors and partners, and must include preserving and enhancing our salmon runs, as well as ensuring continued economic growth on both sides of the river and throughout the state.
"As first vice chair of the House Transportation Committee, this appointment to the Council on River Governance couldn't be a better fit for me and couldn't have come at a better time. The council is well positioned to address the challenges and opportunities we face in energy, natural resources, transportation and economic development. I look forward to the exchange of ideas as we work on common solutions for the communities we serve."
The Washington State Arts Commission was established by the Legislature in 1961 for the conservation and development of the state's artistic resources, which are essential to the social, educational, and economic growth of the state of Washington. It is committed to values of inclusion, diversity, equity, and creative expression and to advancing access to arts and arts education for all individuals in the state. The commission consists of nineteen members appointed by the governor and four, one from each caucus, appointed by the Legislature.
The Council of State Governments West's Legislative Council on River Governance (LCRG), established in 1998, is a cooperative, bipartisan association of state legislators from Idaho, Montana, Oregon and Washington. Its mission is to unite all four states behind a proactive, nonpartisan agenda of legislative action and communication aimed at protecting natural resources, preserving state authority and enhancing river governance in the Columbia and Snake River Basins. The LCRG will prioritize issues in which citizens of member states have a compelling interest, over which member states can legally exert state authority, and on which multi-state action is likely to be more effective than action by any individual state.