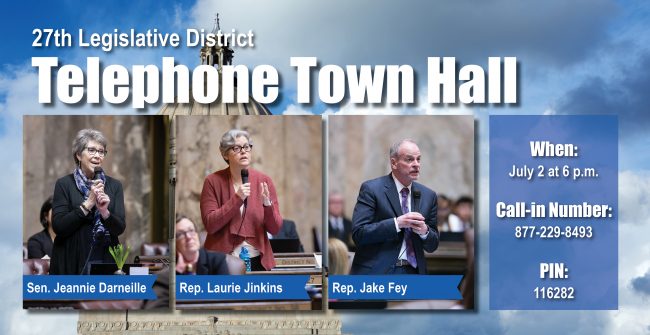 Dear friends and neighbors,
Next week, I'll be hosting a telephone town hall for constituents of the 27th Legislative District with Rep. Jake Fey and Sen. Jeannie Darneille. It will go from 6:00 to 7:00 p.m.
This is a great opportunity for you to ask us questions about the recent legislative session or legislative topics like education, health care, the environment, transportation, public safety, etc.
We will be calling households across the district on July 2nd, but if you want to ensure you are part of the event there are a couple of ways you can opt-in.
First, starting at 6:00 p.m. on July 2nd you can call toll-free 877-229-8493 and enter PIN number 116282. You'll automatically be connected to the town hall.
Another option is to sign up in advance to receive a call inviting you to participate. You can do this by clicking here.
Telephone town halls are not a replacement for live, in-person town halls like the one we do each year during the legislative session, but they provide a convenient opportunity for more people to participate in a town hall meeting without having to leave home. Each time we host one of these events, we get several thousand participants on the line.
A reminder: at any point during the call if you want to ask one of us a question, all you have to do is press *3 (STAR 3) on your phone keypad. In order to get through as many constituent questions as possible during the hour, we ask that you please try to keep your questions brief.
I look forward to our conversation next week, and hope you'll be able to take part.
Sincerely,

---