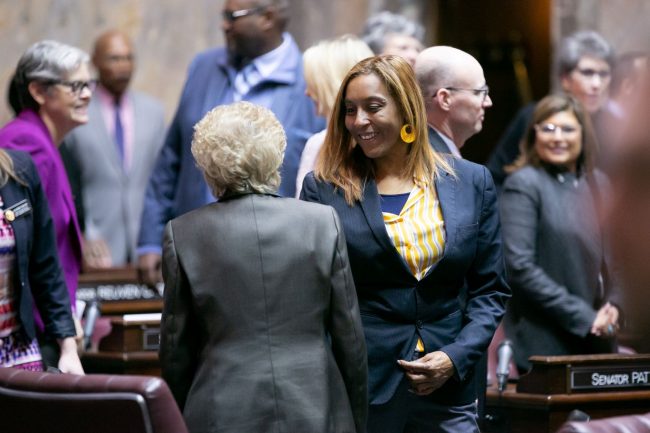 Dear friends and neighbors,
As a member of the the Governor's Office of Equity Task Force, I'm committed to keeping the public informed about the ongoing work taking place. The next meeting of the task force is scheduled for Monday, November 25 from 9:00 a.m. to 5:00 p.m. in Tumwater. The location is the Washington State Department of Health, 101 Israel Road SE, Town Center 1, Rooms 163/164 (click here for map).
Although the meeting is scheduled to last all day, members of the public are welcome to drop in at any point. There will also be a public comment period. An agenda for next Monday's meeting should be posted here by the end of this week.
Minutes from the October 21 meeting of the task force can be found here.
If you cannot attend the meeting in person but are interested in submitting public comment, you can do so via email.
Why is your involvement in this process important?
The task force is charged with developing a proposal for the creation of a state Office of Equity. The purpose of an Office of Equity is to promote access to equitable opportunities and resources that reduce disparities, including racial and ethnic disparities, and improve outcomes statewide across all sectors of government. Simply put, this means ensuring our state government works for everyone in our state, and there is accountability within our state agencies to ensure policies are equitable. The office would exist for YOU – the public. In order for it to fulfill its mission and be successful, it needs buy-in from the public.
Is an Office of Equity really necessary?
A 2007 health impact report showed that how long a person is expected to live is determined by the zip code in which they live in our state. The data shows disparities exist, not only in health care but in areas like access to food and education. This is unacceptable. Our state government should lead the way in reducing these disparities in a transparent and accountable way. While efforts exist across state agencies to promote equity, these efforts often lack coordination. An Office of Equity would provide that coordination and a mechanism for collaboration between agencies and across sectors. It would ensure that these efforts actually produce results.
Our preliminary report to the Governor and the Legislature is due December 15. Will you lend your voice to this process? I hope you will.
Sincerely,

Rep. Melanie Morgan
---