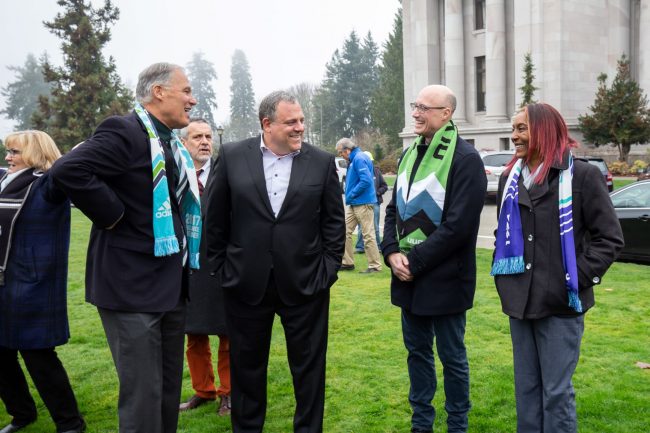 Dear friends and neighbors,
The year may be winding down, but things at the state legislature are beginning to pick up. In just seven weeks, the 2020 session will be underway, and that means I'll soon be coming to you from the halls of our state capitol in Olympia.
Even-numbered years are supplemental budget years in the legislature. They are shorter (60 days) than sessions in odd-numbered years (105 days). Lawmakers make tweaks and adjustments to the two-year budgets passed in the previous year, as well as consider and pass policy bills.
This will be my final e-newsletter to you in 2019. Due to election year restrictions that state lawmakers must adhere to, I cannot send bulk newsletters between December 1 and the start of the 2020 legislative session (January 13, 2020). But I will pick right back up again after January 13, to keep you in the loop about what's happening with your state government.
In the meantime, I'm still here to listen to you. Please don't hesitate to contact me with your questions, comments, or concerns.
It's an honor to represent you.
Sincerely,

Rep. Melanie Morgan
29th Legislative District
My new role: Deputy majority floor leader
Last week, my colleagues in the House Democratic Caucus elected me to be the next deputy majority floor leader. I'll be helping to coordinate debate on the House floor and the passage of bills, including working with my counterparts across the aisle.
It's an honor to be selected for this position, and as a freshman lawmaker it signals that leadership positions are open to members with a wide array of seniority and experience. Diverse voices on the leadership team mean better representation for the communities we represent.
You can read more in this piece in the Tacoma News Tribune by capital press corps reporter James Drew.
Your feedback is valuable: Office of Equity draft legislation
On Monday, the governor's Office of Equity Task Force met in Tumwater. As a member of the task force, I'm committed to keeping the public informed about our work and I encourage you to be part of this process.
One of the agenda items of the recent meeting was draft language for legislation that will be considered in the 2020 session creating a statewide Office of Equity. Draft bill language is available to view online. I invite you to read it and provide feedback.
Why was this task force formed, and why do we need a statewide Office of Equity? A 2007 health impact report showed that how long a person is expected to live is determined by the zip code in which they live in our state. The data shows disparities exist, not only in health care but in areas like access to food and education.
Our state government should lead the way in reducing these disparities in a transparent and accountable way. While efforts exist across state agencies to promote equity, these efforts often lack coordination. An Office of Equity would provide that coordination and a mechanism for collaboration between agencies and across sectors. It would ensure these efforts actually produce results.
The task force will deliver a preliminary report to the Governor and the Legislature by December 15.
Help spread the word: I'm sponsoring House pages
Do you know a student who is interested in a learning first hand about how our state legislature works? Tell them about our page program! Each year I get to sponsor pages, and the program is now accepting applications for the coming session. There is even a scholarship program to help ensure this opportunity is available to all students, regardless of family income.
Applicants must be at least 14 years of age, but not have reached their 17th birthday.
---