Dear friends and neighbors,
The beginning of every legislative session is full of excitement and new experiences, but this year was unlike any other. Instead of the usual hugs and pomp and circumstance, lawmakers arrived in a carefully choreographed pattern, passed through security and health checkpoints, all masked and staying at least six feet apart. Despite the extra security and slower pace, we operated safely and efficiently and passed new rules to allow a mostly remote session this year. As both a legislator and a US Army Veteran, I am proud of the Washington National Guard, who provided the additional security to ensure that the legislative process would move forward safely. Go Army!
I am pleased to continue to be a voice on the House leadership team. My colleagues have re-elected me to serve as their Deputy Majority Floor Leader, where I will be assisting the floor leader with organizing caucus review of floor calendar and caucus debate on legislation.
Last month, my colleagues of color elected me to serve as Chair of the House Members of Color Caucus! Our mission is to remove all barriers of racial discrimination through democratic processes. It is pivotal that all our members of color within the State legislature stand and work together to dismantle systemic racism in our state. My goal as chair is to continue to provide guidance and uplift the work of my fellow members of color. Through our individual and collective histories, I am confident we can strengthen all the work we do and make Washington more equitable.
I will continue to ensure that all legislation is being viewed through an equitable lens. That all our policies, laws, and practices are inclusive of the under-represented and marginalized groups in our communities. And to be mindful of how our decisions will impact these communities.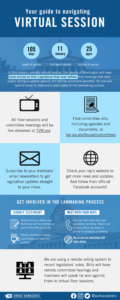 I am happy to report that throughout the interim, many people worked to ensure that your access to democracy is not diminished. You can still track legislation and watch committee hearings and floor debates online at TVW.org, and you can even testify remotely via Zoom. As always, the ability to schedule phone or video meetings with lawmakers is still available to you. Your voices matter's now more than ever. I will do everything I can to ensure your voices and concerns are heard and acknowledged in a safe way for everyone. Learn more about the remote session testimony and engagement process on the House Democrats' website. You can use the toll-free legislative hotline, 1-800-562-6000, or call our office, 360-786-7906. You can also mail us a letter at 417 John L. O'Brien Building, PO Box 40600, Olympia, WA 98504, or email me a melanie.morgan@leg.wa.gov.
Speaking of staying connected, I now have an official legislative Facebook page. Please follow or like my page to stay on top of the latest news coming from my office.
Finally, I want to take a moment to thank all of the first responders, teachers, and essential workers who have been putting their health and their bodies on the line, working long hours, trying to take care of our loved ones and educate our children. Your sacrifice and your commitment to your communities is appreciated.
As always, I welcome your questions and comments.
Sincerely,

---
Juneteenth: Why we need to celebrate the end of slavery in this country
This year I have re-introduced HB 1016, making Juneteenth an official state holiday.  After the Emancipation Proclamation, some slaveholders kept black people in bondage, hiding the truth. It wasn't until after Union troops landed at Galveston, Texas, on June 19, 1865, that the remaining slaves were freed from their captors.
The Fourth of July has been a national holiday since 1776. The Declaration of Independence speaks on the equality of all men in the United States but was written when slave ownership was legal. Black people and people of color were not viewed as humans or equals but rather as property to be owned. The effects and trauma from this inhumane life of bondage have carried forward over generations and are still felt today.
This past year, we saw how Black/African Americans in our state and across the nation demanded the right to live free of persecution for merely walking down a street, looking for a job, or sleeping in our bed in the middle of the night. Although this bill will not protect us from all persecution, biased policing, or from armed citizens intent on taking our lives, it does say that the State of Washington recognizes the atrocity of slavery, and we will remember and celebrate, as one, when Black/African American slaves were released from bondage.
I hope you will join me in celebrating Juneteenth and the passage of this bill
You can watch and read stories about Juneteenth from this summer, including KIRO 7 and KHQ 6.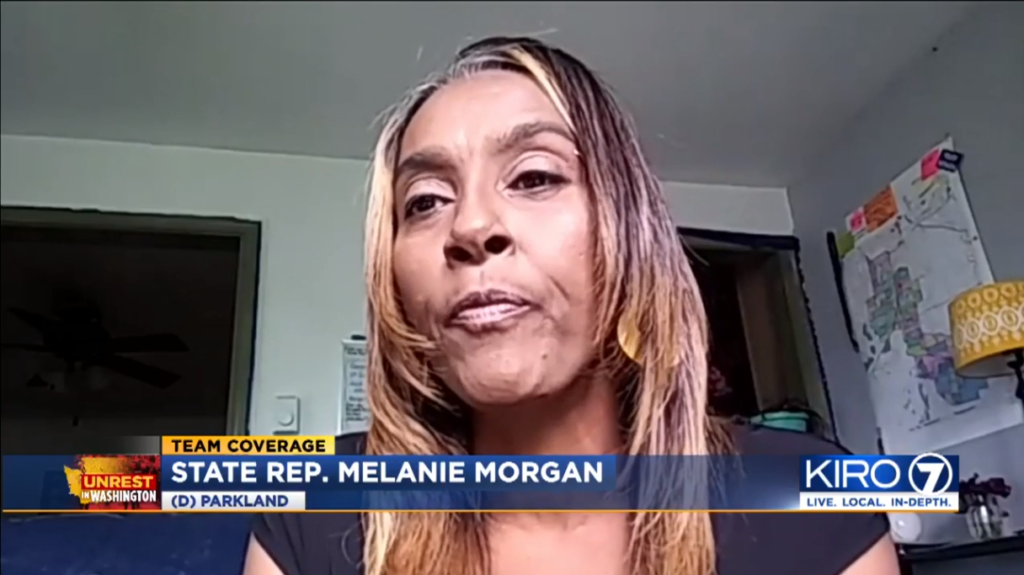 ---
Addressing disparity in the cannabis industry
Last year, I supported legislation that established a task force to develop a new social equity program to allow greater access into the cannabis industry for communities disproportionally harmed by cannabis prohibition. Late last year, I was elected co-chair of that task force and worked with my colleagues to make changes that ensure Washington state is practicing equity in the cannabis industry. It is essential to help communities of color, particularly the Black/African American communities, who have been shut out for far too long.
The task force will continue its work through June of next year. In that time, I hope to identify all the issues that hold back communities of color from opening a marijuana business and offer solutions that the legislature can act on.
Read more from Melissa Santos at Crosscut.
---
Washington deserves a state dinosaur
You probably remember that last year, a fourth-grade class from Elmhurst Elementary School brought a bill idea to me about making the Suciasaurus rex the Washington state dinosaur. Their passion and commitment to making their voices heard inspired me then, and it still inspires me today. Our district has struggling schools, low voter engagement rates, and a high poverty rate. Yet, these students are setting an example for us all. Our youth are the future of our communities, our state, and our country. Empowering them to stand up for what they believe in and encouraging them to use their voices to generate positive change is key to manifesting a culture where our youth feel valued and heard. Investing in our youth is investing in our future. I knew I had to keep their voices amplified in the legislature this year, so I have introduced their bill again.
HB 1067 would make the Suciasaurus rex the Washington state dinosaur and is a shining example of how government should be accessible to everyone. Equity in civic engagement means that everyone's voices are heard. By honoring their commitment to this idea, we teach our students to be active community members who care about their voice in government.
---