OLYMPIA—Yesterday afternoon, Governor Inslee signed a measure to bring uniformity on campaign contributions limits to all port district races in the state.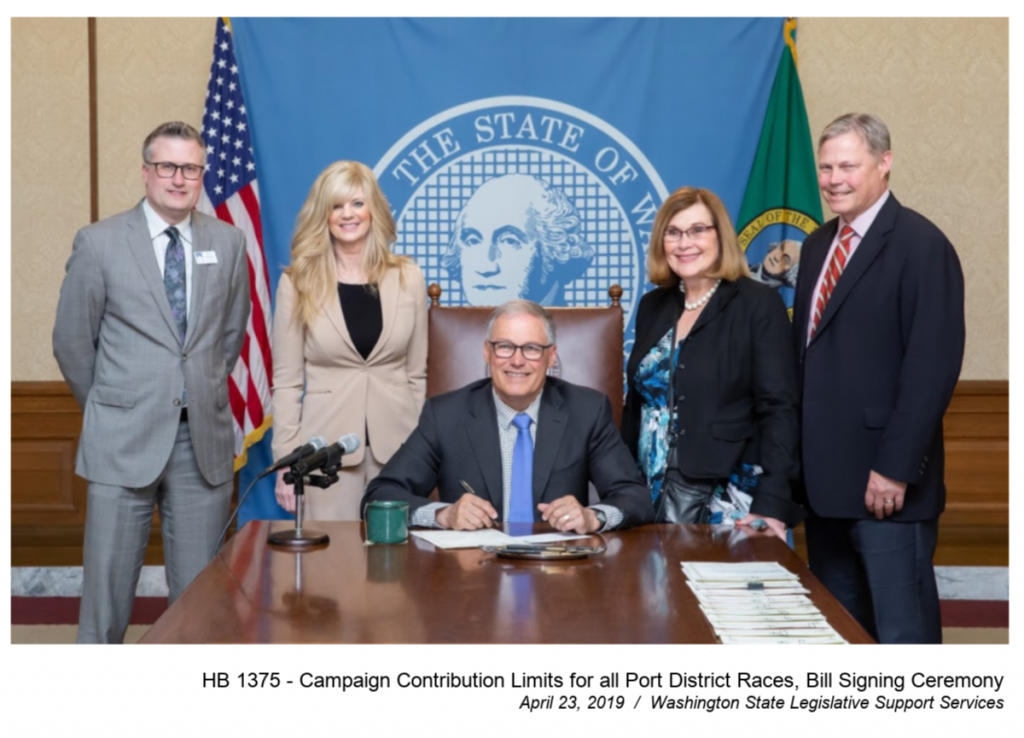 Current state law limits campaign contributions from individual donors, businesses, and other organizations for port races that have over 200,000 registered voters in the district.  Of the 75 port districts across the state, only the Ports of Seattle and Tacoma meet that threshold.  House Bill 1375 imposes those same limits – currently $2,000 per election cycle – to all port district races in Washington state by removing the 200,000 voter threshold condition.
Rep. Sharon Wylie introduced this legislation last year, but it failed to pass before the cutoff deadlines, so she brought it back again this session. The Vancouver Democrat explained that it was important to get it through this time around because 2019 is a port district election year and every port in the state will have at least one commissioner on the ballot.
Wylie sponsored the measure prompted by a 2017 Port of Vancouver race that made headlines because over $1 million were spent on it.
"The issue was that one industry contributed enormous sums of money to one campaign in the hopes it could turn downtown Vancouver into the largest oil terminal on the West Coast and possibly in the United States. The community was torn apart and people were appalled at how much money was spent," said Wylie. "This bill is the fix we need to ensure that never happens again. Campaign contribution limits are good policy for all port district races because, as public entities, ports are accountable to the public, not special interest groups."
Wylie's bill passed both chambers unanimously and had the support of the people of Vancouver, the Washington Public Ports Association, the League of Women Voters, the Public Disclosure Commission, and the ACLU of Washington.