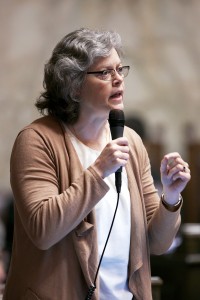 Last week, Rep. Laurie Jinkins, D-Tacoma, was appointed by House Speaker Frank Chopp to the Civil Legal Aid Oversight Committee. Rep. Jinkins replaces former State Rep. Jamie Pedersen on the Committee.
"The Office of Civil Legal Aid does such important work in our communities, helping the most vulnerable among us," Rep. Jinkins said. "Foreclosure, caregiver problems, access to disability services, these are difficult things for any of us to deal with. And for those living in poverty, who do not have the money to pay for attorneys, these issues can be even more overwhelming."
This bipartisan oversight committee was established by the Legislature to oversee the activities of the Office of Civil Legal Aid and make recommendations to the Supreme Court, the Access to Justice Board and the legislature. The committee meets four times a year and meetings are open to the public.
"I am proud to be a part of this oversight committee – working with the OCLA to ensure low-income Washingtonians have equal access to legal advocates," said Rep. Jinkins.
The Office of Civil Legal Aid (OCLA) is responsible for connecting low-income individuals and families with legal assistance in civil (non-criminal) matters. This includes important issues like domestic violence, mortgage foreclosures, trusts & estates, housing & utilities, consumer fraud, elder abuse and social security issues.
---