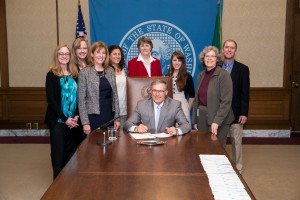 Today, Governor Inslee signed HB 2160 into law.  This compromise, finally brokered by Rep. Laurie Jinkins between physical therapists and chiropractors, was in the making for many years.
Rep. Jinkins noted, "At a time when our nation is trying to increase access to healthcare, this sensible approach will do just that – allow more patients to access the treatment they need. Forty-eight states allow physical therapists to perform some form of spinal manipulation.  It's time for Washington to get on board."
The bill directs the Department of Health to create a spinal manipulation endorsement for physical therapists.  In order to obtain that endorsement physical therapists must complete the most rigorous training and certification process for spinal manipulation of any state in the country. This training and certification consist of hundreds of hours of education, instruction and clinical oversight.
"Coming from a background in public health, patient safety is my highest priority. Physical therapists are trained in school to perform spinal manipulation.  I am confident that the combination of training and supervision required of physical therapists will ensure that Washingtonians seeking spinal manipulation will be safe in the hands of both chiropractors and physical therapists."
Understanding that chiropractors have many additional hours of training and experience and that their practice is their livelihood, this bill respects that and provides business protections for chiropractors.
Most of the provisions in HB 2160 will go into effect July 1st, 2015.
---