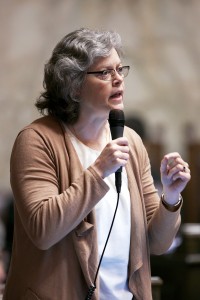 OLYMPIA – Over the past few weeks Rep. Laurie Jinkins, D-Tacoma, Chair of the House Judiciary Committee, has been eating, breathing and sleeping mental health issues. She has devoted more committee days to hearing mental health bills than any other issue. And today, in a three hour marathon hearing, Rep. Jinkins led the committee to finish voting out ten bills that will vastly improve Washington's mental health system.
"Our current system is broken," said Jinkins. "No one policy will fix it. We need to improve every aspect of our mental health system – from primary care, to outpatient treatment, to crisis management."
The ten bills passed out of the Judiciary Committee give doctors, families, courts and law enforcement the proper tools to better help those with mental health issues. They are the result of hard work by both Democrats and Republicans.
"Mental health issues affect everyone," Jinkins said. "Just as cancer doesn't discriminate based on net worth or zip code, neither does schizophrenia or depression. My colleagues recognize it's time to start fixing our system. I am proud of the strong, bipartisan way the Judiciary Committee joined forces to tackle this problem. Together, we are building a mental health system that works for all."
The bills passed by the Judiciary Committee today are grouped into three main policy areas: outpatient treatment, involuntary treatment and criminal justice. See the list below:
Outpatient Treatment:
Criminal Justice:
Involuntary Treatment:
---