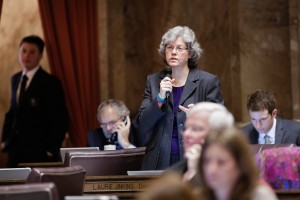 OLYMPIA – Since January, Rep. Laurie Jinkins, D-Tacoma, has been working non-stop to fix our broken mental health system and help those dealing with mental health issues get the care they deserve. In a significant step forward today, in a 48-1 vote the Senate passed House Bill 1450, creating involuntary outpatient treatment.
"Quality healthcare must include a variety of care options," said Jinkins. "Just as chemotherapy isn't right for every patient suffering from cancer, neither is inpatient involuntary commitment right for every person suffering from bi-polar disorder, for example. It's important we change our system so medical professionals are able to provide the treatment option that is most beneficial for every patient."
Current state law has strict qualifications and limits for inpatient involuntary treatment. These restrictions do not allow all patients to get the care they need. HB 1450, sponsored by Jinkins, provides a great range of outpatient treatment options for people with mental health issues. The bill is a reasonable balance, getting patients treatment earlier – resulting in fewer mental health and forensic commitments. It will save the state money and is less restrictive, less expensive, and more humane than inpatient involuntary treatment.
"We need to improve every aspect of our mental health system – from primary care, to outpatient treatment, to crisis management," said Jinkins. "We know that the early intervention this bill puts forth will save lives, save money and help strengthen our communities. This bill will drive the largest investment in outpatient, community based, mental health care that Washington has seen in decades."
---