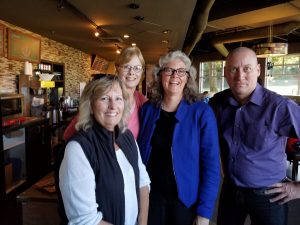 Rep. Laurie Jinkins, D-Tacoma, is offering a number of informal "office hours" in neighborhoods across the district between now and the end of the year. On Tuesday, October 3rd, the first of these informal events took place at Old Town Markee in North Tacoma.
Two more neighborhood office hours are scheduled for October:
Thursday, October 26th, from 9:15 to 11:15 a.m. at Erica Peace Love and Ice Cream, 4822 Pacific Ave (South End)
Tuesday, October 31st, from 9:00 to 11:00 a.m. at Rhapsody in Bloom, 3709 6th Ave (Central Tacoma)
Additional dates and locations for November and December office hours will be announced soon.
Rep. Jinkins is also co-hosting two "Community Conversations" along with Rep. Jake Fey and Sen. Jeannie Darneille in October:
Saturday, October 14th, from 12:00 to 2:00 p.m. at Black Kettle Bites and Brew, 744 Market Street, Suite 102B
Thursday, October 19th, from 3:00 to 5:00 p.m., at Red Elm Café, 1114 MLK Jr Way (meeting room in back)
---