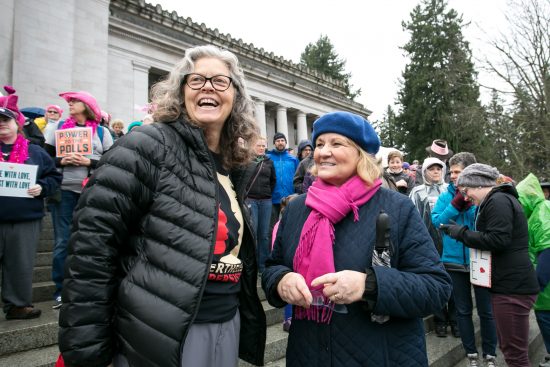 Dear friends and neighbors,
We are already in Week 3 of the 2018 legislative session, and things are moving quickly. Democrats are delivering for Washington families by passing bills that put people first. Below are details of some of the major pieces of legislation that have been voted off the House floor over the last couple of weeks.
I'm also speaking up both in and out of the legislature about addressing sexual harassment. On the House floor I reminded my colleagues that TIME'S UP; we need to make sexual harassment on the capitol campus a thing of the past. It's hard for lawmakers to exercise leadership anywhere in the state of Washington unless we also exercise it within the halls and offices of this campus. That's why I'm pleased the House voted to create a bipartisan, bicameral panel to improve sexual harassment prevention and policies, and I look forward to reporting back to you on its progress.
Finally, I was thrilled to speak again at the Olympia Women+ Rally on Saturday, January 20th. My remarks were primarily about intersectionality – that the rights and issues of all marginalized communities are interwoven, and standing with one means we should stand with all. It was great to see so many people standing together.
Sincerely,

Capital budget passes; funds Tacoma projects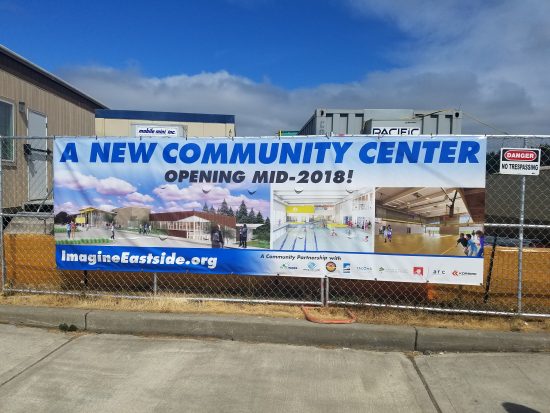 Last week's passage of the state's $4 billion capital construction budget is great news for Tacoma, where previously-stalled projects can now move forward.This budget funds critical fixes to our state's mental health system, including more beds at community-based treatment centers, and supportive housing for people with chronic mental illness. Additionally, many community organizations and services – from the Eastside Community Center to Tacoma Community House to our historic theater district – receive grants from the capital budget to expand or renovate, so they can meet the needs of Tacoma's growing population. I couldn't be happier that the funding is finally on its way to these projects.
The budget also puts a record $1 billion into building public schools and more than $800 million to build facilities at public colleges and universities, including UW Tacoma and Bates Technical College.
Click here for a list of projects funded in every district across the state (click on "Projects in Legislative District 27" for Tacoma projects).
Guaranteed breaks for nurses, safety for patients
In a win for both workers and patients, the House passed legislation guaranteeing uninterrupted meal and rest breaks for certain health care workers like nurses. There's a reason nursing is considered one of the most trusted professions, and this bill is meant to keep it that way. Unfortunately, right now too many nurses are working too many hours without breaks, putting patient safety at risk. This bill will address burnout and fatigue in the profession, while giving patients more peace of mind.
Breakfast after the bell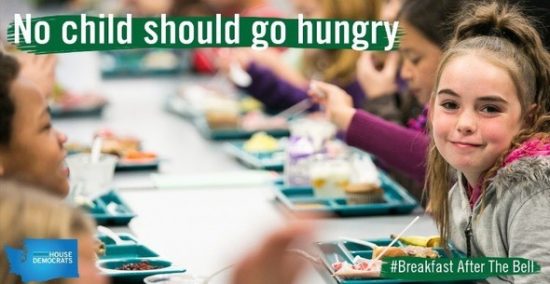 A student has one job when she enters the classroom each morning: to learn. Yet day after day, students across our state – including right here in Tacoma – are showing up to school hungry. Hungry kids can't focus on learning, and that's why making sure no child starts the school day on an empty stomach is critical to boosting academic achievement.
One of the first bills passed by the House this session was HB 1508, which expands programs that provide students from low-income families with meals in the morning. These programs have proven to be highly successful in improving academic outcomes for kids.
Equal Pay bill heads to Senate
For the fourth year in a row (and hopefully for the final time), the House sent an Equal Pay bill to the Senate. This historic measure updates the Washington State Equal Pay Act for the first time since 1943.
You've probably heard that, on average, a woman makes around 80 cents to a man's dollar for the same work. This wage gap is real and it's not just hurting women. It affects entire communities because women are either the sole or primary breadwinners in over 40 percent of families with kids.
The Equal Pay Opportunity Act will empower women and reaffirm Washington's longstanding pursuit of equality in the workplace. Details of the bill include banning pay secrecy policies, allowing discussion of wages, and prohibiting retaliation against workers for discussing their pay, or for asking for equal pay and opportunities.
I was proud to give my shortest speech ever on the House floor in support of this bill.
Save the date: Town Hall meeting
27th Legislative District Town Hall Meeting
Saturday, Feb. 17th
10 a.m. to noon
(check-in starts at 9:30 a.m.)
Evergreen State College – Tacoma campus
1210 6th Ave, Tacoma 98405
---