Dear friends and neighbors,
It's been just over a month since the 2018 session concluded, and all bills passed during the session have now been signed into law. Most go into effect on June 7th. For a complete list of bills signed into law this year or in previous years, click here.
In this newsletter, I'm focusing on a package of "Access to Democracy" bills signed by the governor on March 19th. These historic election reforms are one of the victories of the 2018 session. They will help increase participation and improve representation, both of which are necessary for a healthy democracy. I'm proud our state is leading the way on this. Last month, I spoke at the student-led March For Our Lives Tacoma event, and I can say with certainty that youth are paying attention and want their voices heard. This year, we're making it easier for them and for all Washingtonians who are legally eligible to vote to register.
See below for more details on each of the bills.
I also hope to see you at the community conversation hour I'm hosting together with Rep. Jake Fey and Sen. Jeannie Darneille on May 1st from 6-7:30 p.m. It will be in the Bay Terrace Community Room at 2550 South G Street in Tacoma. Street parking is available, or park in the Goodwill parking lot across the street.  For more information, please call my district office at 253-593-2033.
My seatmates and I are also hosting a telephone town hall for the 27th District on May 8th from 6-7 p.m. We'll be calling households across the district and inviting you to ask us questions to answer live during the call. Federal regulations prevent us from calling wireless numbers, though, so if you want to sign up to participate with a mobile phone please click here and then click on "Sign Up."
It's an honor serving as your representative.
Sincerely,

Access to Democracy bills signed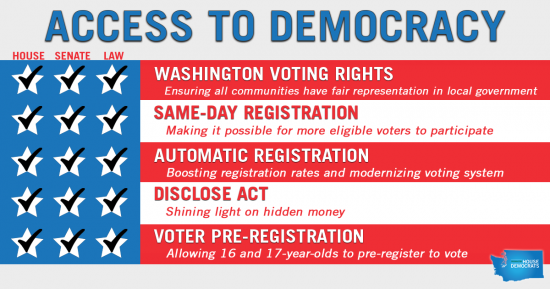 State lawmakers passed several election reform measures this year, many with bipartisan support. These measures aim to improve ballot access, increase campaign finance transparency, boost turnout, give local communities the opportunity to elect more reflective and responsive leadership, and ensure the security and integrity of our elections:
The Washington Voting Rights Act (SB 6002) – Allows communities that are systemically disenfranchised in local elections to work collaboratively – rather than through litigation – with their local governing bodies on remedies, such as districted systems.
Same-Day Registration (SB 6021) – Permits same-day voter registration, allows in-person registration by 8 p.m. on Election Day, or online or mail registration within eight days of the election.
Automatic Registration (HB 2595) – Provides for the automatic voting registration of individuals who have received an Enhanced Drivers license from the Department of Licensing.
Youth Voter Pre-Registration (HB 1513) – Authorizes youth to pre-register to vote at age 16. Once they turn 18, they will automatically receive their voter ballot.
DISCLOSE Act (SB 5991) – Requires disclosure of large donations to non-profit organizations who participate in political activities.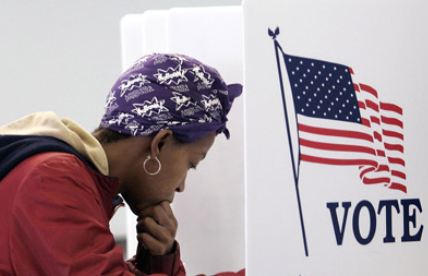 Take the 2018 Pierce County Community Survey!
Our local Tacoma-Pierce County Health Department has collaborated with private partners on a community survey about the strengths, needs, and overall health of our community. I serve on the Health Care & Wellness committee in the Legislature, and when I'm not in Olympia I'm here in Tacoma working at my day job in the public health sector. Your feedback is important to helping improve how our community best serves its citizens. Because greater diversity of voices will make a more complete picture, this survey is also available in Spanish or in Korean.
Next week: Give your input on Tacoma Dome regional light rail extension
Voters approved the ST3 Tacoma Dome regional light rail extension, although many taxpayers were hit with higher-than-expected car tab fees as a result. A bill I supported would have fixed the valuation formula Sound Transit uses, to closely track Kelley Blue Book market value averages. It passed the House but ultimately didn't make it all the way through the Legislature this year. I expect this will be an issue lawmakers will revisit next year.
In the meantime, Sound Transit has kicked off its public involvement process for the Tacoma Dome regional light rail extension, with an early scoping period that runs through May 3rd. As part of early scoping, members of the public are invited to provide input on the proposed route and stations outlined in the Sound Transit 3 (ST3) Plan approved by voters as well as potential alternatives, benefits and impacts. Three open houses are being held in our area, with the first one on April 17th in Tacoma from 6-8 p.m. at the Best Western Plus Tacoma Dome Hotel, 2611 E. E Street. 
For more information and additional dates/locations, click here.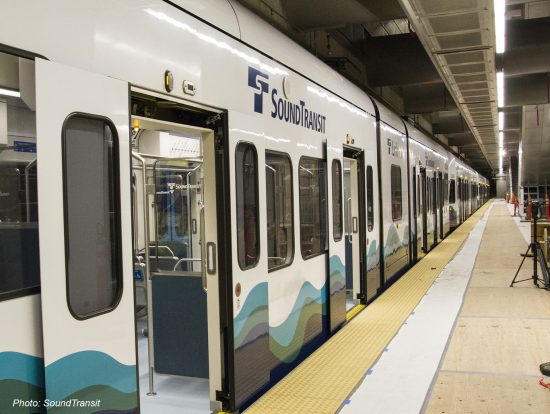 ---