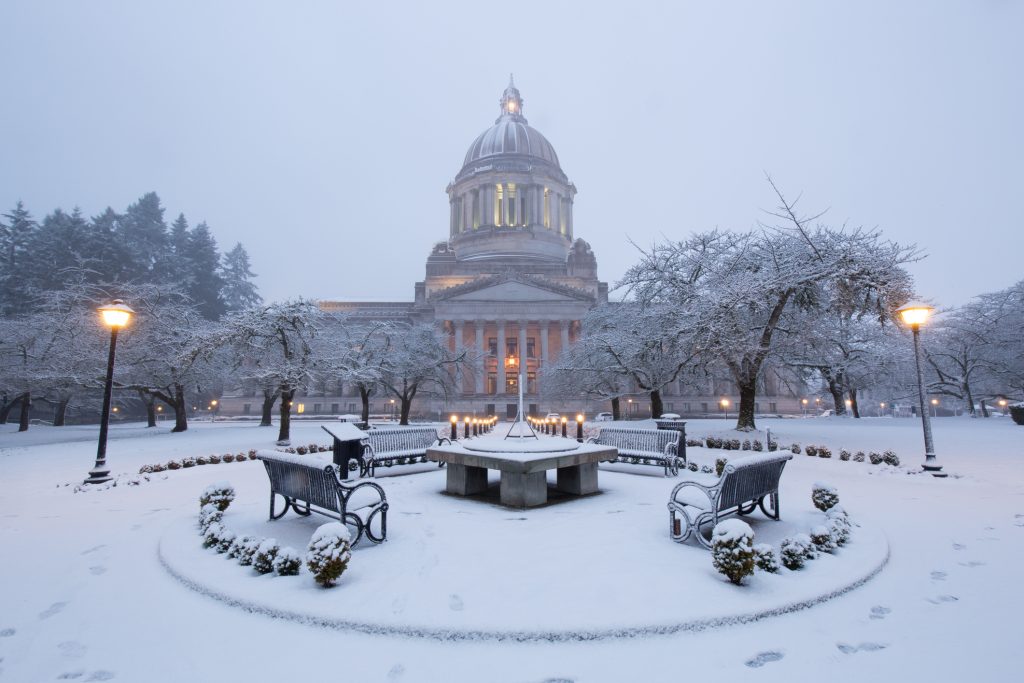 Dear friends and neighbors,
The recent snowstorm threw many of us for a loop, even causing the cancellation of all House and Senate committee hearings at the state capitol this past Monday. As someone who grew up in Wisconsin, I was not as fazed by the amount of snowfall, but as a resident of Tacoma for the past 30-plus years I know out here we are not as used to driving in it, nor do we have the snow removal equipment that's ubiquitous in the Midwest. I hope you were able to stay warm and safe during "Snowpocalypse 2019." For families and individuals dealing with housing insecurity or homelessness, however, this winter storm was especially challenging – even dangerous.
That's why I'm glad my colleagues in the House raised the issue of our state's affordable housing and homelessness crisis last week with a media availability. The House Civil Rights and Judiciary Committee, which I chair, also heard bills aimed at reforming our broken eviction system. Read below to find out more. I encourage you to watch this video link featuring Rep. Melanie Morgan – another Pierce County legislator – testifying before the Civil Rights & Judiciary Committee on her bill (HB 1694), which would allow tenants to pay certain deposits and fees in installments. The Tacoma City Council unanimously passed a Rental Housing Code last year that includes this provision for tenants. I hope to see it enacted on a statewide basis, and that's why I am a proud co-sponsor of the bill.
Sincerely,

Reforming our broken eviction system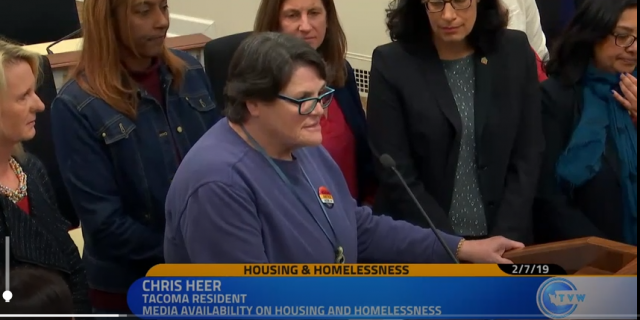 Our state's affordable housing and homelessness crisis doesn't impact everyone equally. Renters and people of color are more likely to be overburdened by housing costs, and are at greater risk for displacement.
Last week, the House Civil Rights and Judiciary Committee heard three bills specifically aimed at reforming our broken eviction system, because there is no other situation where a person or family could lose something so critical, so quickly, and evidence shows that evictions are a leading cause of homelessness:
Reforming the eviction system is just one tool to address this crisis. In a media availability last week, House Democrats laid out a blueprint for improving housing affordability and reducing homelessness, and it focuses on the following:
Build More—We need affordable housing in ALL parts of the state. A LOT more. One of the ways we can build more is by making additional investments in programs we know work well, like the Housing Trust Fund, sales tax credits, and public works loans.
Build Up—We need more density around transit centers. Affordable housing and public transit go hand-in-hand.
Build Better—There's too much red tape that gets in the way of addressing community needs quickly and efficiently. Lawmakers can do more to streamline environmental permitting, make better use of available public land, and expedite lending procedures.
Build Stability—Our communities are unstable because our broken eviction system imposes life-shattering consequences in a very short amount of time. We are proposing bold reforms aimed at truly and justly balancing the relationship between tenants and landlords. We also seek to better support students and children experiencing homelessness, and provide targeted property tax reductions for seniors and veterans.
---
Are you following my new, official legislative page on Facebook?
I have a new, official Facebook page! Like and follow Representative Laurie Jinkins to stay updated on legislative news from Olympia.

---