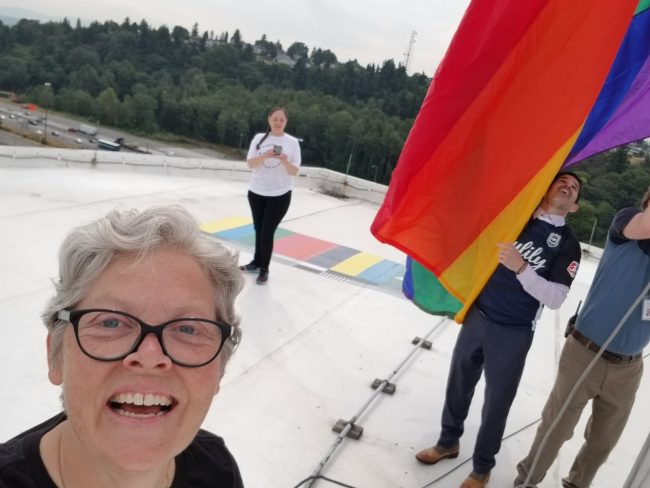 Dear friends and neighbors,
In a historic first, the Pride flag was raised last week over the Tacoma Dome in celebration of Tacoma Pride – and I was one of the lucky people who helped raise it. What an exciting (and petrifying!) experience to stand on the top of the Dome and mark this milestone.
While June is officially Pride month, Tacoma Pride always takes place in July – one of the many quirky things I love about our city. This year, I am reminded more than ever that Pride isn't just about the LGBTQ community. It's about everyone who stands with the LGBTQ community. It's about people standing together. Standing with me to raise the flag last week were Puyallup Tribal Councilmember Annette Bryan, Tacoma City Councilmember Ryan Mello, and Tacoma Mayor Victoria Woodards. Together, we represented state, local, and tribal governments coming together in support of Pride.
When I first came to the legislature, I was the first openly lesbian lawmaker in state history. Today, I'm part of an LGBTQ caucus. Likewise, the strong partnership of the Puyallup Tribe with this year's Tacoma Pride is also being hailed by many as a historic partnership between a Tribe and the LGBTQ community. My hope is that this kind of interconnectedness among communities continues to grow and flourish, because we're all stronger when we stand together and support each other.
In celebration of this connection, I'm focusing this newsletter on highlighting some of the LGBTQ and Tribal bills that passed in Olympia this year. These bills impact all of us by making our state better, safer, and more inclusive.
If you have questions about the legislation featured here, or other comments or concerns, please don't hesitate to contact me. Also, don't forget to follow my official legislative Facebook page, where I post regularly about the work I'm doing at the state capitol and in our district.
Sincerely,

Standing together: Safe learning environments for ALL students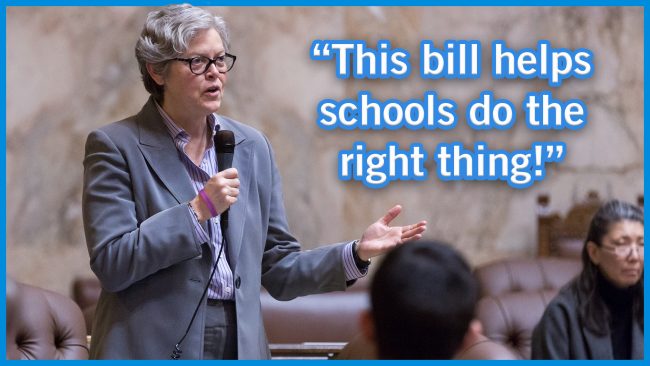 Schools need to be safe learning environments, welcoming of all students in the community. Unfortunately, transgender students are disproportionately targeted for harassment in our schools. A shocking 82% of transgender youth report that they feel unsafe at school.
This year, lawmakers passed SB 5689, which sends a clear message to transgender youth that we value their safety. It implements policies in our public schools to address and prevent the bullying of trans and gender-diverse students. Click here to watch my remarks on the House floor in support of this bill.
Standing together: Native American Voting Rights Act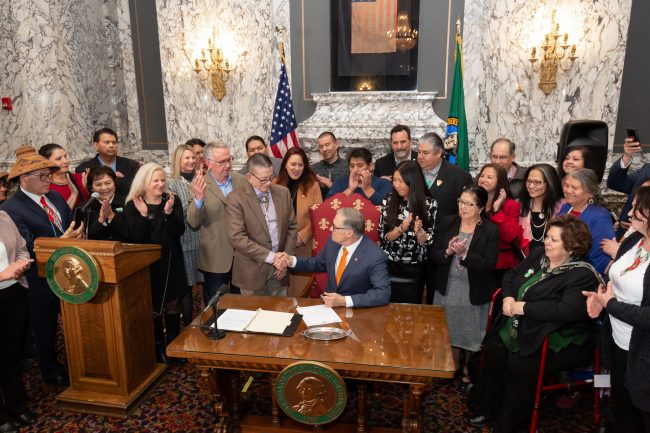 Native American people have experienced systematic voter suppression throughout our country's history. Though we cannot undo these past wrongs, we can make sure our laws going forward remove barriers to the ballot box for tribal members.
That's exactly what we did this year with passage of SB 5079, also known as the Native American Voting Rights Act. This bill ensures tribal members will now be able to use designated tribal government building addresses on reservations and tribal identification cards to register to vote, as many properties on reservations do not utilize standard mailing addresses. It also authorizes tribes to request ballot drop boxes on reservations, which is critical because in parts of our state the next closest ballot drop box can be up to 100 miles away.
Standing together: Newly formed state LGBTQ commission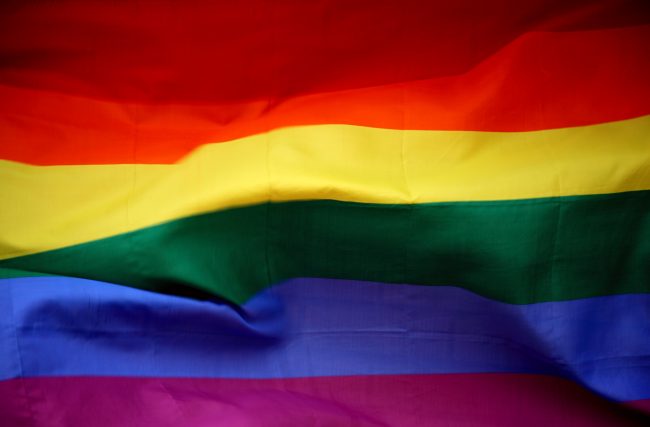 Until now, the LGBTQ community has not had a formal, cabinet-level seat at the state policymaking table. Lawmakers fixed that by passing HB 2065, which creates a new Washington State LGBTQ Commission, ensuring the impacts of legislation on LGBTQ communities are proactively considered. It is only the second such cabinet-level commission in the nation.
Standing together: Ensuring tribes have a seat at the transportation planning table
Regional Transportation Planning Organizations (RTPOs) identify transportation issues and make decisions within the regions they cover, including tribal land. Yet tribes are not always guaranteed a seat at the RTPO table. Some jurisdictions include them; others do not.
With passage of HB 1584 this year,  RTPOs are required to invite tribes falling within their jurisdiction to participate in decision-making if they are to receive any state funding. Bringing equal representation to our tribal communities is important for a fair planning process, and I was proud to support this bill.
Standing together: Strengthening Washington's hate crimes statute
There's no place for hate in our state, so it's disturbing to read that hate crimes are on the rise in Washington. To help ensure all people feel safe, the legislature passed HB 1732, which increases the maximum civil liability for those guilty of committing hate crimes, and creates an advisory work group to take a closer look at identifying the root causes of and preventing hate crimes. It also adds "gender identity or expression" to the list of protected categories.
Standing together: Addressing missing and murdered Native American women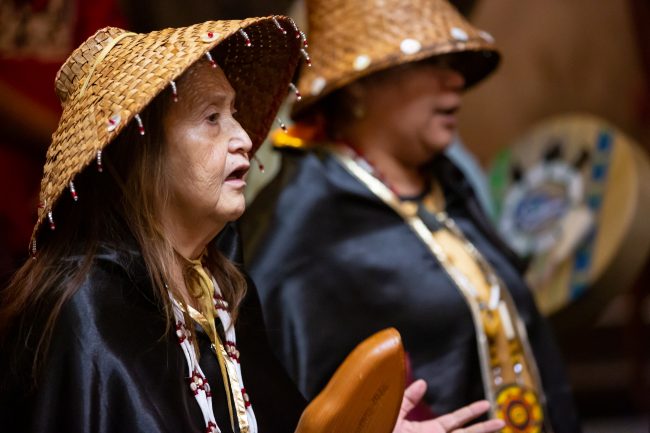 The problem of missing and murdered Native American women is a national one. Our state took a big step toward addressing the problem in 2018 when we passed legislation requiring our state patrol to study and report to the Legislature on ways to increase resources for reporting and identifying missing Native American women. We followed up this year with HB 1713, which creates two new state patrol positions that will work as liaisons between law enforcement and tribal communities to help solve these cases. With Seattle having the most cases of missing or murdered Native American women of any U.S. city, I'm glad state lawmakers are taking this problem seriously.
---
Join me at the groundbreaking ceremony for "Home at Last" project in Tacoma
In a previous e-newsletter, I mentioned the state capital budget's funding for the YWCA Pierce County's "Home at Last" project. A total of $1.5 million in state money is going to help build 54 affordable housing units for homeless families and people with disabilities or other barriers to housing. An additional $750,000 in funding is going specifically for space within the project site to expand the therapeutic counseling services offered to families, many of whom are victims of domestic violence.
I'm excited to be one of several elected officials delivering remarks at the groundbreaking for this project on July 20. The ceremony starts at 10:00 a.m. and I hope many people from our community will come celebrate this event with us.
---