Dear friends and neighbors,
It's Week 4 of the 2020 legislative session, which means I've been on the job as Speaker of the House for about a month now. I'm learning new things all the time, and one of the things I have learned over the past few weeks is how to chair a meeting of the House Rules Committee.
The Rules Committee is mentioned in this comic strip that depicts how a bill becomes a law, but most people are unfamiliar with the committee, or how it operates.
Before becoming Speaker, I had never served on the Rules Committee. Now, I chair the meetings. It's a fascinating piece of the legislative process, and I wanted to give folks a peek behind the doors of the House Rules Room to get a sense of what these bipartisan meetings are like. Last week, I made a short video about it.
I'm doing more of these behind-the-scenes videos, and posting them to my legislative Facebook page. Like or follow the page to join me as I go through my first session as Speaker of the House.
The theme of this newsletter is civic participation. Together with Rep. Jake Fey and Sen. Jeannie Darneille, I'm hosting a legislative town hall on Saturday, February 22nd. Details are below, and I hope you'll be there to take part in the discussion.
I'm also sharing some information about the 2020 Census, which is critical to determining how billions of federal dollars get distributed to local communities like Tacoma. Be sure to help shape your future and get counted!
As always, I welcome your ideas and feedback. Please reach out anytime with your ideas and opinions on how to make Washington state an even better place to live, work, and raise a family.
Sincerely,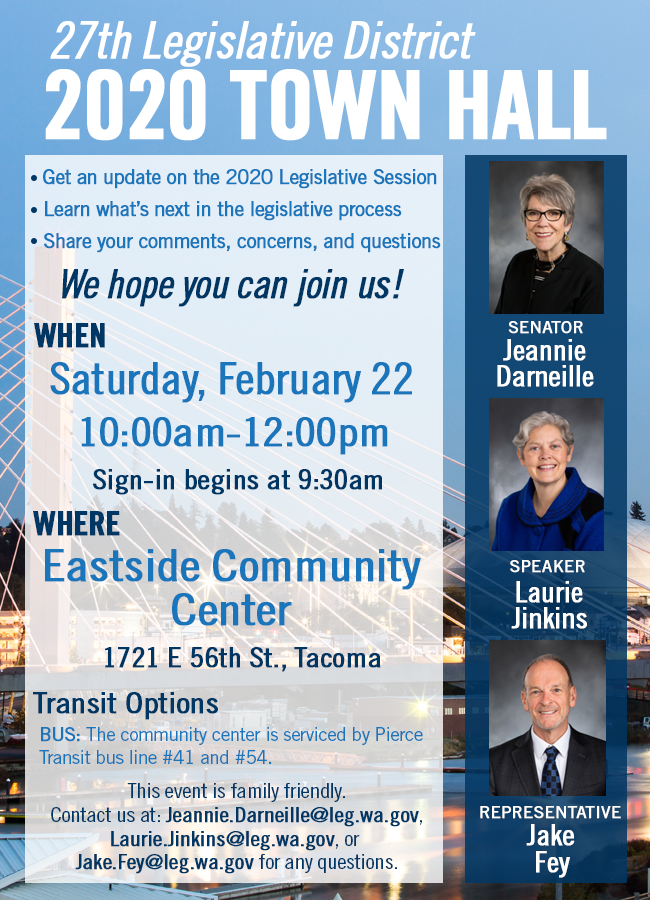 Census 2020: Get counted
Every 10 years, the government counts every person living in the United States, and the implications for communities are enormous. Federal funding for schools, hospitals, roads, public works, and other vital programs is based on census counts.
That means many things that are important to people and families, like strong public schools for our kids, transportation that gets you where you need to go, and access to affordable, quality health care for your family – are impacted by the census.
Everyone in Washington deserves to be heard. For more information about the 2020 Census, click here.
For members of the LGBTQ+ community, Queer the Census Washington can help with navigating the census form and other questions.
---