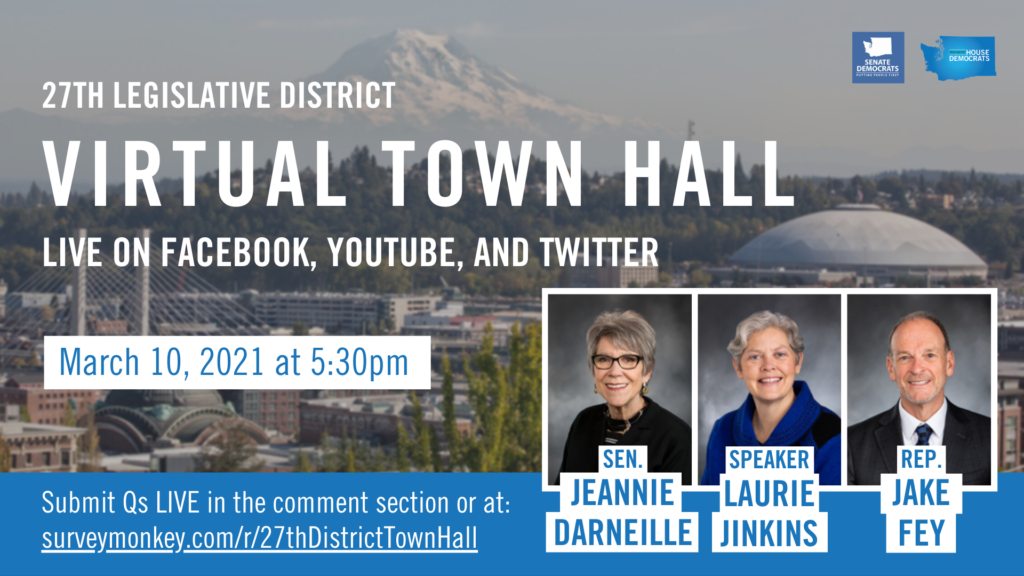 Dear friends and neighbors,
One of the events I look forward to each year is our 27th Legislative District town hall, and this year's event is coming up soon. In keeping with public health guidance it will be a virtual town hall, but hopefully that means even more folks from our community will be able to participate.
Please join Sen. Jeannie Darneille, Rep. Jake Fey and me on Wednesday, March 10 from 5:30 – 6:30 p.m. There are several ways to tune in: the event will be livestreamed to my legislative Facebook page, to the House Democrats Facebook page, to the House Democrats Twitter feed, and to the House Democrats YouTube channel.
To add the town hall to your Facebook events, click here.
You can submit questions to us ahead of time at this link: surveymonkey.com/r/27thDistrictTownHall
Questions can also be submitted live during the event by entering them in the comment section.
We're looking forward to listening to you, answering your questions, and sharing our priorities for the 2021 session.
Bills are passing the House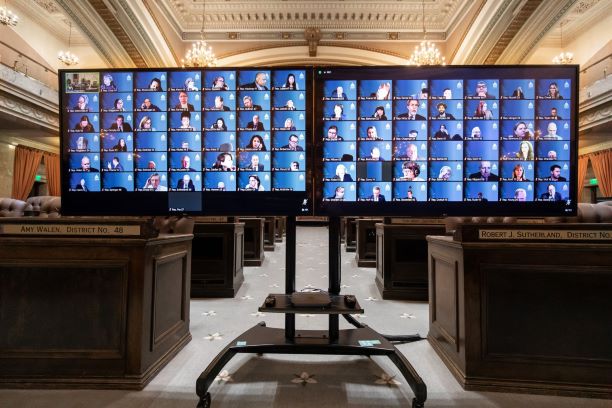 This week and next, the House is "on the floor" full time. This means from the time we convene in the morning until we adjourn at the end of the day, we are considering and voting on bills. Here are some of the bills that have passed the House recently:
BANNING PRIVATE PRISONS: Many of you have reached out to me with your concerns about the problems at the Northwest Detention Center, which is located in our district. This facility has seen hunger strikes, attempted suicides, and suicides. Private prisons like the Northwest Detention Center profiting from the incarceration of human beings is not in line with our state's values. House Bill 1090, which passed on a bipartisan vote of 76-21, will help end this nightmare in our district and our state by effectively banning private for-profit prisons and detention centers, and restricting existing facilities from renewing their contracts.
EXPANDING ACCESS TO RESPIRATORY THERAPISTS: As our nation marks the grim milestone of 500,000 deaths from COVID-19, our frontline health care workers are more critical than ever in helping to save lives. House Bill 1383, which passed the House unanimously this week, expands access to the critical service provided by respiratory therapists, including allowing respiratory care to be administered via telemedicine. This will especially help our rural and underserved areas of the state.
EXPANDING ACCESS TO AUDIO-ONLY TELEHEALTH: The COVID-19 pandemic helped spur the rapid and necessary expansion of telehealth services. Telehealth is a safe and easy way for people to consult medical providers without having to travel and risking exposure to COVID-19. But those without access to broadband internet or a computer are not able to take advantage of telehealth. House Bill 1196 requires insurance providers to reimburse for audio-only telehealth, ensuring greater equity in telehealth access.
ELIMINATING LUNCH CO-PAYS: Before the pandemic, one in six children in our state lived in a food insecure household. That number is now one in four. Schools are continuing to provide meals during the pandemic, which is a good thing. But in these challenging times, the co-pay for reduced lunch is an even bigger burden for many struggling families. House Bill 1342 eliminates the reduced lunch co-pay, so kids don't go hungry and can focus on learning.
ENSURING SENIORS CAN GRADUATE ON TIME: The pandemic has disrupted learning all over our state, and students shouldn't suffer because of circumstances beyond their control. House Bill 1121 allows school districts to grant emergency credit waivers to eligible students who are otherwise on track to graduate. This eliminates uncertainty for these students and their families, and ensures they can move on to the next step in their education and career training instead of falling behind.
---
Thanks for reading this week's update. If you have questions, comments, or concerns about anything in this newsletter or any legislative topics, please don't hesitate to contact me.
Also, please follow my official legislative Facebook page for updates on what's happening this session.
It's an honor to serve as your state representative.
Sincerely,

---