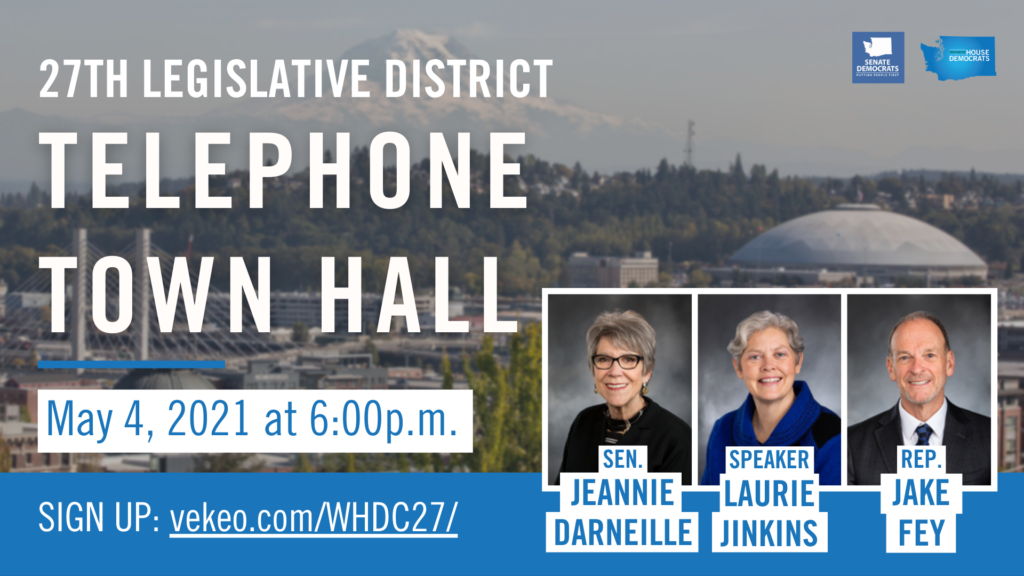 WHAT: 27th Legislative District Telephone Town Hall with Speaker Laurie Jinkins, Rep. Jake Fey, and Sen. Jeannie Darneille
WHEN: Tuesday, May 4 at 6:00 pm
WHY: For 27th Legislative District constituents to ask their legislative delegation questions about the recently-adjourned 2021 Legislative Session. Topics will include the new operating, transportation, and capital construction budgets for the state, as well as newly-passed legislation related to COVID-19 response, economic recovery, racial equity and justice, climate change and more.
HOW: At 6:00 pm on May 4, calls will go out to landlines in the 27th district, inviting constituents to stay on the line to participate in the telephone town hall.
Constituents without a landline or who receive a call can still join in a variety of ways:
DIAL IN: Dial 877-229-8493 and enter code 116282 when prompted.
VEKEO CHANNEL: To ensure getting the call, constituents are advised to go to  vekeo.com/WHDC27 and sign up to be called when the event begins. They can also opt-in to upcoming events and listen to previously held events they may have missed. Note: the Vekeo opt-in must be completed at least one hour prior to the start of the town hall.
AUDIO STREAMING: Constituents unable to sign up on Vekeo and unable to dial in to join the town hall can still participate by going to this link: http://video.teleforumonline.com/video/streaming.php?client=16282 
Questions can also be submitted ahead of time at: https://www.surveymonkey.com/r/27thDistrictTownHall 
---