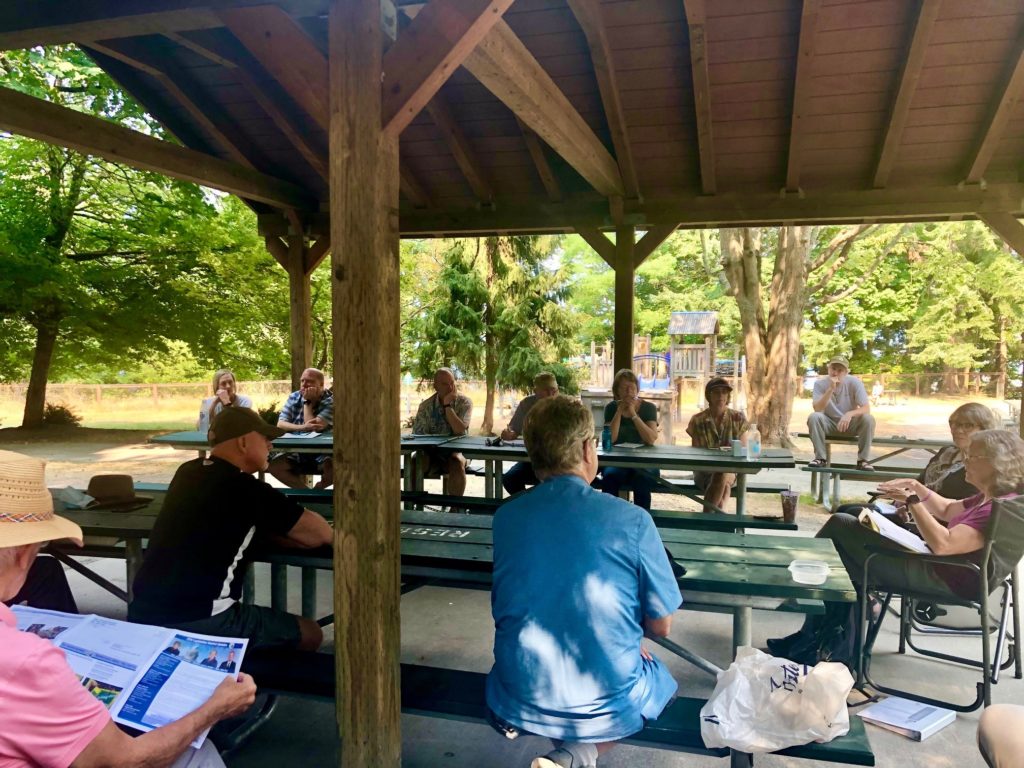 Dear friends and neighbors,
My e-newsletter was on a brief summer hiatus, but hopefully you received the 27th Legislative District Update from Sen. Darneille, Rep. Fey and me that was mailed to households last month. If not, it's available here on my legislative website.
Together with Sen. Darneille and Rep. Fey, I've also held several constituent "park chats" this summer — informal, drop-in conversations in public parks throughout the district. So far we've met at Stewart Heights Park, Franklin Park, and Point Defiance Park. These gatherings have been a safe, outdoor, socially-distanced alternative to the indoor "coffee chats" we've hosted in previous years.
If you haven't had a chance yet to drop by one of our park chats, the next one will be Tuesday, August 31st from 3:00 to 5:00 PM at Lincoln Park, at the picnic tables on the S. Thompson Ave. side of the park. Seating will be limited, so please consider bringing a chair for yourself if you're able to do so. Hope to see you there!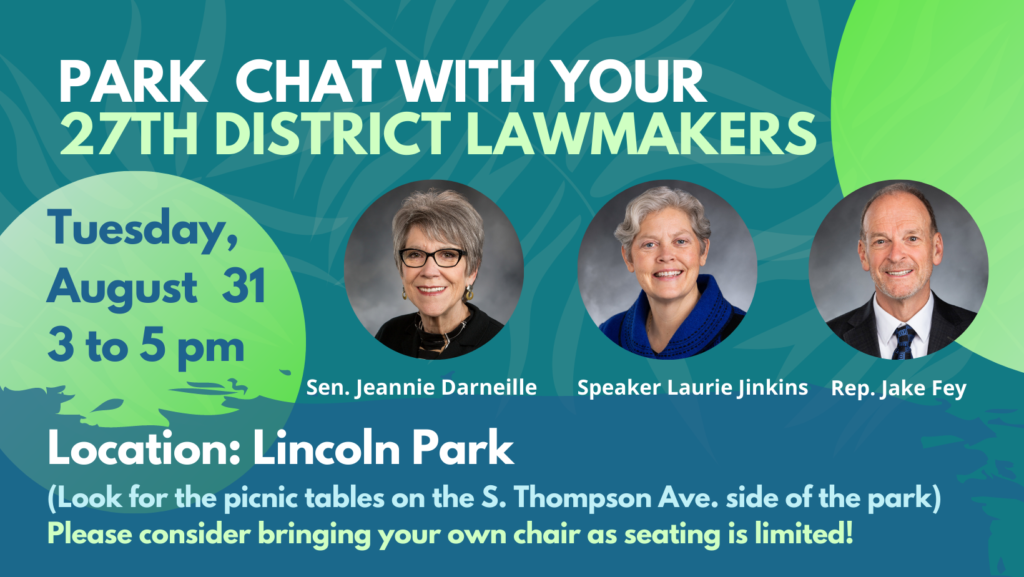 New vaccination requirements for state workers, health care professionals, K-12 employees and others
The State of Washington is taking decisive action to combat the spread of COVID-19 and protect vulnerable communities by requiring most state workers, workers in private health care/long-term care settings, and employees in K-12, child care/early learning and higher education settings to be vaccinated as a condition of employment.
On August 9, the governor announced mandatory COVID-19 vaccination requirements for most state employees and health care workers. Senate Majority Leader Andy Billig and I released a statement in support of that decision.
On August 18, the governor announced mandatory COVID-19 vaccination requirements for employees working in K-12, most childcare and early learning, and higher education settings. Additionally, he announced an expansion of the statewide mask mandate to all individuals, regardless of vaccination status.
Getting vaccinated and masking up are critical to help protect those most at risk in our communities from complications or death from COVID-19 — in particular children under 12 who are not yet able to get vaccinated, and those who are immunocompromised.
The Delta variant has caused skyrocketing COVID-19 cases in our state and across the nation. Other states are struggling with an alarming rise in cases in schools, leading to closures, quarantines, and child hospitalizations. The only way to stop this from happening in Washington state is by ensuring the vast majority of us who can get vaccinated, do*.
*The vaccination requirements still allow for limited exemptions, such as for sincerely held religious beliefs or legitimate medical reasons.
WA Cares Fund: making long-term care more affordable for Washingtonians
In 2019, the Legislature passed the Long-Term Care Trust Act to address a looming crisis in our state:  Most of us will need some type of long-term care services or supports as we age. But the vast majority of us don't have the savings to pay for this care, or a long-term care insurance policy.
Legislators shared heartbreaking stories on the House floor about how this issue has touched their own families:
Rep. Nicole Macri of Seattle: "I remember talking to the administrator of the nursing home about how much private care would cost. And I remember bawling."
Rep. Cindy Ryu of Shoreline: "By the time Dad needed help, Mom was getting frail."
Rep. Tana Senn of Mercer Island: "This long-term care plan is about families…it's about keeping families together, in their homes, with their loved ones, as long as possible."
I shared my own family's struggle to find care for my mother-in-law, Jeannette, who has since passed away.
Legislators also described how this policy makes economic sense and is a win for families and taxpayers:
Rep. Steve Tharinger: "You'll take a benefit out that will be greater than what you put in…unless you live to be 126 years old."
Rep. Drew MacEwen (my co-sponsor across the aisle): "Twenty years ago to buy a long-term care policy on the private market made economic sense…but that changed."
The Long-Term Care Trust Act was a first-in-the-nation kind of policy when the governor signed it into law. Other states are grappling with long-term care accessibility and affordability too, and they are watching what we're doing about it here in Washington.
The Tacoma News Tribune editorialized in favor of the policy in 2019, saying, "It could provide relief for older Washingtonians seeking a modest sum for long-term care in their twilight years; for sandwich-generation family members trying to make sound decisions for elderly parents; and for taxpayers to the tune of an estimated $470 million in state Medicaid savings by 2052."
So, where are we now?
Payroll deductions for what has since been named the WA Cares Fund begin in 2022.  Those who already have long-term care insurance or who purchase a plan before Nov. 1 can apply for an exemption from this program. While purchasing a private plan before Nov. 1 may makes sense for some, it's important to make your decision based on a real analysis, not misinformation or confusion. To be clear:
The benefits you earn can be used flexibly, including paying for things like nursing care, assisted living, home care, family caregivers, home modifications and meal delivery.
You cannot be excluded from the plan based on any pre-existing conditions.
Once you've vested into the WA Cares Fund, that money is available to you for life. If you opt out, you cannot later opt back in to access benefits.
More information about WA Cares is available in this informative blog post from the state Office of the Insurance Commissioner. You can also learn more about the Fund, how to earn and apply for benefits, and more at the WA Cares Fund website.
Bottom line: Like all new programs, it will take some time to adjust and determine where there may need to be changes. But it's critical for Washington state to have a long term care program that will help protect taxpayers and provide families peace of mind.
---
If you have questions or comments about anything in this newsletter, or other legislative topics, please don't hesitate to contact me. It's an honor to represent you.
Sincerely,

---