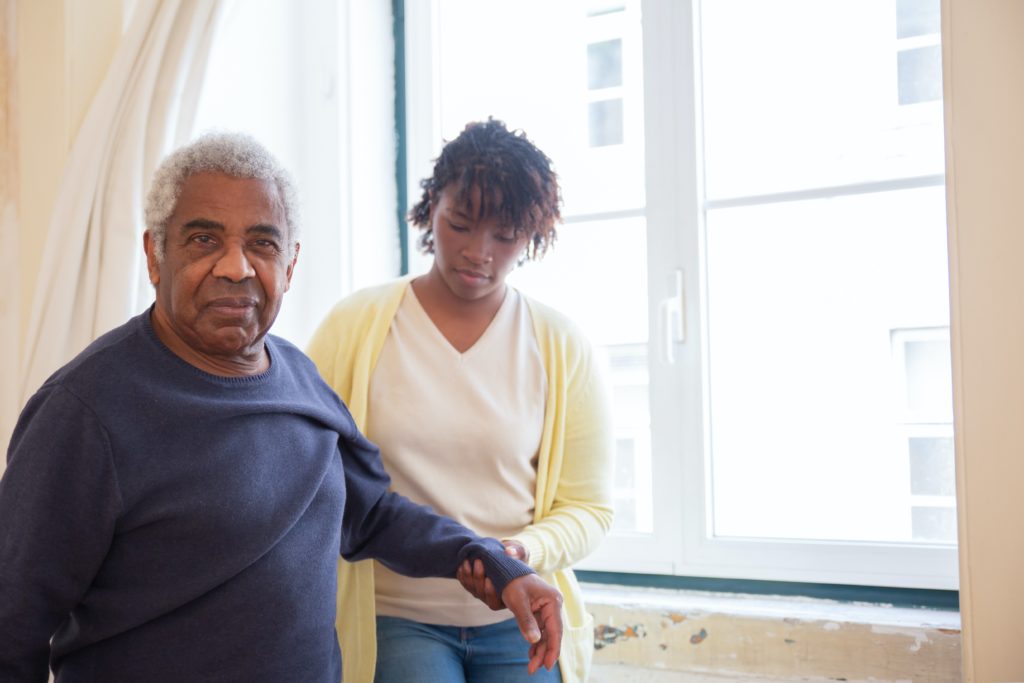 Dear friends and neighbors,
It is Week 3 of the 2022 legislative session, which means we are already over a quarter of the way through it. That's how quickly things move in a 60-day session!
I'm excited to share that this week the governor signed two key bills to improve the WA Cares Fund, the long-term care benefit that will help more Washingtonians access the care they need as they age so they can stay in their homes longer. The House took early action to pass those bills last week.
The two bills are:
HB 1732, sponsored by House Majority Leader Pat Sullivan, which pauses the program for 18 months to allow lawmakers to implement reforms to expand access to the program to those closer to retirement than the original legislation allowed. During this time, employers won't have to collect premiums and any premiums already collected will be refunded.
HB 1733, sponsored by Rep. Dave Paul, which enables military spouses, disabled veterans, border state residents, and non-immigrant visa holders to voluntarily exempt themselves from the WA Cares program. Concerns were raised that these folks would pay premiums but would never receive the benefit.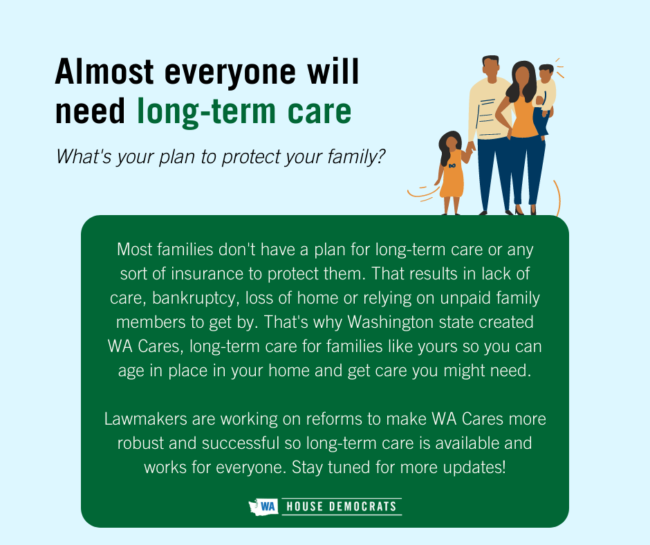 I'm glad we moved quickly to make sure the WA Cares Fund is even more accessible, flexible, and works for everyone. This critical benefit provides more options, so people don't have to first spend themselves into poverty to access long-term care, or be denied coverage due to pre-existing conditions.
This story from Crosscut highlights why it's so important for our state to have this life-changing benefit available. Most people don't have long-term care insurance policies or enough savings to pay for the care they will need as they age. But even those who do have private long-term care policies can find themselves struggling, as the Crosscut article shows. That's not right, and it's why we need WA Cares.
While I am thrilled the reforms to WA Cares passed both chambers with strong bipartisan majorities, some legislators say they'd prefer to "repeal and replace" WA Cares. We've heard that phrase before in our national discourse, and it isn't associated with helping more people get the care they and their families need.
Bottom line: Democrats have led the way this session in taking steps to strengthen the WA Cares Fund and address any outstanding issues so it can do what was intended: help people access care, and bring down costs for those struggling to pay for it.
---
Bringing down costs for Washington families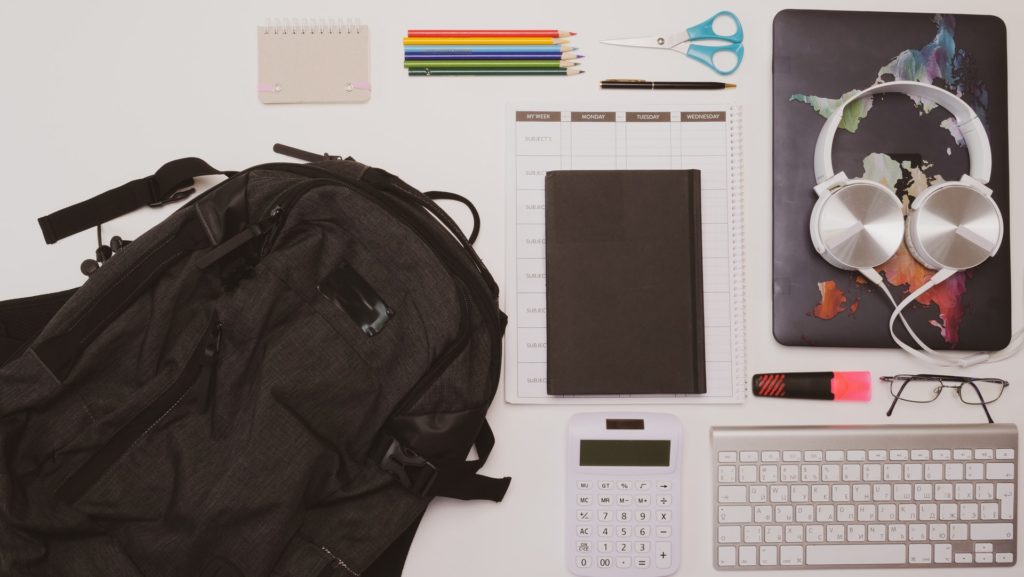 In my opening day of session remarks, I said this legislative session was going to be about moving EVERYONE forward.
One way to help people move forward is to bring down costs that people are paying in our state, and my colleagues in the House Democratic Caucus are championing bills that do this:
For students and families struggling to pay for college, there are proposals to expand the Washington College Grant, our state's nation-leading financial aid program that provides free or reduced tuition for students from middle- and low-income families. By providing additional flexible dollars that can be used for housing, food, transportation, books and child care, HB 1659 would address costs that are a burden to many students but aren't currently covered by the Washington College Grant.
For students who don't qualify for the Washington College Grant, HB 1736 establishes a low-interest (one percent!) student loan program, to reduce borrowing costs and help those who want to avoid higher-rate federal or private loans.
When it comes to health care, it's hard enough to pay for medical expenses you can plan for, but unexpected medical bills can totally derail a family's finances. That's why I'm excited about HB 1688, which protects consumers from charges for out-of-network health care services. It aligns state law and the federal No Surprises Act, addressing coverage of treatment for emergency conditions.
And one of the most costly times of the year for families is back-to-school season. Those costs can really add up, as I remember well from school shopping for my son. As we look for ways to invest one-time funds the state has by putting it back in people's pocketbooks, a sales tax holiday a great way to do this.
HB 2018 would suspend the state sales tax this year on Sept. 3, 4, and 5 for certain items priced $1,000 or less, including clothing, school supplies, computers, durable medical goods, and energy efficient appliances.
A sales tax holiday would have an immediate impact on family budgets as they plan for purchases this fall, and would give a boost to our small and main street businesses as well.
These are just some of the ideas House Democrats are bringing forth to help bring down costs for families across our state. I hope we see every one of these bills make it to the governor's desk.
---
As always, I want to hear from you. If you have questions, comments, or concerns about anything in this newsletter or another legislative issue, don't hesitate to reach out.
It's an honor to represent you in the state House.
Sincerely,

---