PLEASE NOTE: For the most up-to-date information on the COVID-19 crisis
in Washington, please visit the state's official COVID-19 website.
Thank you for visiting my website where we post the latest news on what legislation I am working on for our community.
Here is some information you may find useful: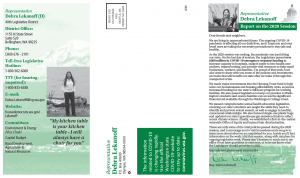 Feel free to contact my office with your requests and concerns on legislative issues. Either I, or my legislative assistant, Cole Harvey, will return your call, email, or letter promptly.
It is my honor to serve you!
Sincerely,
Debra