---
Week 1 | The 2021 Legislative Session Has Begun!
Happy Fantastic Friday!
Dear Friends and Neighbors,
Last Friday, I was sworn in for my second term in the Washington State House of Representatives. Thank you and I'm proud to be back in the People's House, representing the 40th District!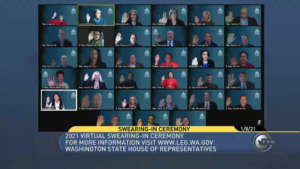 The 2021 legislative session began on Monday, when legislators convened in our state capitol in person as required by our state constitution so that we could adopt temporary rules allowing for remote proceedings. Throughout the session, which wraps up April 25, I'll be sending out these Fantastic Fridays and posting updates on Facebook. Be sure to follow me on Facebook for the latest.
I also want to thank the Washington National Guard members who helped ensure a safe start to the session. Thank you for all that you do to protect Washingtonians.
---
Governor's Inaugural Address
This week also saw Governor Inslee sworn in for a third term as governor, and the delivery of his inaugural address. The governor delivered the address via video, a result of the ongoing pandemic and new security concerns.
In his speech, Governor Inslee said that now is a time for "relief, recovery and resilience." I cannot agree with him more, and look forward to continuing to work with his office and my colleagues in the Legislature to work toward a robust and equitable recovery for all Washingtonians.
---
My Bills
While I am working on legislation addressing economic recovery, environmental justice, and criminal justice reform, I've officially introduced three bills so far this session:
House Bill 1072: This bill removes the restriction that keeps undocumented immigrants from accessing civil legal aid. It had a hearing in the House Civil Rights & Judiciary Committee on Tuesday, and is scheduled to be voted on in committee this morning.
House Bill 1117: This bill would integrate salmon recovery into the Growth Management Act (GMA), which guides land management and planning in our state. The bill is scheduled for a hearing in the House Environment & Energy Committee on Thursday, January 21.
House Bill 1172: This bill repeals a part of Washington law that is in direct conflict with the judicially-affirmed and treaty-reserved fishing rights of Northwest tribes. By repealing this section, we can avoid any legal confusion with state-tribal cooperative agreements in the management of salmon, trout, and steelhead resources. The bill has been referred to the House Rural Development, Agriculture & Natural Resources Committee, and I will update you when it has been scheduled for a hearing.
---
Constituent Coffees
You're invited to join my weekly virtual constituent coffee! This will be an opportunity for constituents and stakeholders to receive a brief legislative update and to ask questions or make comments on current legislation. We ask that you please pre-submit your question, though there will be opportunities to raise your hand during the event. 
Please also note that due to the ever evolving nature of legislative session, we may need to cancel or reschedule this meeting. If you have any questions, please contact my Legislative Assistant, Kaylee, at kaylee.galloway@leg.wa.gov. 
---
How To Testify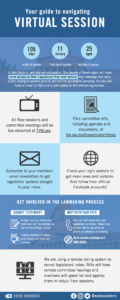 A lot of thought and planning has gone into making the legislature more accessible than it's ever been for the people of our state. In this video, Speaker Laurie Jinkins and Senate Majority Leader Andy Billig describe the changes in place, and how it's now easier than ever for people to participate in the legislative process.
Remote Testimony
Holding a remote session does not mean you don't get to have your say. We have a brand new system for you to submit remote testimony on any bill. The Legislature has also compiled detailed instructions on how to successfully testify in virtual committee meetings.
Written Testimony
Written testimony is also an option this session. Every committee will accept written testimony on a bill for 24 hours after the start time of the hearing. You can also share your stories with me by emailing my office.
Click here for more information on how to testify remotely, comment on a bill, or submit written testimony. You can also learn more in this quick reference guide to navigating the Legislature's remote 2021 session.
---
Healthy Washington – Roadmap to Recovery
On Monday, Governor Inslee's Healthy Washington: Roadmap to Recovery took effect. The plan lays out a path to recovery that follows key public health metrics so we can reopen safely.
Under this plan, the state is divided into eight regions based mostly on Emergency Medical Services regions and all of them begin in Phase 1 this week. To move to Phase 2, regions must meet all four of the following metrics:
Decreasing trend in two-week rate of COVID-19 cases per 100,000 people;
Decreasing trend in two-week rate of new COVID-19 hospital admission rates per 100,000 people;
ICU occupancy of less than 90%;
COVID-19 test positivity rate of less than 10%.
These phases look similar to the ones we used earlier this summer, but there are some key differences.  Our phased approached helped us to flatten the curve early on in the pandemic, and we hope it does so again now. You can read the full plan here.
So far, we've made the hard personal and community decisions necessary to avoid overwhelming our hospitals. I'm proud of the ways we've stepped up to plate to fight this pandemic. It's painful to see that other communities in our nation are not faring as well.
This new roadmap charts a course forward to safely ease restrictions and reopen parts of our economy based on shared, scientific standards. We may be exhausted by the pandemic and the toll it's taken on us, but lives are still at stake and we can save them by making up and keeping our physical distance.
---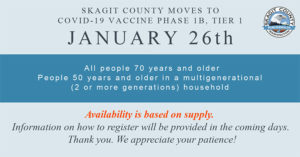 Click the graphic to learn more.
---
International Coalition Opposing Mining in Skagit Headwaters Grows
Earlier this week, an international coalition of more than 200 conservation, recreation and wildlife groups as well as local elected officials, businesses and Tribes and First Nations opposing a pending permit for mining in the headwaters of the Skagit River submitted letters to the government of British Columbia. I was proud to sign on to the letter to British Columbia Premier John Horgan, and was joined by 107 other U.S. stakeholders.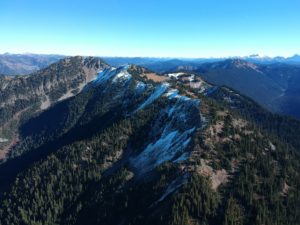 Claimstake Mountain, Skagit Headwaters Donut Hole. Wilderness Committee photo.
---
Notable Meetings
Skagit Chambers Legislative Send Off  
At the virtual event, we heard from businesses on some of the challenges they are facing during the COVID-19 pandemic such as unemployment insurance rates, the need for relief and to remove barriers, broadband, affordable housing, and child care. There was also discussion around the tourism industry, it's importance to the 40th District economy, and how lawmakers can work together, across the aisle to address their concerns.
Native Youth Engagement Meeting
I met with a group of group Native youth to discuss my legislation to ban the inappropriate use of Native American symbols, names, and images as school mascots, logos, or team names. This practice is antithetical to the mission of providing an equal education to all, and contrary to the goal of making schools safe and respectful learning environments. In addition to discussing the content of the bill, we talked about their potential testimony when the bill is brought up in committee. 
Northwest Straits Commission
We discussed their ongoing work to remove green crabs, considered one of the world's worst invasive species and a threat to native organisms and nearshore habitats in the Salish Sea. They also shared a quick update on the steps they are taking on Puget Sound Kelp conservation and recovery, and that the Commission would receive stat funds through the Model Toxics Control Account in the governor's budget released last month. 
---
In the Media
---
Welcome Home Lt. Governor Denny Heck
Thank you for your many years of service in Congress, and I look forward to working with you in your new role!
---
Thank you all for taking to the time to read this week's Fantastic Friday, and for taking an interest in our progress at the House of Representatives. I will be sending out a Fantastic Friday letter each week throughout the legislative session.
Please feel free to reach out to me using the information below, with any questions, inquiries, or concerns you may have.
I am here for you!
All best wishes,



Rep. Debra Lekanoff
---