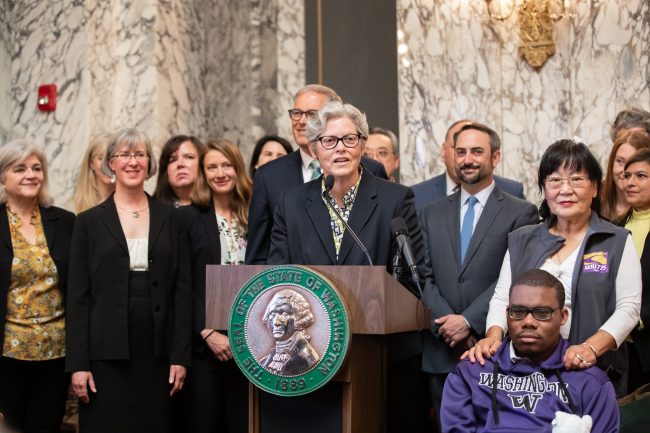 Dear friends and neighbors,
My previous e-newsletter highlighted the budget victories of the 2019 session, including the significant investments made in behavioral health, affordable housing, and education.
For this newsletter, I want to focus on some of the policy wins.
As Chair of one of the highest-volume policy committees – the Civil Rights & Judiciary Committee – I hear a lot of public testimony on a lot of bills each session. Many of these bills don't make it all the way through the process, and are often revisited in future sessions. Sometimes, it can take years for a good idea to eventually be signed into law.
What impressed me about this session was the large number of good policy bills – many of which had fallen short in in previous years – that finally got to the governor's desk. This includes several measures I have long championed. In many ways, this was a breakthrough session.
Read on about new policies that have Washington leading the nation in affordable health care, long-term care insurance, clean energy and climate actioin, consumer protection, and tuition-free higher education.
Sincerely,


Signed into law: First-in-the-nation Long-Term Care Trust Act (HB 1087)
No senior should have to spend themselves into poverty before being able to get long-term care. The Long-Term Care Trust Act, which I sponsored for multiple years, makes sure Washingtonians will be able to access care when they need it. Workers will begin paying into the trust in 2022, and benefits can be accessed beginning in 2025. Each Washington worker who is eligible for the benefit will have $36,500 that can help pay for assisted living, in-home care, and even meal delivery or wheelchair ramp installation. The Tacoma News Tribune editorialized in favor of the bill, saying,"It could provide relief for older Washingtonians seeking a modest sum for long-term care in their twilight years; for sandwich-generation family members trying to make sound decisions for elderly parents; and for taxpayers to the tune of an estimated $470 million in state Medicaid savings by 2052."
Signed into law: First-in-the-nation public health care option (SB 5526/HB 1065/HB 1224/HB 1879)
Washingtonians deserve affordable, accessible health care, and Cascade Care – which will be available on Washington's Health Benefit Exchange – is the first public health insurance option in the nation. It will be available to all Washingtonians, regardless of income, who are not covered by employer health plans.
This was a terrific session for health care affordability and accessibility. Patients in Washington will now also be protected from surprise billing, and will have more transparency on prescription drug costs. Additionally, patients with chronic diseases or unique health challenges will be able to get the drug they need sooner through a clear and accessible exemption process, rather than being forced to follow a "fail first" strategy by their health plan.
Signed into law: Strongest 100 percent clean energy law in the nation (SB 5116)
Here in Washington, we're not going to wait for federal action on climate and clean energy. The time to act is now.  So we're transitioning to a clean energy future by requiring utilities to transition away from fossil fuel-generated electricity. With a preliminary "coal elimination" deadline of 2025, and a final "clean grid" deadline of 2045, we are now firmly on a path to 100-percent clean energy from renewable and zero-emission sources like wind, solar, and hydropower.
We are also phasing out super polluting greenhouse gases called hydrofluorocarbons, which are thousands of times more damaging to the climate than carbon dioxide.
Signed into law: Protecting consumers from spiraling debt (HB 1531/HB 1602/HB 1730/HB 1066)
Another bill I have sponsored in previous years concerns medical debt, and I was thrilled to see it pass both chambers nearly unanimously this year. Medical debt is the number one cause of bankruptcy in the United States. My bill lowers the interest rate that often accrues before a patient ever sees a bill, prohibits health care providers from selling medical debt to collections agencies for at least 120 days after the first billing, and requires that patients are informed about opportunities to apply for charity care. Our own community recently witnessed the consequences of charity care being withheld from patients who qualified for it. In addition, bills protecting consumers from becoming destitute due to consumer debt and from unscrupulous debt collection practices also are becoming law this year.
Signed into law: Tuition-free college and apprenticeships (HB 2158)
I mentioned this in my last e-newsletter, but it bears repeating: if you are a student whose family makes 55% of the state's Median Family Income or less (around $55,000 for a family of four), you can attend one of Washington's two-year, four-year, or technical colleges tuition-free. This is thanks to the Workforce Education and Investment Act. There are partial tuition grants available for students whose families earn up to 100% of the Median Family Income (around $88,000 for a family of four). As the parent of a graduating senior, I can tell you this a big deal. Every qualified student in our state deserves the opportunity to access affordable higher education.
Signed into law: Eliminating high-stakes testing as a high school graduation requirement (HB 1599)
There are now multiple pathways for high school students to prove proficiency in English language arts and mathematics in order to graduate. Those pathways include earning college credit in dual credit courses, earning high school credit in high school transition courses, or successful completion of AP, IB or Cambridge international studies courses. This is an important change that will ensure a standardized test does not stand in the way of receiving a diploma.
Legislative Youth Advisory Council now accepting applications – deadline is June 3rd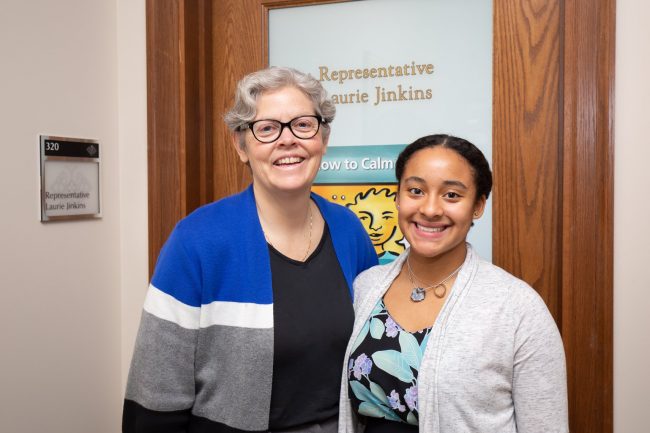 The Washington State Legislative Youth Advisory Council (LYAC) is now accepting applications for the 2019-2021 term!
Serving on LYAC is a fantastic opportunity for student leaders to engage with state government and learn about the legislative process. Established by the Legislature in 2005, the Council consists of 22 students ranging in age from 14 to 18, who serve as the official voice of Washington youth to the State Legislature. LYAC students develop a deep understanding of public policy issues by meeting with legislators, testifying on priority legislation, and organizing civic engagement days at the Capitol for their peers. Tacoma's own Nadine Gibson, pictured above with me, is a current LYAC member.
---