Dear friends and neighbors,
While the 2021 session will be mostly remote, legislators convened in our state capitol on Monday in person as required by our state constitution so that we could adopt temporary rules allowing for remote proceedings.
The photo at the top of this newsletter is my masked, socially-distanced swearing-in as Speaker of the House on Monday by Washington State Supreme Court Justice Helen Whitener. In the photo you can also see the new plexiglass barriers that have been installed on the House rostrum to help protect the health of members and staff from COVID-19. What a difference from last year's opening day.
As I said in my brief opening day remarks, we are in the hardest of times as a state right now. But there is hope on the horizon. And legislators will be working hard this session to make hope a reality for all people in our state.
A lot of thought and planning has gone into making the legislature more accessible than it's ever been for the people of our state. In this video I recorded with Sen. Andy Billig, we describe the changes in place, and how it's now easier than ever for people to participate in the legislative process. You can also click here for more information on how to testify remotely, comment on a bill, or submit written testimony.
Please don't hesitate to reach out to me this session with your questions, concerns, or comments. We will get through these hardest of times together.
Sincerely,

Hope is here – because of vaccines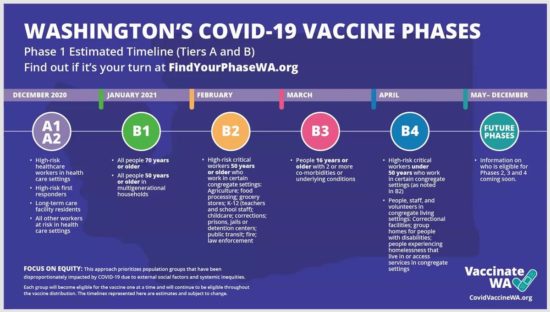 So many of us felt hope as vaccines began to be rolled out in our state last month. As someone who works in the public health field when the legislature is not in session, I was thrilled to see that thousands of Pierce County residents had received their first dose of the COVID-19 vaccine by the end of last year.
As we begin the 2021 legislative session, my focus is on ensuring that the window between when our state receives vaccine shipments, and when those vaccines get into the arms of people who need them, is as narrow as humanly possible.
The Washington State Department of Health (DOH) recently announced its new timeline for vaccine distribution in our state. As the federal government releases more vaccines, this timeline may be shortened and additional groups added. I will continue to press to get vaccines out more quickly, so stay tuned for updates.
You can check your eligibility by taking a short survey at findyourphasewa.org. Also, visit this DOH page for helpful information and videos that detail everything else you might want to know about the vaccines.
WATCH: House Democrats introduce Police Accountability Agenda for 2021
Across our nation, people are taking part in historic protests calling for systemic change. Here in our own community, we have seen the calls for justice for Manny Ellis, a Black man whose death while in police custody resulted in the Governor ordering a State Patrol-led investigation.
Undoing the grip that systemic racism has on every part of our lives begins by rebuilding communities' trust in law enforcement through police accountability, reform and justice. That's why last year House Public Safety Committee Chair Rep. Roger Goodman assembled a Policing Policy Leadership Team (PPLT) made up of members of the Black Members Caucus and the Members of Color Caucus.
Over the interim, the PPLT met with the families of victims of police violence, as well as representatives from major community organizations. This week, together with the Washington Coalition for Police Accountability, they rolled out their legislative agenda for 2021 in a virtual press conference, which you can watch on TVW by clicking here.
The proposed legislation this session will be in the following areas:
Police accountability and transparency
Police tactics and use of force
Independent investigations and prosecutions of police shootings
---