OLYMPIA – Lawmakers in Olympia passed historic legislation expanding access to democracy with the Native American Voting Rights Act Tuesday afternoon with a final 95 to 3 vote off the House floor.
"We are watching history being made," said Rep. Debra Lekanoff (D-Bow). "This legislation will remove barriers to the ballot for Native Americans. We honor the First Americans by joining the decision making table together. We will build bold movements to address our opioid epidemic, behavioral health crisis and housing shortage. As we face the impacts of climate change head on, we will be leaders in protecting our environment and natural resources, planning infrastructure stability and building a strong workforce for today and the future."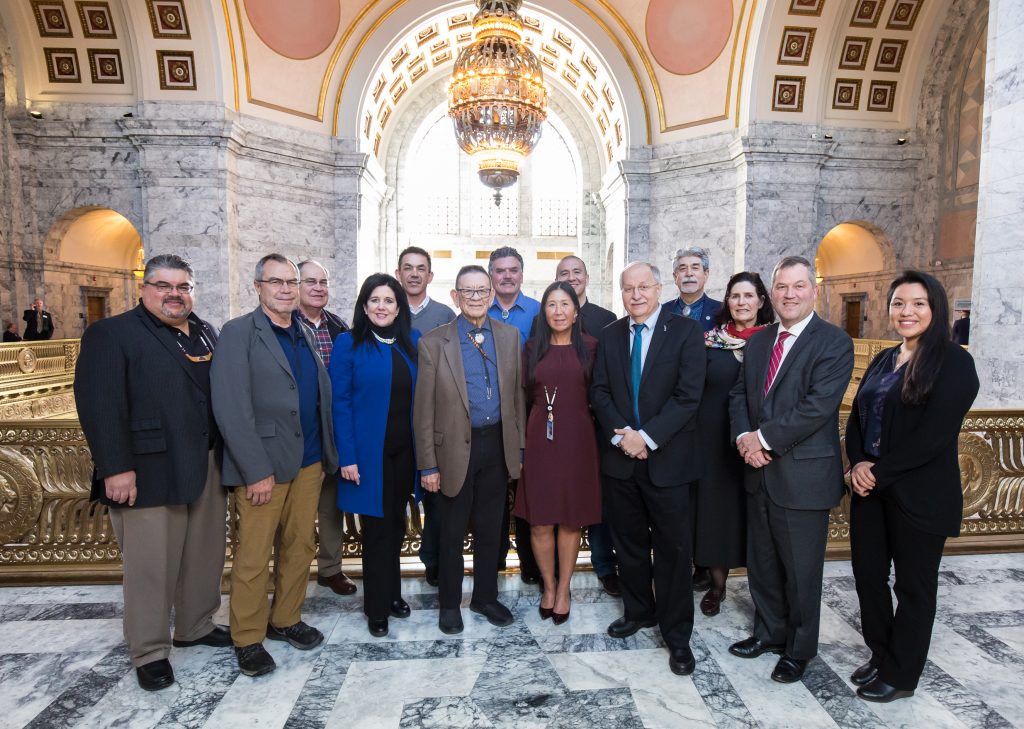 Sponsored by Sen. John McCoy (D-Tulalip), Senate Bill 5079 would permit specific privileges for Native American voters living on tribal lands. Currently, not all reservations have standard addresses, making voter registration difficult. Additionally, ballot drop boxes are often up to 100 miles away.
The bill would permit Native Americans living on reservations to register online with a tribal identification card, use designated tribal building addresses for registration and request voter registration support and ballot drop boxes.
"Voter participation is not a partisan issue. It is the foundation of our democratic system and must be protected by all sides," McCoy said. "Democrats and Republicans should be able to work together to ensure that our electoral system works in the interest of all Americans. Our democracy works best when we all have the opportunity to participate. When entire communities are denied access to the ballot box, lawmakers need to take a look at systemic issues that need to be addressed."
Tribal members and leaders from across Washington attended the final House floor vote in solidarity.
"The Cowlitz Tribe has deep appreciation and gratitude for Sen. McCoy and Rep. Lekanoff for championing this legislation. It continues our tribe's long legacy of fighting for Native American rights," stated Chair Bill Iyall. "The Cowlitz people believe the Native American Voting Rights Act is the lasting continuation of our grandfather's work."
Iyall's grandfather, Frank Iyall, played an integral part in passage of the Native American Citizenship Act of 1924, working alongside President Coolidge. Frank Iyall died before Native Americans received voting rights in Washington state.
"There are five veterans in my immediate family, and like many Native families, they have served to protect our right to vote," stated Colville Tribal Member Yvette Joseph. "The Native Voting Rights Act will ensure this precious right is protected on reservations in Washington State."
"The Spokane Tribe supports the Native American Voting Rights Act. This will provide great opportunity for Tribal Citizens to exercise their right to vote," said Carol Evans, chairwoman of the Spokane Tribal Business Council.
"Washington State rises as a leader of this great Nation with the Native American Voting Rights Act," Swinomish Chairman Brian Cladoosby stated. "We honor those who worked on this legislation, and their collaboration to find pathways to ensure every American's right to vote."
The bill will head back to the Senate to vote on amendments made in the House before going to the Governor's desk to be signed into law.
Lekanoff, who sponsored the House companion bill, is the first Native American woman to serve in the House of Representatives.
---