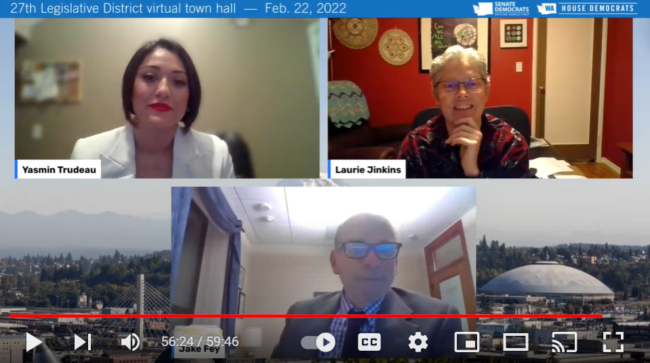 Dear friends and neighbors,
Thank you to all who were able to join Sen. Trudeau, Rep. Fey and me live this past Tuesday evening for our 27th LD virtual town hall. Lots of great questions were submitted ahead of time through the survey link, and we were also able to take questions submitted live during the event.
Topics covered included transportation, housing and homelessness, public safety, education, and more. We were also able to provide specifics about the House supplemental budget proposal that was rolled out on Monday, and the House/Senate Moving Washington Forward transportation package that was unveiled last week.
If you weren't able to stream the event live, you can still watch the town hall in its entirety:
Click here to watch it on Facebook
Click here to watch it on Twitter
Click here to watch it on YouTube
Click here to watch it on my legislative website
While a virtual town hall cannot fully replace the experience of an in-person event, where we can physically gather in one place as a community and have these conversations, it is in many ways a more inclusive event because you can participate from home or wherever is most convenient for you – no travel required.
I expect that as we continue to emerge from the COVID-19 pandemic and things open up more, going forward we will likely offer a combination of virtual and in-person town hall events in order to be as inclusive as possible. Our primary objective is the health and safety of our constituents, so we will always adhere to local and state public health guidance for these events. We were able to do this very well last summer with our series of 27th LD "park chats," which enabled us to gather in person for conversation around issues of importance to our community and state.
Thanks again to everyone who took part on Tuesday evening!
---
House supplemental budget proposal is about building a better future for Washington

This week, House Democrats released our supplemental budget proposal. This is not a new state budget, but an update to the two-year Washington Recovery Budget passed during the 2021 legislative session.
The question our House budget team asked in drafting this proposal was, "Do we want a better future, or the status quo?"
We know too many families, workers, and small businesses are still dealing with the economic fallout of COVID-19. Sure, some are doing great, but this uneven recovery isn't working for all of us. And it doesn't have to be this way.
Let's build a better future.
If we invest more now, every family benefits from the better future we'll be building for Washington.
Even with the challenges we still face today, there's light at the end of the tunnel. The statewide indoor mask mandate is slated to end March 21st. Vaccines and boosters are available to everyone. People are going back out into their communities and workplaces.
That's why it's the right time to make smart, strategic investments in what families and workers in Washington need. Because as I said in my remarks on the opening day of session, everyone deserves to come out of this pandemic better than they went into it.
We've made it through two years of lockdowns, restrictions, masks, remote learning, remote work, crowded hospitals, and missed holidays.
We've proven that by working together, we move forward together.
We deserve a better Washington. So let's build it together.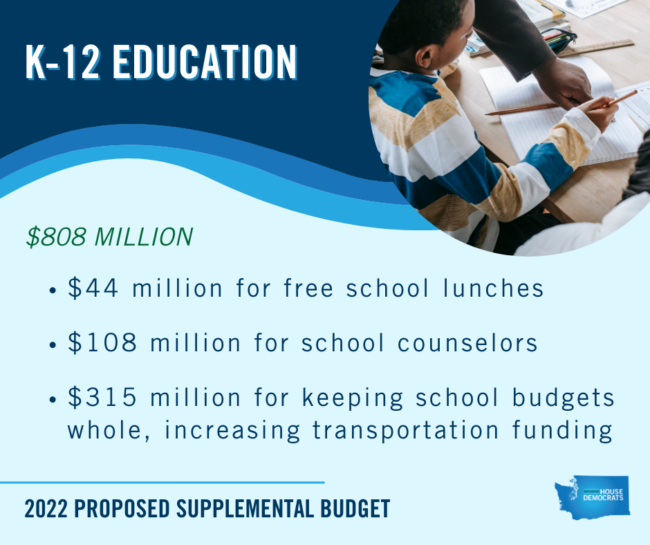 There are so many great investments in the House supplemental budget proposal – more than can be singled out in this newsletter. But a few highlights of particular importance to the 27th District are:
Increased funding to ensure our K-12 schools are made whole through enrollment stabilization, as well as more funding for free school lunches, and funding for more school nurses, social workers, psychologists and counselors to help with students' mental health needs.
Increased funding to expand affordability and accessibility of child care, so we can pay our child care providers more and open up more child care slots for children from families with low incomes. We know the pandemic hit working families – and especially working women – particularly hard. Access to safe and high-quality child care is key to helping parents get back in the workforce and help our businesses hold on to valuable employees.
Increased housing funding, both to keep people housed and to get more people out of homelessness and into secure housing. This includes rental assistance, utility assistance, and funding for state and local governments to be able to rapidly acquire property that can be used for emergency and transitional housing.
Investments in grants and assistance for small businesses and the hospitality sector, which were especially impacted by pandemic-related closures and health precautions, as well as assistance for arts, heritage and cultural organizations.
Increased funding for behavioral health programs, targeted towards recruitment and retention of a qualified behavioral health workforce, so that people can access the treatment they need whether it's for a mental health crisis or substance use.
Funding for a three-day sales tax holiday over the Labor Day weekend, to give working families a break at a time of year when they are hit with back-to-school expenses, and to help our local and Main Street businesses.
A full summary of the House proposal can be viewed here.
The Senate also released its own budget proposal this week. The House is expected to pass our proposal in the coming days, and then House and Senate budget negotiators will have to work together to come up with a final supplemental budget to pass both chambers by March 10th, which is when the legislature is scheduled to adjourn.
---
As you can see, there's still a lot of work left to do this session. I'm excited to build a better future for our state. If you have any questions, comments, or concerns about the budget proposal, the transportation package, or any legislative issue, please don't hesitate to contact me.
It's an honor to represent you.
Sincerely,

---